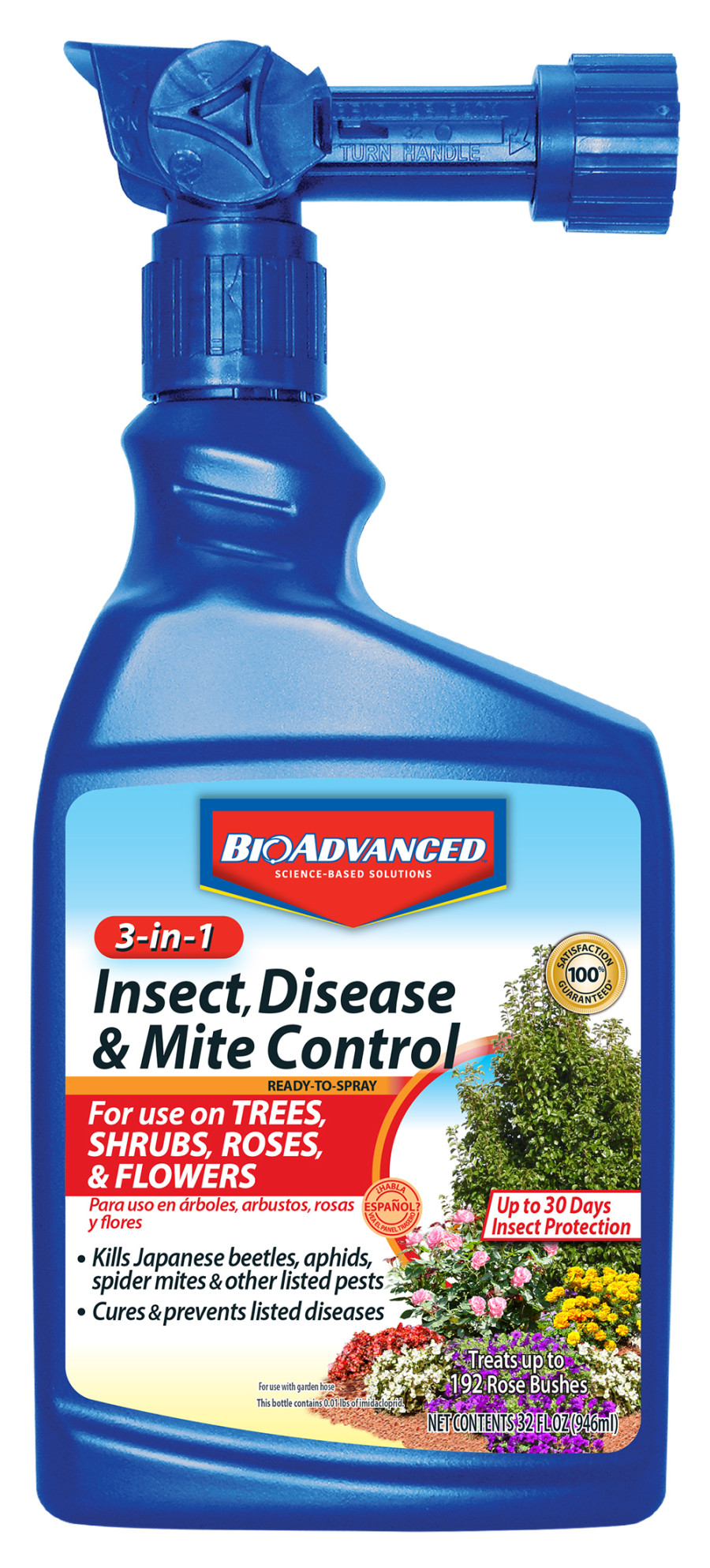 Form:

Liquid Ready to Spray

Manufacturer:

SBM LIFE SCIENCE CORP

Pet Safe:

No

Private Label:

No

Size:

32 Ounces

Target Pests:

Adelgids, Aphids, Armyworms, Bagworms, Beetles, Boxelder Bugs, Budworms, Cankerworms, Caterpillars, Chinch Bugs, Clover Mites, Crickets, Cucumber Beetles, Cutworms, Earwigs, Elm Leaf Beetles, Firebrats, Flea Beetles, Fungus Gnats, Grasshoppers, Gypsy Moth Larvae, Japanese Beetles (Adult), Lace Bugs, Leaf-Feeding Beetles, Leaf-Feeding Caterpillars, Leafhoppers Loopers, Mealybugs, Midges, Mites, Pillbugs, Plant Bugs, Psyllids, Rose Midges, Rose Slugs, Scale Insects, Silver Fish, Sowbugs, Spider Mites, Thrips, Two-Spotted Spider Mites, Viburnum Leaf Beetle, Webworms, Weevils, White Flies

Usage Sites:

Flower Garden, Ornamentals, Shrubs, Trees
Protection for flowering plants, trees and shrubs. Kills common insects that attack trees, shrubs, roses and flowers including Aphids, Caterpillars, Japanese Beetles (adult), Leafminers, Whiteflies and other listed pests. Cures Black Spot, Powdery Mildew and Rust. Kills listed insects on contact. Rainproof protection lasts up to 14 days.
Ready to Spray
Includes Hose-End attachment
Additional Features
Product Label
Ingredients
Instructions
Safety
SDS
Product Gross Weight:

2.619 lb

Product Net Weight:

2.140 lb

Product Height:

11.250 in

Product Length:

2.550 in

Product Width:

4.730 in

Packaging Type:

Bottle

Recommended For:

Flower; Ground Covers; Houseplants; Ornamentals; Roses; Shrubs; Tree; Vines
Active Ingredients:

Tau-Fluvalinate 0.61%; Tebuconazole 0.65%
Application Method:

Spray

Use Instructions:

Shake well before use. Adjust nozzle on your sprayer to desired spray pattern. Hold sprayer about 12 inches from foliage. Spray leaves, stems and tender new shoots. Apply until both sides of the leaves are evenly coated with spray, but not dripping.

Storage Instructions:

Store in a cool and dry area.
Caution:

Keep out of the reach of children

First Aid Measures:

If Swallowed: Call a poison control center or doctor immediately for treatment advice. Have person sip a glass of water if able to swallow. Do not induce vomiting unless told to by a poison control center or doctor. Do not give anything to an unconscious person.If On Skin Or Clothing: Take off contaminated clothing. Rinse skin immediately with plenty of water for 15-20 minutes. Call a poison control center or doctor for treatment advice.

Safety Warnings:

Avoid contact with skin, eyes or clothing. Harmful if swallowed. Harmful if absorbed through skin. Wash hands before eating, drinking, chewing gum, using tobacco, or using the toilet. Remove and wash contaminated clothing before reuse.