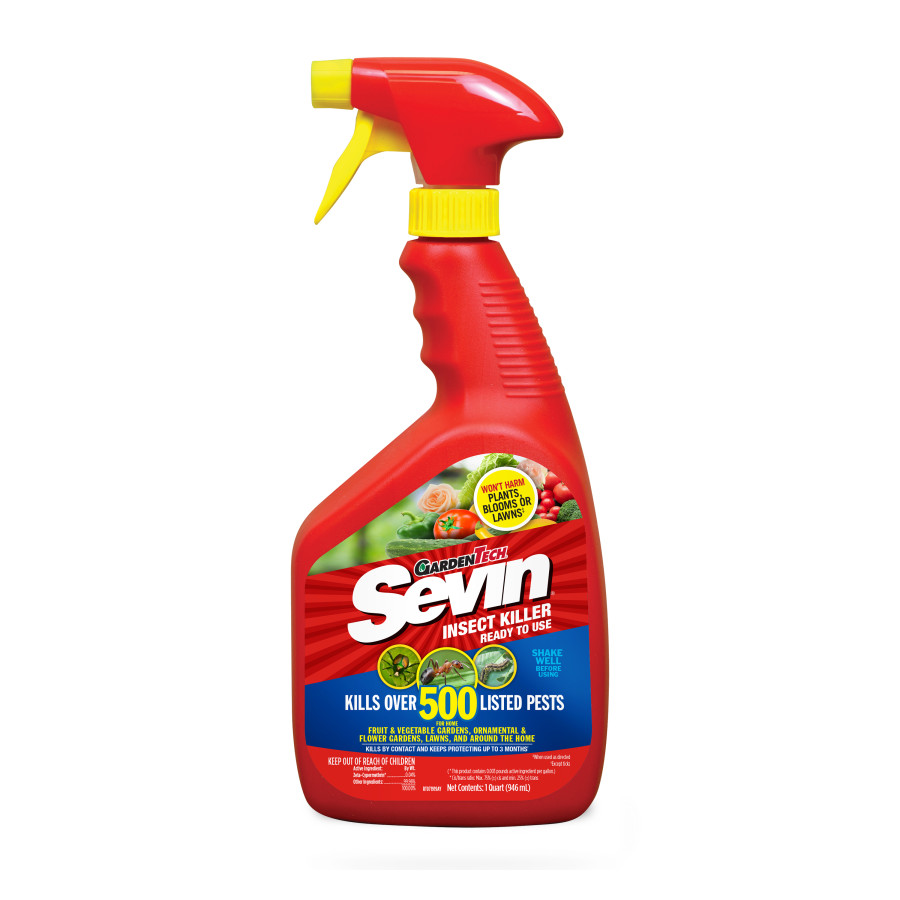 Form:

Liquid Ready to Use

Manufacturer:

Central Garden and Pet

Pet Safe:

No

Private Label:

No

Size:

32 Fluid Ounces

Style:

Spray

Target Pests:

Ants, Cockroaches, Flea, Japanese Beetles, Spiders, Tick

Usage Sites:

Flower Garden, Fruit Garden, Lawn, Ornamentals, Vegetable Garden
Sevin Insect Killer Ready to Use kills over 500 listed pests on vegetables, fruits, ornamentals, lawns and around the home perimeter. Sevin Insect Killer Ready to Use products are especially formulated to protect over 250 vegetables and fruits and can be used up to one day of harvesting on tomatoes, peppers, berries, grapes, leafy vegetables and more listed on the label. This product even kills common household insects such as ants, cockroaches, and spiders outside so they can't come inside. Don't let insects feed on your lawn and garden another day!
Additional Features
Ingredients
Instructions
Safety
Product Gross Weight:

2.350 lb

Product Net Weight:

2.030 lb

Product Height:

10.875 in

Product Length:

3.000 in

Product Width:

4.625 in

Packaging Type:

Bottle

Recommended For:

Use on Fruit and Vegetable Gardens; Ornamental and Flower Gardens; Lawns; Around the Home
Ingredients:

Zeta-Cypermethrin

Active Ingredients:

Zeta-Cypermethrin
Primary Usage:

Kills Common Household Insects Such as Ants, Cockroaches and Spiders.

Application Method:

Spray

Use Instructions:

Use at the first sign of insect pests or where they are expected to appear. Shake well, with the control knob in the Off position. Attach a regular garden hose, and then turn on water to the hose. Take aim at target pests, plants or treatment areas, and turn the control knob to "On. Spray evenly and as directed for the type of treatment area. Spray plant surfaces, upper and lower, until thoroughly wet. Do not use on tall trees. Consider hiring a professional for trees taller than 10 feet. Spray on calm days when no rain is forecast for 24 hours, so spray won't drift or wash away. Follow recommended intervals between spraying and harvesting edibles. Start spraying large areas at the farthest corner and work backward, so you and the hose avoid contact with spray. Do not allow adults, children or pets to enter the treated area until sprays have dried. Read the product label for listed pests, and follow application instructions thoroughly.

Storage Instructions:

Keep from freezing. Store in original containers only. Store in a cool, dry place, preferably in a locked storage area and avoid excess heat. After partial use, replace lids and close tightly. Do not put concentrate or dilute material into drink containers
Caution:

Keep out of reach of children and animals

First Aid Measures:

If Swallowed • Call poison control center or doctor immediately for treatment advice.• Have person sip a glass of water if able to swallow.• Do not induce vomiting unless told to do so by the poison control center or doctor.• Do not give anything by mouth to an unconscious person.If on Eyes • Hold eye open and rinse slowly and gently with water for 15-20 minutes.• Remove contact lenses, if present, after the first 5 minutes, then continuerinsing eye. • Call a poison control center or doctor for treatment advice.

Safety Warnings:

Eye/Face Protection: If there is a potential for exposure to particles which could cause eye discomfort, wear chemical goggles. Skin and Body Protection: Wear long-sleeved shirt, long pants, socks, and shoes. Clean water should be available for washing in case of eye or skin contamination. Remove and wash contaminated clothing before re-use. Wash skin prior to eating, drinking, chewing gum or using tobacco. Shower or bathe at the end of working. Launder work clothing separately from regular household laundry.