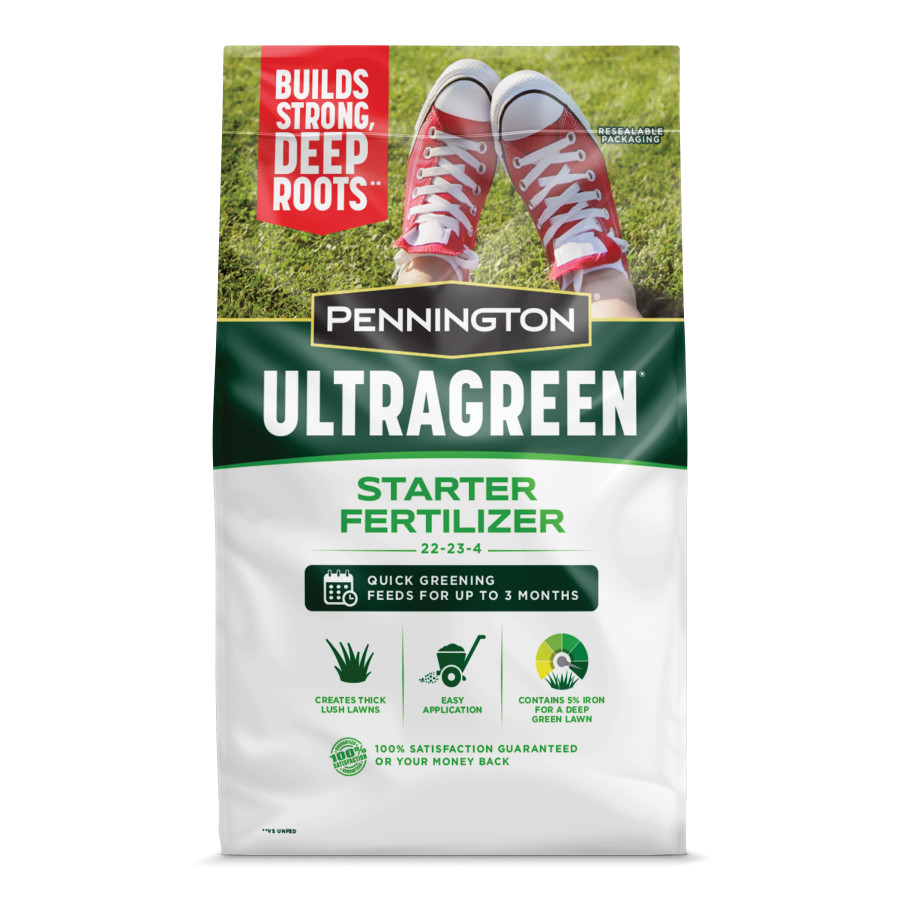 Form:

Granules

Grass Type:

Bahiagrass, Bermudagrass, Centipede Grass, Dense Shade, Jesup Tall Fescue, Kentucky 31 Tall Fescue, Kentucky Bluegrass, Perennial Ryegrass, St. Augustine Grass, Zoysia Grass

Manufacturer:

Central Garden and Pet

Max Coverage Area:

5000

Natural:

No

Organic:

No

Pet Safe:

No

Planting Season:

Fall, Spring

Private Label:

No

Professional:

Yes

Size:

5M 14 Pounds

Weed Control:

No
This premium blended fertilizer is packed with ESSENTIAL PLANT NUTRIENTS to give you the thick, green lawn you desire. It has both fast acting nitrogen for QUICK GREENING, as well as slow release nitrogen for extended FEEDING FOR UP TO 3 MONTHS. With 5% IRON this fertilizer will give you a deep, dark green lawn. Coverage area: 1,000 sq.ft., 5,000 sq.ft., 15,000 sq.ft. Works Best On Lawns.
Builds Strong, Deep Roots For Thick, Full Grass & Faster Lawn Establishment
Helps All Types Of Grass Seed, Sod, And Plugs Establish Roots Fast
Quick Greening
Extended Feeding For Up To 3 Months
Creates Thick, Lush Lawns
Easy Application
Contains 5% Iron For A Deep Green Lawn
7.8% Slow Release Nitrogen
100% Satisfaction Guaranteed Or Your Money Back
Resealable Packaging
Additional Features
Ingredients
Instructions
Specifications
Product Gross Weight:

14.250 lb

Product Net Weight:

14.000 lb

Product Height:

16.750 in

Product Length:

4.000 in

Product Width:

11.000 in

Packaging Type:

Bag
Nitrogen (N) Content:

22

Phosphorus (P) Content:

23

Potassium (K) Content:

4

Iron (Fe) Content:

5
Application Method:

Granular

Application Season:

Spring; Fall

Use Instructions:

New lawn with seed: Apply evenly over the soil surface using a spreader. Plant seed according to the package instructions, then water deeply and frequently until lawn is established.New lawn with sod: Lay sod, then apply this productExisting lawn: This product can be used when reseeding, overseeding or repairing bare spots in existing lawns. Apply evenly over the grass when dry, then water deeply. For even coverage using a spreader, apply fertilizer around the perimeter of your lawn then run the spreader back and forth within the area outlined by your first perimeter application.
Effective Duration:

Up to 3 Months

Insect Control:

No