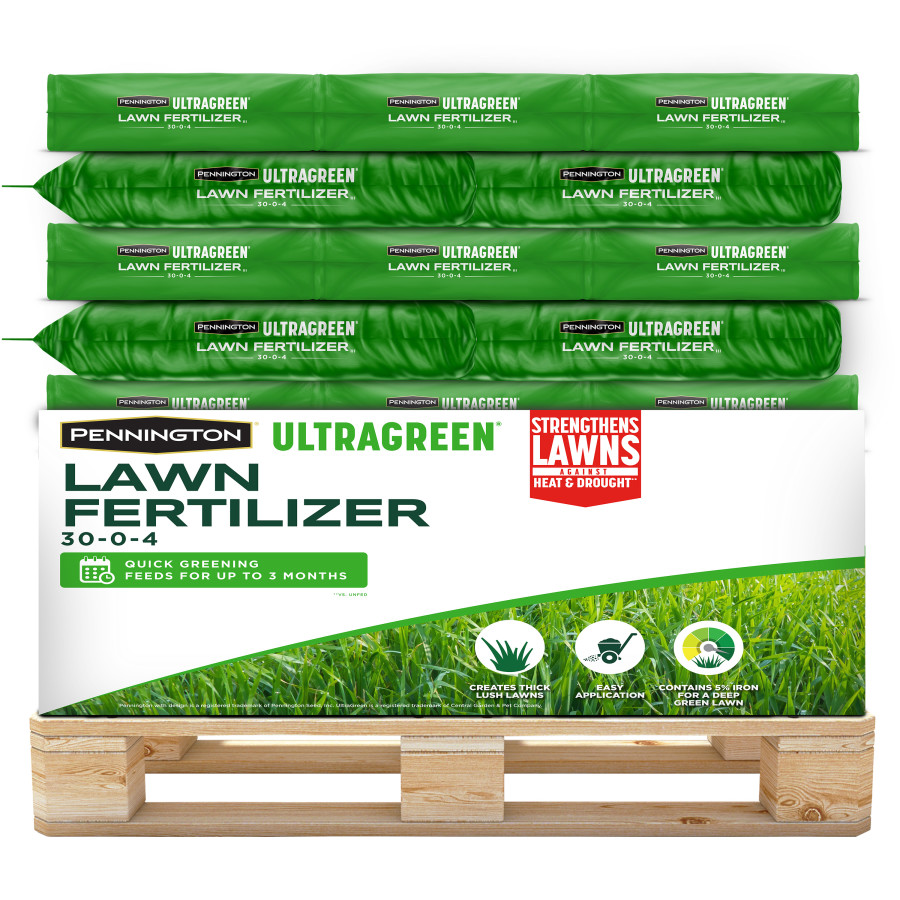 Form:

Granules

Grass Type:

Bahiagrass, Bermudagrass, Centipede Grass, Jesup Tall Fescue, Kentucky Bluegrass, Perennial Ryegrass, Spicer Annual Ryegrass, St. Augustine Grass, Zoysia Grass

Manufacturer:

Central Garden and Pet

Max Coverage Area:

5000

Natural:

No

Organic:

No

Pet Safe:

No

Private Label:

No

Professional:

No

Size:

5M 14 Pounds
This premium blended fertilizer is packed with ESSENTIAL PLANT NUTRIENTS to give you the thick, green lawn you desire. It has both fast acting nitrogen for QUICK GREENING, as well as slow release nitrogen for extended FEEDING FOR UP TO 3 MONTHS. With 5% IRON this fertilizer will give you a deep, dark green lawn. Coverage area: 5,000 sq.ft., 15,000 sq.ft. Works Best On Lawns.
Strengthens Against Heat And Drought
For A Lush, Thick Deep Green Lawn
Quick Greening
Extended Feeding For Up To 3 Months
Creates Thick, Lush Lawns
Easy Application
Contains 5% Iron For A Deep Green Lawn
10.5% Slow Release Nitrogen100% Satisfaction Guaranteed Or Your Money Back
Resealable Packaging
Additional Features
Ingredients
Instructions
Safety
Warranty
Product Gross Weight:

14.250 lb

Product Net Weight:

14.000 lb

Product Height:

16.750 in

Product Length:

4.000 in

Product Width:

11.000 in

Packaging Type:

Packet

Recommended For:

Bent Grass; Bermudagrass; Centipede Grass; Kentucky Bluegrass; St. Augustine Grass; Tall Fescue; Zoysia Grass
Nitrogen (N) Content:

30

Phosphorus (P) Content:

0

Potassium (K) Content:

4

Iron (Fe) Content:

5
Application Method:

Granular

Application Season:

Late Spring

Use Instructions:

PREPARE: Fill spreader and set settings according to the chart. APPLY: Apply fertilizer to an either wet or dry lawn. For even coverage using a fertilizer spreader, apply fertilizer around the perimeter of your lawn then run the spreader back and forth within the area outlined by your first perimeter application. Always allow an overlap to avoid gaps in coverage. CLEAN: Sweep any excess fertilizer granules off of hard surfaces onto the lawn. When to Use: Late Spring, Anytime between April and June

Storage Instructions:

Store locked up. Store in a well-ventilated place. Keep cool. Avoid humid, wet or moist conditions. Keep container tightly closed.
Caution:

Keep out of the reach of children

First Aid Measures:

If Inhaled: Remove person to fresh air and keep comfortable for breathing. Call a POISON CENTER or doctor/physician if you feel unwell.If on Skin: Wash with plenty of soap and water. If skin irritation or rash occurs: Get medical advice/attention.If in Eyes: Rinse cautiously with water for several minutes. Remove contact lenses, if present and easy to do. Continue rinsing. If eye irritation persists: Get medical advice and attention.If Swallowed: Call a POISON CENTER or doctor/physician if you feel unwell. Rinse mouth. Do NOT induce vomiting unless directed to do so by medical personnel.
Warranty Description:

100% satisfaction guaranteed or your money back