Pennington Ultragreen Fertilizer Crabgrass Preventer Plus 30-0-4 1ea/15M 37.5 lb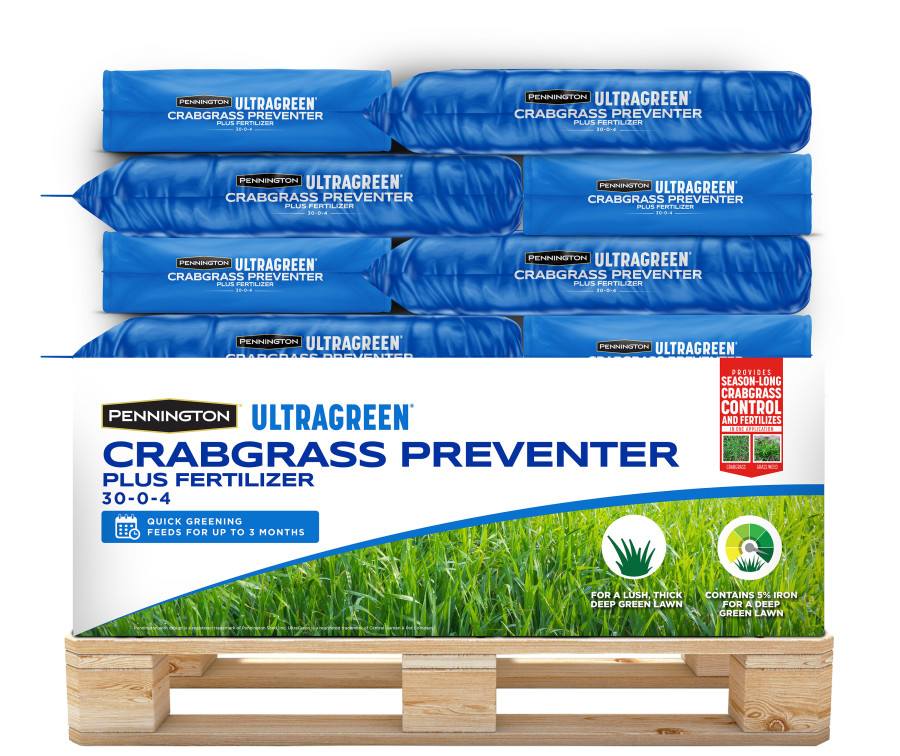 Form:

Granules

Grass Type:

Bahiagrass, Bermudagrass, Centipede Grass, Jesup Tall Fescue, Kentucky 31 Tall Fescue, Kentucky Bluegrass, Perennial Ryegrass, Spicer Annual Ryegrass, St. Augustine Grass, Tall Fescue, Zoysia Grass

Manufacturer:

Central Garden and Pet

Max Coverage Area:

15000

Pet Safe:

No

Private Label:

No

Professional:

No

Size:

15M 37.5 Pounds

Weed Control:

Yes
This premium blended fertilizer is packed with ESSENTIAL PLANT NUTRIENTS to give you the thick, green lawn you desire. It has both fast acting nitrogen for QUICK GREENING, as well as slow release nitrogen for extended FEEDING FOR UP TO 3 MONTHS. With 5% IRON this fertilizer will give you a deep, dark green lawn. Coverage area: 5,000 sq.ft., 15,000 sq.ft. Works Best On Lawns.
Prevents Crabgrass For Up To 5 Months
Quick Greening
Extended Feeding
Promotes Thick, Full Grass
Nitrogen For A Lush Green Lawn
10.56% Slow Release Nitrogen
100% Satisfaction Guaranteed Or Your Money Back
Resealable Packaging
Additional Features
Ingredients
Instructions
Safety
Warranty
Product Gross Weight:

38.000 lb

Product Net Weight:

37.500 lb

Product Height:

24.500 in

Product Length:

4.000 in

Product Width:

16.000 in

Packaging Type:

Bag
Ingredients:

Prodiamine; Other Ingredients

Active Ingredients:

Prodiamine

Nitrogen (N) Content:

30

Phosphorus (P) Content:

0

Potassium (K) Content:

4

Iron (Fe) Content:

5
Application Method:

Granular

Application Season:

Early spring

Use Instructions:

This product must be applied prior to germination of weed seed, as it will not control established weeds.APPLICATION DIRECTIONS: Apply this product uniformly, using a suitable spreader that has been properly calibrated. Most effective weed control will be obtained when this product is activated by at least 0.5 inch of rainfall or irrigation, or with shallow (12 inches) incorporation, prior to weed seed germination and within 14 days after application.

Storage Instructions:

Store locked up. Store in a well-ventilated place. Avoid humid, wet or moist conditions. Keep container tightly closed.
Caution:

Keep out of reach of children. Avoid contact with eyes, skin and clothing. Avoid breathing dust.

First Aid Measures:

If exposed or concerned: get medical advice/attention.

Safety Warnings:

Avoid contact with skin, eyes or clothing. Avoid breathing dust. Wash thoroughly with soap and water after handling. Prolonged or repeated skin contact with product may cause allergic reactions in some individuals.
Warranty Description:

100% satisfaction guaranteed or your money back