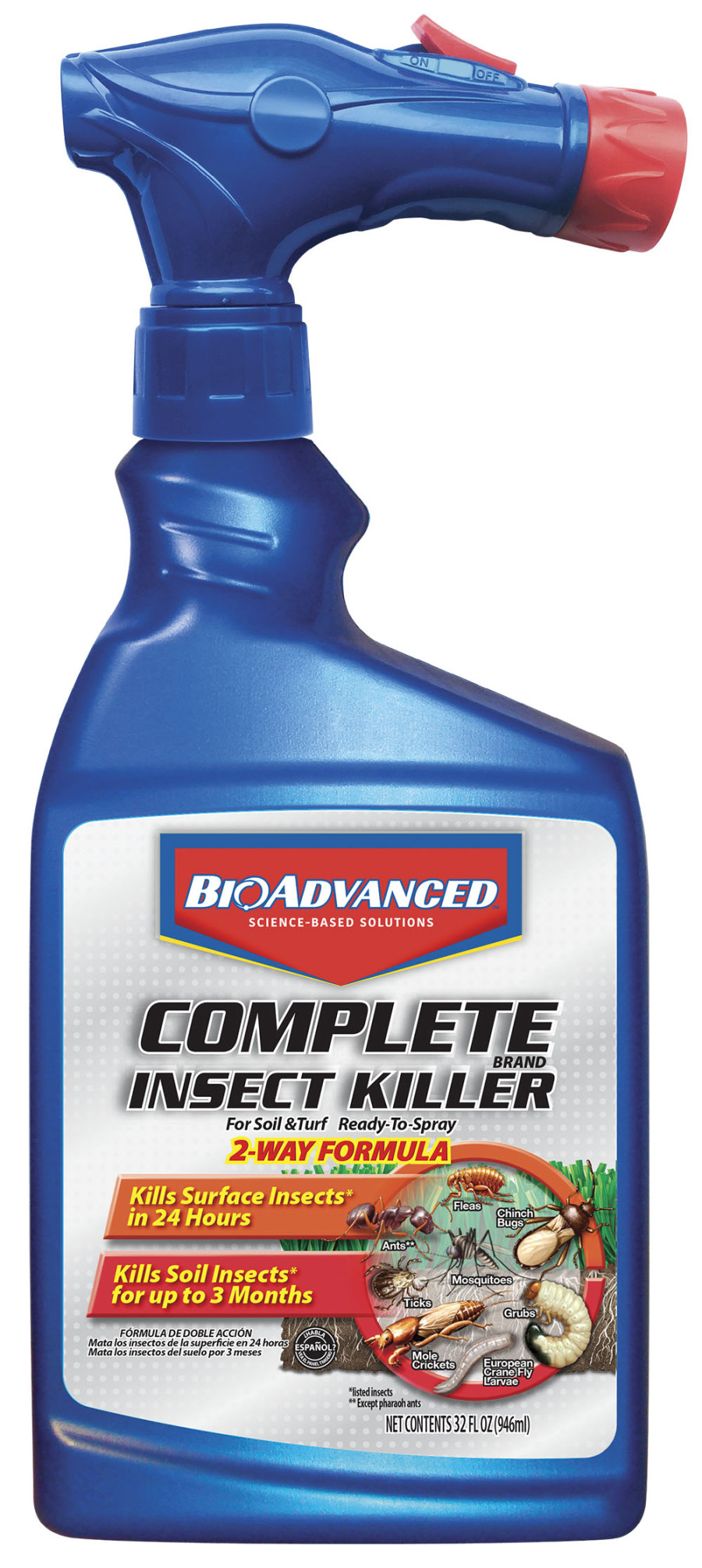 Form:

Liquid Ready to Spray

Manufacturer:

SBM LIFE SCIENCE CORP

Max Coverage Area:

5334

Pet Safe:

No

Private Label:

No

Size:

32 Ounces

Target Pests:

Ants, Armyworms, Billbugs, Bluegrass Billbugs, Boxelder Bugs, Caterpillars, Chiggers, Chinch Bugs, Clover Mites, Cockroaches, Crickets, Cutworms, Earwigs, European Crane Fly Larvae, Fireants, Fleas, Flies, Grasshoppers, Hyperodes Weevils, Japanese Beetles, Mole Crickets, Mosquitoes, Pillbugs, Sod Webworms, Sowbugs, Spiders, Stink Bugs, Ticks, Wasps, White Grubs

Usage Sites:

Lawn
Two-Way formula controls both surface and soil insects. Kills listed surface insects in 24 hours. Kills soil insects for up to 3 months. Kills the most common lawn pests, including: Mosquitoes, Ants, Fleas, Ticks, European Crane Fly Larvae, Grubs, Mole Crickets and other listed insects. Can be used as an outdoor barrier treatment.
Ready to Spray
Includes Hose-End attachment
Additional Features
Product Label
Ingredients
Instructions
Safety
Warranty
Product Gross Weight:

2.705 lb

Product Net Weight:

2.144 lb

Product Height:

11.250 in

Product Length:

2.550 in

Product Width:

4.730 in

Packaging Type:

Bottle

Recommended For:

Along Building Foundations; Lawn
Ingredients:

Cyfluthrin; Imidacloprid

Active Ingredients:

Imidacloprid; ß-Cyfluthrin
Primary Usage:

Kills Soil & Surface Insects

Application Method:

Spray

Use Instructions:

Shake well before use. This product is ready to spray. Just attach this bottle to your hose according to directions. Water automatically mixes with the concentrate as you spray.

Storage Instructions:

Store in cool, dry area
Caution:

Keep out of the reach of children

First Aid Measures:

If in Eyes: Hold eye open and rinse slowly and gently with water for 15-20 minutes. Remove contact lenses, if present, after the first 5 minutes, then continue rinsing eye. Call a poison control center or doctor for treatment advice.If in Skin or Clothing: Take off contaminated clothing. Rinse skin immediately with plenty of water for 15-20 minutes. Call a poison control center or doctor for treatment advice.If Inhaled: Move person to fresh air. If person is not breathing, call 911 or an ambulance, then give artificial respiration, preferably mouth-to-mouth if possible. Call a poison control center or doctor for further treatment advice.If Swallowed: Call a poison control center or doctor immediately for treatment advice. Have person sip a glass of water if able to swallow. Do not induce vomiting unless told to do so by a poison control center or doctor. Do not give anything by mouth to an unconscious person.

Safety Warnings:

Harmful if swallowed. Harmful if absorbed through skin. Harmful if inhaled. Causes moderate eye irritation. Avoid contact with skin, eyes, or clothing. Avoid breathing spray mist or vapor. Wash hands before eating, drinking, chewing gum, using tobacco, or using the toilet. Remove and wash contaminated clothing before reuse.
Warranty Description:

Money Back Guarantee