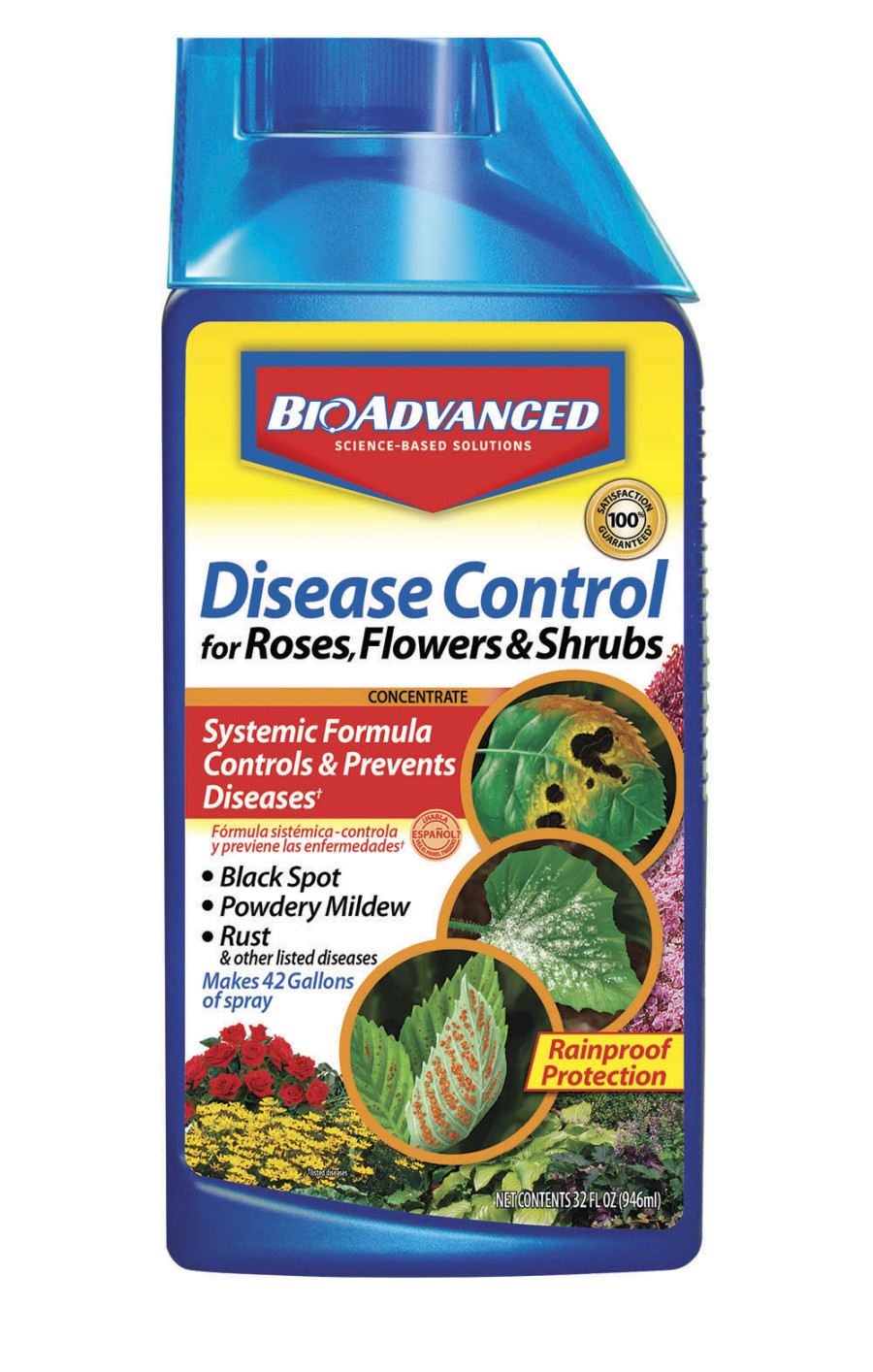 Form:

Liquid

Made in USA?:

Yes

Manufacturer:

SBM LIFE SCIENCE CORP

Pet Safe:

No

Private Label:

No

Size:

32 Ounces

Usage Sites:

Flower Garden, Shrubs, Trees
Systemic formula cures and prevents listed diseases. Controls Black Spot, Crabapple Scab, Rust, Powdery Mildew, Boxwood Blight and other listed diseases. Use to treat roses, flowers, trees, shrubs and even houseplants. Systemic rainproof protection lasts up to 2 weeks. No white residue left behind. Makes up to 42 gallons of spray.
Additional Features
Product Label
Ingredients
Instructions
Safety
Product Gross Weight:

2.530 lb

Product Net Weight:

2.330 lb

Product Height:

10.250 in

Product Length:

4.710 in

Product Width:

2.650 in

Packaging Type:

Bottle

Recommended For:

Azaleas; Camellias; Flower; Ground Covers; Houseplants; Landscape Tree; Rhododendrons; Roses; Shrubs; Vines
Active Ingredients:

Tebuconazole 2.90%
Application Method:

Spray

Application Season:

Spring

Use Instructions:

Shake well before use. Add 3/4 fl.oz. (1 1/2 TBS) to 1 gallon of water. Make up spray solution by following directions specific to your sprayer. Wet all plant surfaces until evenly coated with spray, but not dripping.

Storage Instructions:

Store in a cool and dry area.
Caution:

Keep out of the reach of children

First Aid Measures:

If Swallowed: Call a poison control center or doctor immediately for treatment advice. Have person sip a glass of water if able to swallow. Do not induce vomiting unless told to do so by a poison control center or doctor. Do not give anything by mouth to an unconscious person.If On Skin Or Clothing: Take off contaminated clothing. Rinse skin immediately with plenty of water for 15 to 20 minutes. Call a poison control center or doctor for treatment advice.If Inhaled: If breathing is affected, move person to fresh air. If not breathing, call an ambulance and give artificial respiration. Contact doctor or poison control center for further treatment advice.

Safety Warnings:

Avoid contact with skin, eyes, or clothing. Harmful if swallowed, inhaled or absorbed through skin. Avoid breathing vapor or spray mist. Washing hands thoroughly with soap and water after handling and before eating, drinking, chewing gum, or using tobacco will reduce exposure.