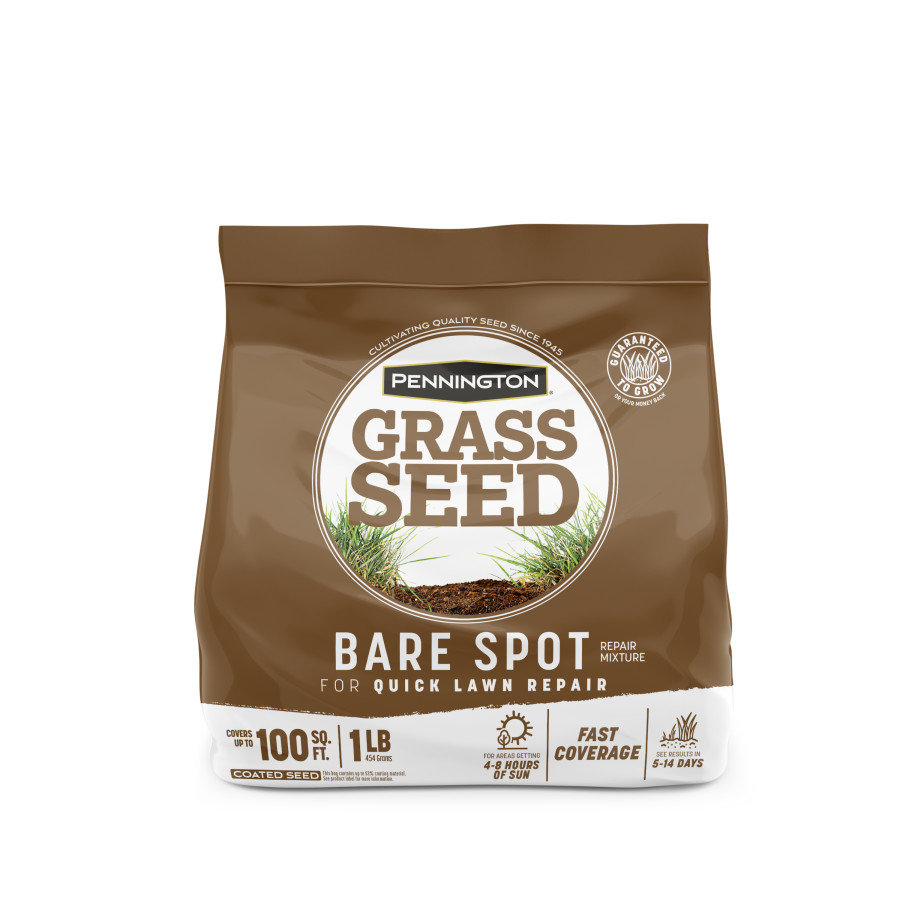 Grass Type:

Spicer Annual Ryegrass

Made in USA?:

Yes

Manufacturer:

Central Garden and Pet

Max Coverage Area:

100

Planting Climate Zones:

1, 10, 11, 12, 2, 3, 4, 5, 6, 7, 8, 9

Planting Region:

Midwest

Planting Season:

Early Fall, Early Spring

Private Label:

No

Professional:

No

Size:

1 Pound

Style:

Central

Washable:

No
If you're looking to fill bare spots and thin areas of your lawn, Pennington Bare Spot Repair is your answer. This grass seed mix establishes quickly and is guaranteed to make your lawn whole again. Plant this grass seed mix in the early spring or early fall and see results within 5 to 14 days. This 1-pound bag covers up to 100 square feet. While most grass seed companies buy their seed on the open market, we are the only major grass seed company that works directly with a network of dedicated growers. Built on decades of trust and integrity, our relationships with seed growers and their families now span multiple generations. Our legacy of working directly with farmers to bring you the finest grass seed possible helps ensure their success and ours. At Pennington, we know our seed and the farmers who grow it. From field to final product, that's the Pennington way.
Fill bare spots and thin areas of your lawn
Establishes quickly
Only 3 easy steps to see results
Grows anywhere in the USA
Pennington Bare Spot Repair grass seed is guaranteed to grow
See results in 5 to 14 days
This bag covers up to 100 sq. ft.
Additional Features
Instructions
Planting Specifications
Warranty
Product Gross Weight:

1.073 lb

Product Net Weight:

1.000 lb

Product Height:

8.000 in

Product Length:

2.000 in

Product Width:

7.500 in

Insect Resistance:

Medium

Packaging Type:

Bag

Plant Life Cycle:

Mix

Seeding Depth:

1/4 in

Seeding Rate:

Bare Spots/New Grass: 10lbs/1,000 sq ft
Battery Required:

No

Batteries Included?:

No

Use Instructions:

Improving Bare SpotsMow your lawn closely, then remove leaves, dead grass, etc. Rake, harrow lightly, or aerate the bare spots to prepare the seed bed. Conduct a soil test to be sure the soil has the proper balance of nutrients. Fertilize and lime if needed. Sow the seed and gently rake to cover. Keep the area well watered until the seed germinate and the seedlings have grown sufficiently to cover bare spots, then water as needed.Care and MaintenanceFertilize fall and early spring with a balanced fertilizer. Once the lawn is established, apply pre-emerge crabgrass preventer in early spring, weed and feed in mid-spring. Use lime when pH is low. Water twice weekly when established.
Days to Maturity:

6-14 days

Disease Resistance:

High

Drought Tolerance:

Low

Light Requirement:

Full Sun to Medium Shade (4-8 hrs sun)

Mowing Height:

3 in

Shade Tolerance:

Moderate

Sun Tolerance:

Moderate

Traffic Tolerance:

Moderate
Warranty Description:

If you are not satisfied, please let us know why and contactus about a refund. Keep your bag and proof of purchase.WE STAND BEHINDOUR PRODUCTS. OR YOUR MONEY BACKMAIL TO:Pennington Seed, Inc.Customer Service Dept.PO Box 290Madison, GA 30650CALL US1.800.285.SEEDWEBSITEpennington.com