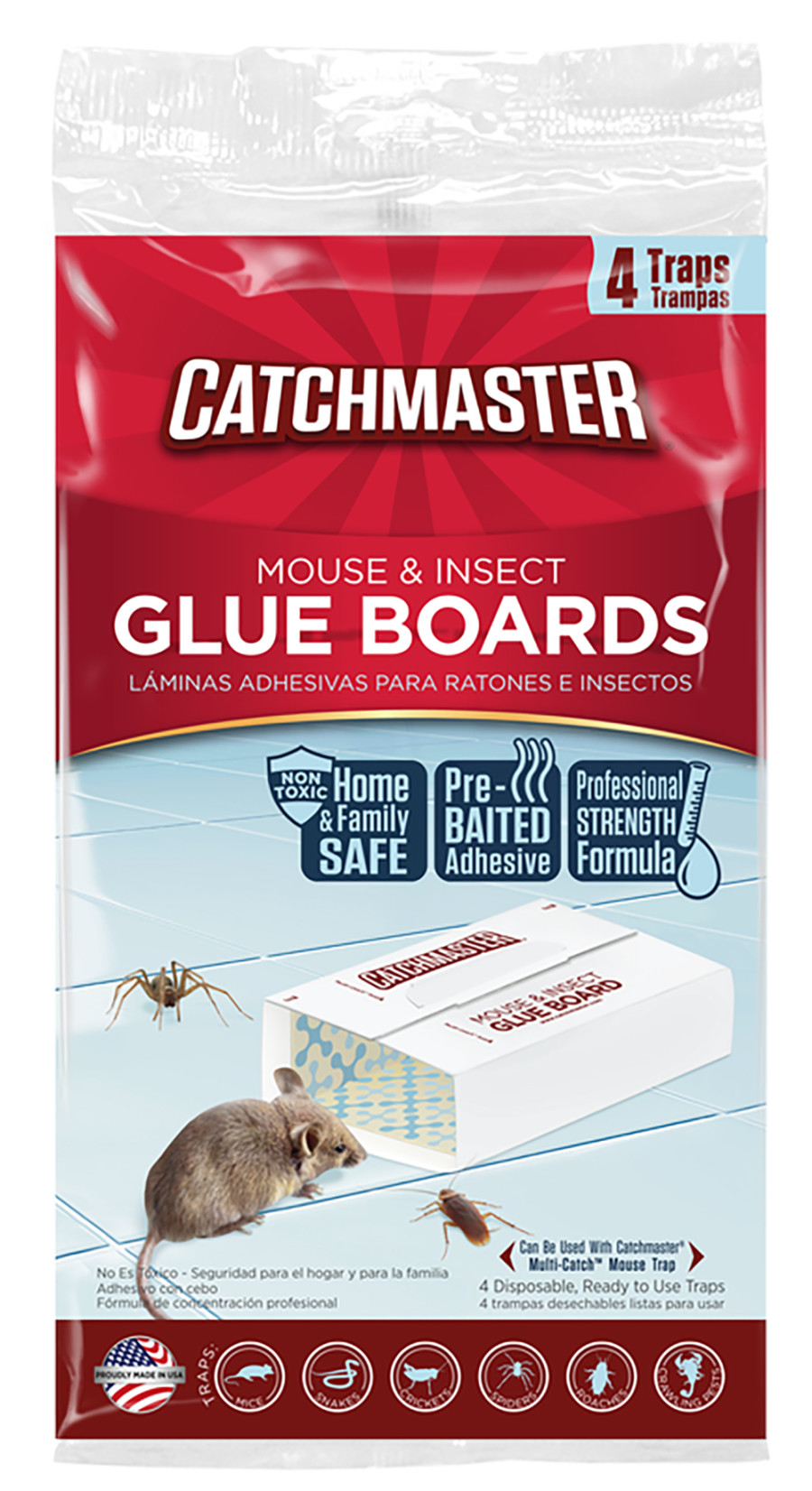 Made in USA?:

Yes

Manufacturer:

AP AND G CO INC

Pet Safe:

Yes

Private Label:

No

Size:

4 Pack

Target Pests:

Crickets, Mouse, Roaches, Spiders
Catchmaster Mouse & Insect Glue Boards 4-pack, are great for trapping mice, spiders, crickets, roaches and other common household pests. May be folded into a tunnel shape and placed in narrow or hard to reach areas. Can be used with Catchmaster Multi-catch trap. Non-toxic, Easy to use, Disposable Traps
Additional Features
Product Label
Instructions
Safety
Product Gross Weight:

0.240 lb

Product Net Weight:

0.240 lb

Product Height:

11.000 in

Product Length:

0.130 in

Product Width:

5.250 in

Environment:

Indoor

Recommended For:

Along Baseboards; On Floors; Under Sinks
Use Instructions:

For use as a Rodent trap: Peel off release paper. Place trap along walls, under sinks, and in other areas where rodent activity is noted. Use as a covered trap to conceal rodents and to protect traps in dusty areas. Fold trap as indicated on printed side and insert tab into slot. Check traps daily or when noise is heard. When rodent is caught on trap, dispose of properly. To capture spiders, crickets, and other insects: Peel off release paper. Lay traps flat with glue side face up along walls, in basements, damp areas, and wherever insects are observed.
Caution:

Keep out of the reach of children and pets

First Aid Measures:

In case of contact with adhesive, use vegetable or mineral oil to remove from skin or animals.