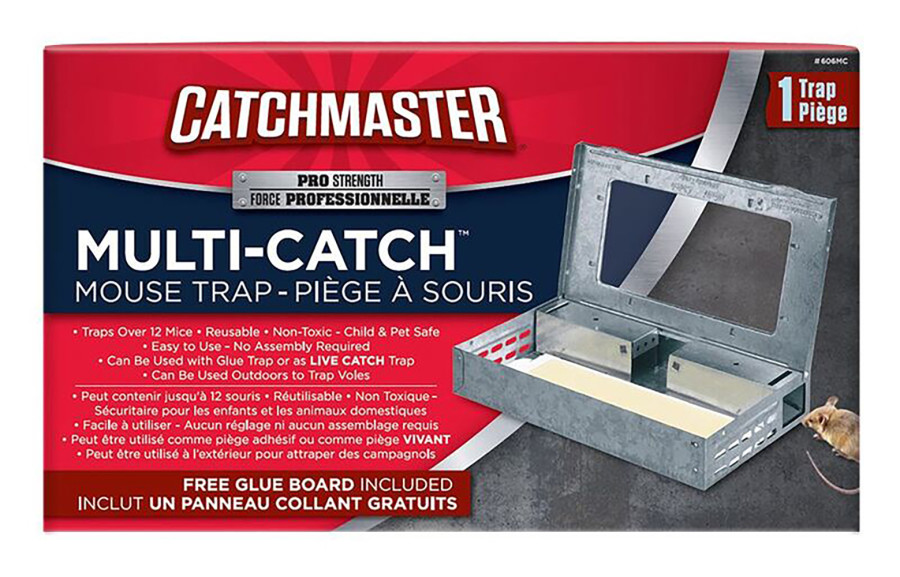 Manufacturer:

AP AND G CO INC

Pet Safe:

Yes

Private Label:

No

Size:

1 Pack

Target Pests:

Mouse

Usage Sites:

Lawn
Catchmaster Multi-Catch Metal Mouse Trap 1-pack, traps up to a dozen mice. Can be used without a glue board as a live trap. Easy to use, reusable and replacement glue boards are available. Safe around children and pets.
Additional Features
Product Label
Instructions
Safety
Product Gross Weight:

0.990 lb

Product Net Weight:

0.990 lb

Product Height:

6.190 in

Product Length:

1.750 in

Product Width:

10.500 in

Environment:

Outdoor

Recommended For:

Garden; Lawn
Assembly Instructions:

No Assembly Required

Use Instructions:

After removing from package, place glue trap in the Multi-Catch box. Place trap against walls traversed by rodents. Check trap each day through clear Lid.
Caution:

Keep out of the reach of children, pets and non-target animals

First Aid Measures:

In case of contact with adhesive, use vegetable or mineral oil to remove from skin or animals.