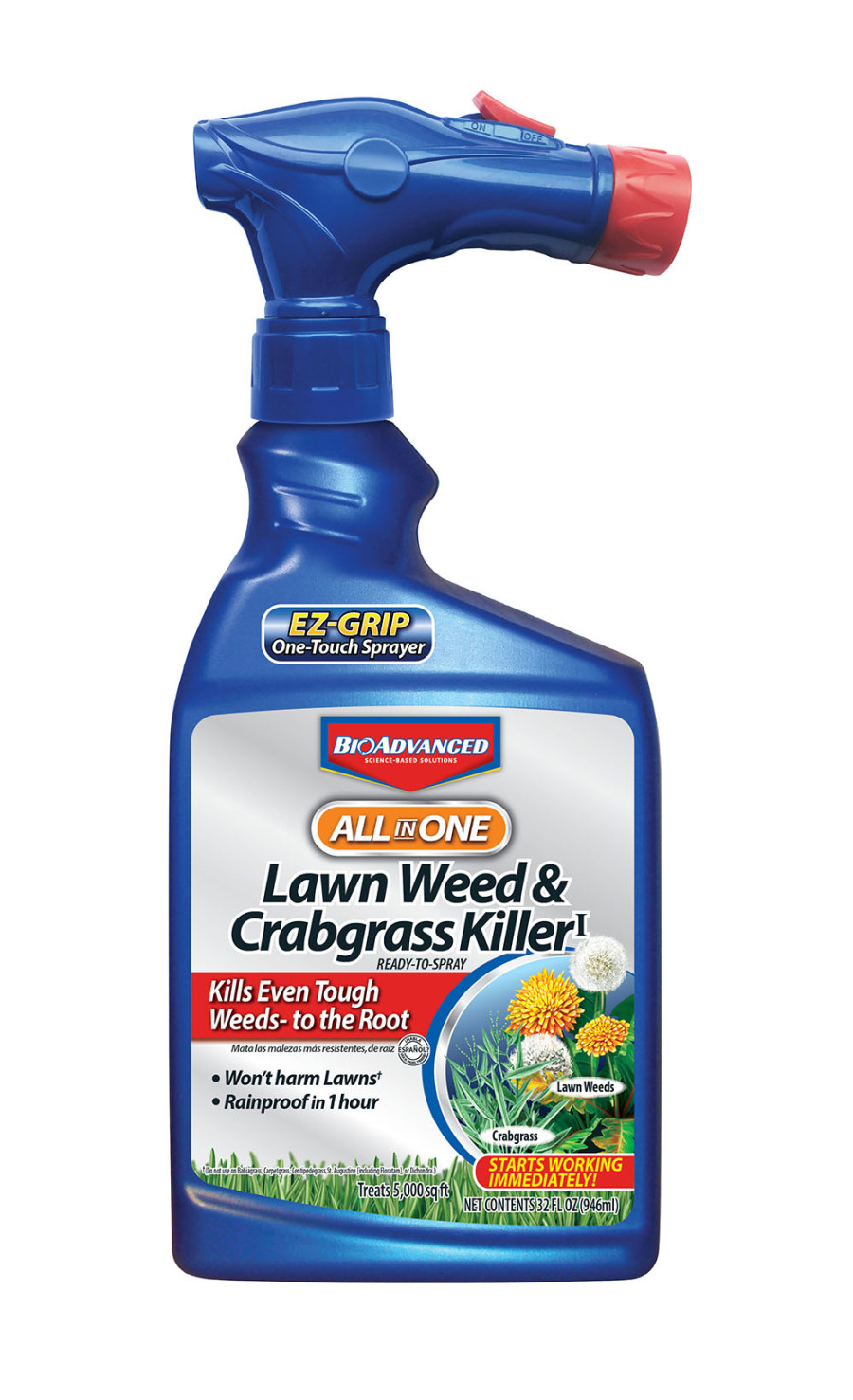 Form:

Liquid Ready to Spray

Grass Type:

Kentucky Bluegrass, Zoysia Grass

Made in USA?:

Yes

Manufacturer:

SBM LIFE SCIENCE CORP

Max Coverage Area:

500

Pet Safe:

No

Private Label:

No

Retail Display:

None

Size:

32 Ounces

Weed Type:

ChickWeed, Clover, Dandelion
Kills listed lawn weeds PLUS Crabgrass without harming the lawn* Kills over 200 listed broadleaf weeds like Dandelion and Clover PLUS controls listed grassy weeds like Crabgrass Won't harm lawns when applied as directed* Rainproof in 1 hour The fastest, easiest way to treat the entire lawn Simply hook to hose and spray 32 oz. Ready-To-Spray treats up to 5,000 sq. ft.
Ready to Spray
Includes Hose-End attachment
Additional Features
Product Label
Ingredients
Instructions
Safety
Product Gross Weight:

2.759 lb

Product Net Weight:

2.530 lb

Product Height:

11.250 in

Product Length:

4.730 in

Product Width:

2.550 in

Packaging Type:

Bottle

Recommended For:

Bentgrass; Buffalograss; Crabgrass; Fescue Grass; Kentucky Bluegrass; Ryegrass; Zoysia Grass
Ingredients:

Quinclorac; Dimethylamine salt; Dicamba

Active Ingredients:

2,4-D, dimethylamine salt; Dicamba, dimethylamine salt; Quinclorac
Primary Usage:

Kills Crabgrass, Lawn Weed

Application Method:

Spray

Use Instructions:

Pump Style Tank Sprayers: Add the appropriate amounts of water & this product to the sprayer tank. Close sprayer, shake well and pressurize. Adjust nozzle to a coarse spray pattern. Hold tip of wand about 12" from weed(s), aim at center of weed & spray. Occasionally re-pressurize sprayer if needed to maintain a good spray pattern.Dial Style Hose-End Sprayers: Fill sprayer jar with enough of this product to cover area to be treated. Do not add water. Close sprayer and set dial. Attach sprayer to hose and apply. To avoid contact with the treated area, begin by spraying area farthest from faucet walking backwards as you spray.Concentrate Plus Water Hose-End Sprayers: Pour this product into sprayer jar to the required 'Fluid Ounce' level. Add the appropriate amount of water to the 'Gallons' level. Replace sprayer top and shake well before applying. Attach sprayer to garden hose and apply. To avoid contact with the treated area, begin by spraying area farthest from faucet walking backwards as you spray.

Storage Instructions:

Store in original container in a cool, dry place preferably a locked storage cabinet. Protect from freezing.
First Aid Measures:

If in Eyes: Hold eye open and rinse slowly and gently with water for 15 – 20 minutes. Remove contact lenses, if present, after the first 5 minutes, then continue rinsing eye. Call a poison control center or doctor for further treatment advice. If Swallowed: Call a poison control center or doctor immediately for treatment advice. Have person sip a glass of water if able to swallow. Do not induce vomiting unless told to do so by a poison control center or doctor. Do not give anything by mouth to an unconscious person.

Safety Warnings:

Harmful if swallowed. Causes moderate eye irritation. Avoid contact with eyes, skin or clothing. When using this product, wear long-sleeved shirt, long pants, socks, shoes, and rubber gloves.