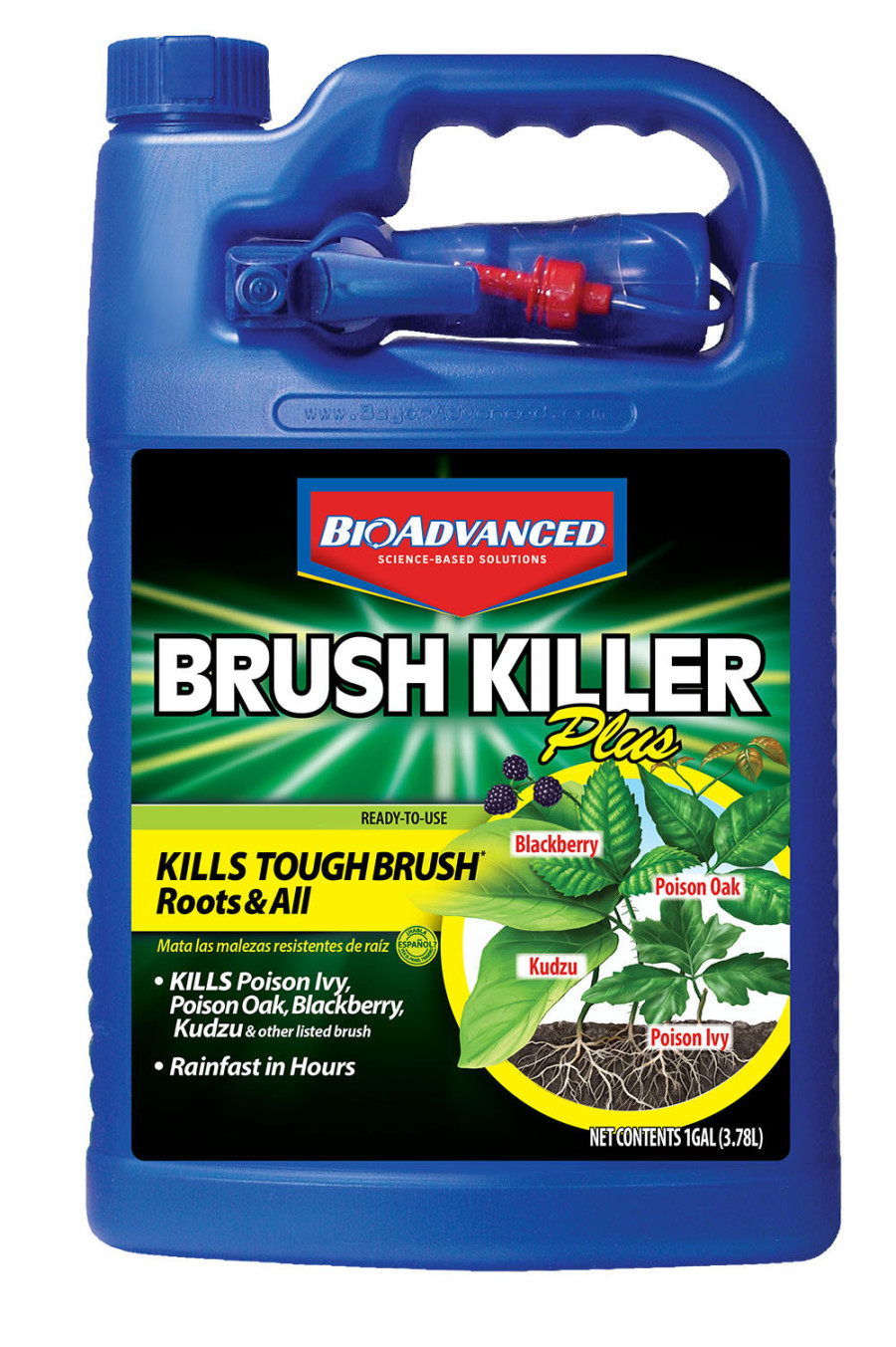 Form:

Liquid Ready to Use

Made in USA?:

Yes

Manufacturer:

SBM LIFE SCIENCE CORP

Max Coverage Area:

5000

Natural:

No

Private Label:

No

Professional:

No

Size:

1 Gallon

Usage Sites:

Along Fences, Flower Garden, Lawn

Water Resistant:

Yes

Weed Type:

Blackberry, Broadleaf Weeds, Kudzu, Poison Ivy, Poison Oak
Special penetrating formula, kills even the toughest plants Kills Kudzu, Poison Ivy, Poison Oak, Blackberry and Bramble PLUS kills 70+ other types of listed weeds and brush #1 Brush killer brand Easy to refill with Concentrate
Special penetrating formula, kills even the toughest plants
Kills Kudzu, Poison Ivy, Poison Oak, Blackberry and Bramble
PLUS kills 70+ other types of listed weeds and brush
#1 Brush killer brand
Easy to refill with Concentrate
Additional Features
Product Label
Ingredients
Instructions
Safety
Specifications
Product Gross Weight:

9.944 lb

Product Net Weight:

8.870 lb

Product Height:

11.880 in

Product Length:

7.500 in

Product Width:

5.500 in

Packaging Type:

Can
Ingredients:

Triclopyr; Triethylamine salt

Active Ingredients:

Triclopyr, Triethylamine salt
Primary Usage:

Kills Blackberry, Kudzu, Poison Ivy, Poison Oak

Application Method:

Spray

Application Season:

Spring; Summer

Battery Required:

No

Batteries Included?:

No

Assembly Required?:

No

Use Instructions:

How much to use: Brush, Vines, Woody Plants and Other Hard-to-Kill Weeds: Add 4 . oz. (1/2 Cup or 8 TBSP) to 1 gallon of water to treat up to 500 square feet. Do not apply more than 17 oz brush killer per 500 square feet per year. Stumps: Use full strength. Do not dilute. Determine amount of spray solution to prepare - See "How Much to Use". Make up spray solution by following directions specify c to your sprayer – See "Sprayer Types". Adjust sprayer nozzle to a coarse spray. Spray the weeds you want to kill until thoroughly wet but not dripping.Tips: Use a sheet of cardboard or plastic to protect desirable plants from accidental contact with the product. To Kill Vines: For vines growing on desirable plants, cut the vine and treat as directed for stump removal. To Kill Poison Ivy or Poison Oak: Contact with Poison Ivy or Poison Oak anytime of the year can cause an allergic reaction. Handle dead plants with rubber gloves. Dispose of plants and gloves in tightly sealed garbage bags. To Kill Stumps: Completely cover freshly cut stump with undiluted product using a paintbrush. Do not reuse paintbrush for other uses. When discarding, wrap brush in newspaper and put in trash.

Storage Instructions:

Store in original container in a cool, dry place preferably a locked storage cabinet. Protect from freezing.
First Aid Measures:

If in Eyes: Hold eye open and rinse slowly and gently with water for 15-20 minutes. Remove contact lenses, if present, after the first 5 minutes, then continue rinsing eye. Call a poison control center or doctor for treatment advice. If on Skin or Clothing: Take off contaminated clothing. Rinse skin immediately with plenty of water for 15-20 minutes. Call a poison control center or doctor for treatment advice. If Swallowed: Call a poison control center or doctor immediately for treatment advice. Have person sip a glass of water if able to swallow. Do not induce vomiting unless told to do so by a poison control center or doctor. Do not give anything by mouth to an unconscious person.

Safety Warnings:

Avoid contact with eyes, skin and clothing. Avoid breathing spray mist. Causes moderate eye irritation. Harmful if swallowed, inhaled or absorbed through skin. Wash hands thoroughly with soap and water after handling and before eating, drinking, chewing gum, or using tobacco. Wear a long sleeved shirt, long pants, shoes and socks when applying this product. Safe for pets once dried.