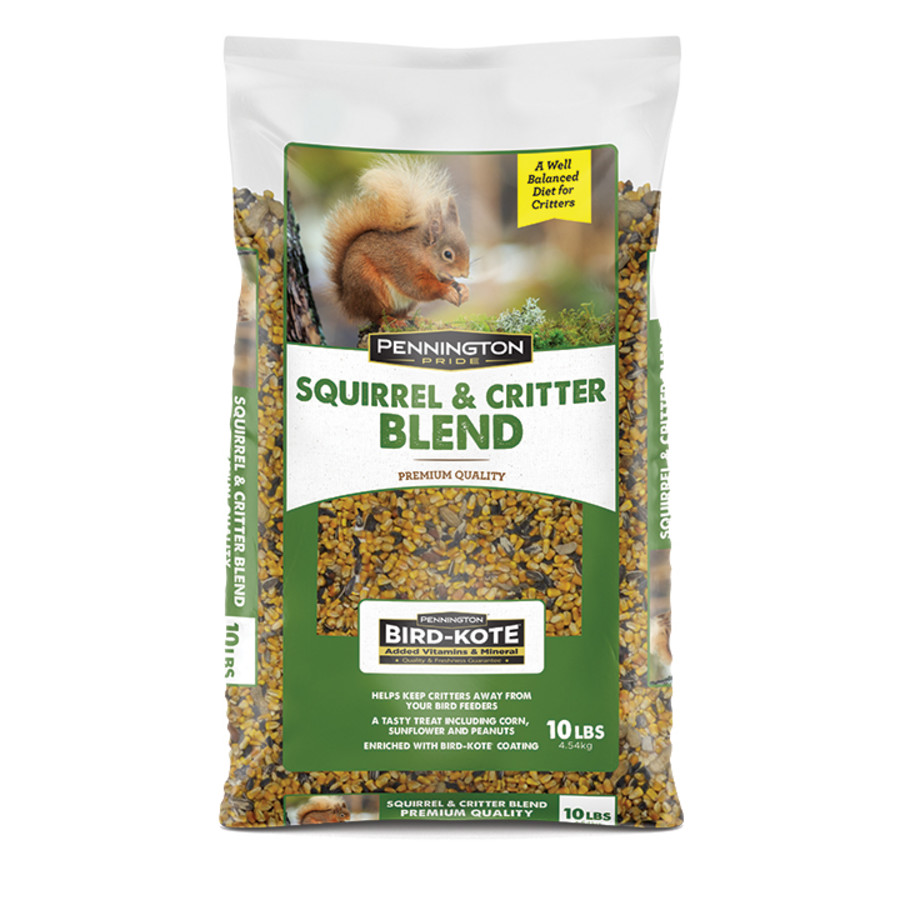 Animal Category:

Small Animal

Made in USA?:

Yes

Manufacturer:

Central Garden and Pet

Private Label:

No

Professional:

No

Size:

10 Pounds
Made of tasty corn, sunflower and peanuts, Pennington Pride Squirrel & Critter Blend is an excellent year-round food source for backyard critters! Ideal for feeding squirrels, chipmunks, rabbits, raccoons, deer, geese, pheasants, ducks, turkeys and other backyard wildlife. If you want to help keep squirrels and other animals away from your bird feeders, place Pennington Pride Squirrel & Critter Blend a distance away from all bird feeders. Use in squirrel feeders, platform feeders, tray feeders or spread directly on ground and always supply a constant source of fresh water. This feed nicely complements the Pennington Squirrel Snacker Feeder.
Additional Features
Allergen Information
Ingredients
Instructions
Guaranteed Analysis
Product Gross Weight:

10.2 lb

Product Net Weight:

10.0 lb

Product Height:

19.0 in

Product Length:

2.5 in

Product Width:

11.0 in

Packaging Type:

Bag
Allergen Information:

Contains peanuts and/or tree nuts
Ingredients:

corn; Black oil Sunflower; whole Peanuts and striped sunflower
Storage Instructions:

Reseal package and store in a cool dry place. This will protect against insect infection that can naturally occur with any whole grain seed product.

Feeding Instructions:

Place Squirrel & Critter Blend into feeder and hang feeder approximately 5 feet above the ground.
Crude Fat (min):

8 %

Crude Fiber (max):

12 %

Crude Protein (min):

9 %

Iodine (min):

0.0000003 IU/kg