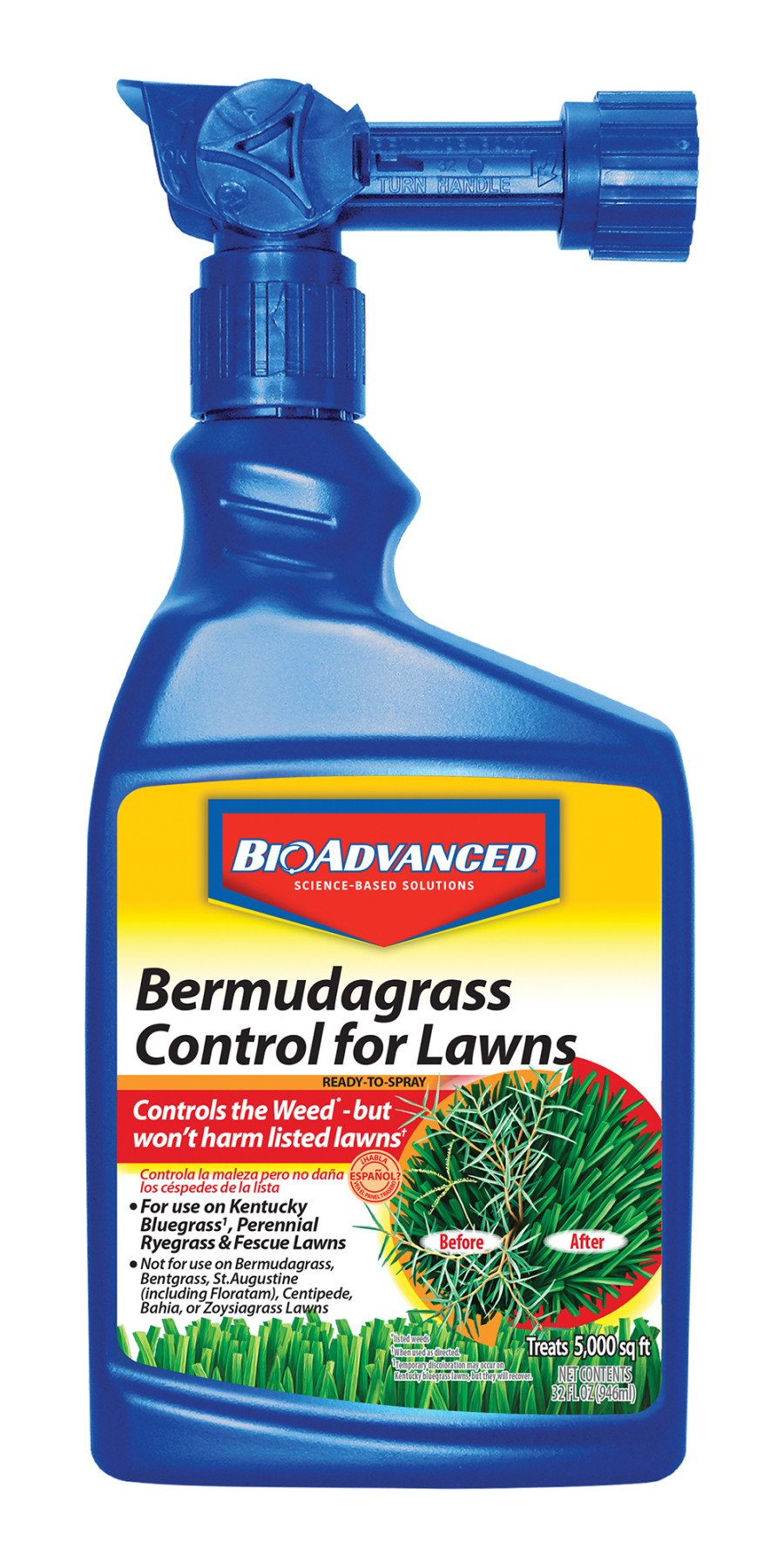 Form:

Liquid Ready to Spray

Grass Type:

Bermudagrass

Made in USA?:

Yes

Manufacturer:

SBM LIFE SCIENCE CORP

Max Coverage Area:

5000

Private Label:

No

Size:

32 Ounces

Weed Type:

Foxtail, Panicum, Sandbur
Selectively remove undesirable Bermudagrass weeds, without damaging your lawn. For use on cool-season grasses such as Fescue, Kentucky Bluegrass and Perennial Ryegrass. Reduces the need for costly, time-intensive treatments. Rainproof in 1 hour. 32 oz. Ready-To-Spray treats 5,000 sq. ft.
Additional Features
Product Label
Ingredients
Instructions
Safety
Product Gross Weight:

2.764 lb

Product Net Weight:

2.144 lb

Product Height:

11.250 in

Product Length:

4.730 in

Product Width:

2.550 in

Packaging Type:

Bottle

Recommended For:

Bermudagrass; Barnyard Grass; Crabgrass; Goose Grass; Japanese Stiltgrass; Johnsongrass
Ingredients:

Fenoxaprop-pethyl

Active Ingredients:

Fenoxaprop-p Ethyl
Primary Usage:

Kills Bermudagrass

Application Method:

Spray

Application Season:

Fall; Winter

Use Instructions:

Connect: Shake well before use. Connect sprayer to garden hose. Turn on water. Spray: Extend hose to farthest area to be treated, point sprayer nozzle in direction to be sprayed. Begin spraying – Press lock tab while using other hand to turn sprayer valve to ON position. Walk at a steady pace while spraying, using an even sweeping motion, and slightly overlap the treated areas. Work back toward the faucet to avoid walking over wet, treated grass.Finish: To stop spraying, Press lock tab while using other hand to turn sprayer valve to OFF position. Turn off water at faucet. Relieve water pressure in hose by turning sprayer valve back to ON position until water slows to a drip then turn sprayer valve to OFF position. Disconnect sprayer from hose.

Storage Instructions:

Store in original container in a cool, dry place.
First Aid Measures:

If in Eyes: Hold eye open and rinse slowly and gently with water for 15-20 minutes. Remove contact lenses, if present, after the first 5 minutes, then continue rinsing eye. Call a poison control center or doctor for further treatment advice. If on Skin or Clothing: Take off contaminated clothing. Rinse skin immediately with plenty of water for 15-20 minutes. Call a poison control center or doctor for treatment advice. If Swallowed: Call a poison control center or doctor immediately for treatment advice. Have person sip a glass of water if able to swallow. Do not induce vomiting unless told to do so by a poison control center or doctor. Do not give anything to an unconscious person.

Safety Warnings:

Avoid contact with skin, eyes and clothing. Causes moderate eye and skin irritation. Harmful if swallowed. Wash thoroughly with soap and water after handling and before eating, drinking, chewing gum, or using tobacco. Wear protective eyewear. When using this product, wear long sleeved shirt and long pants, shoes plus socks. Safe for pets once dried.