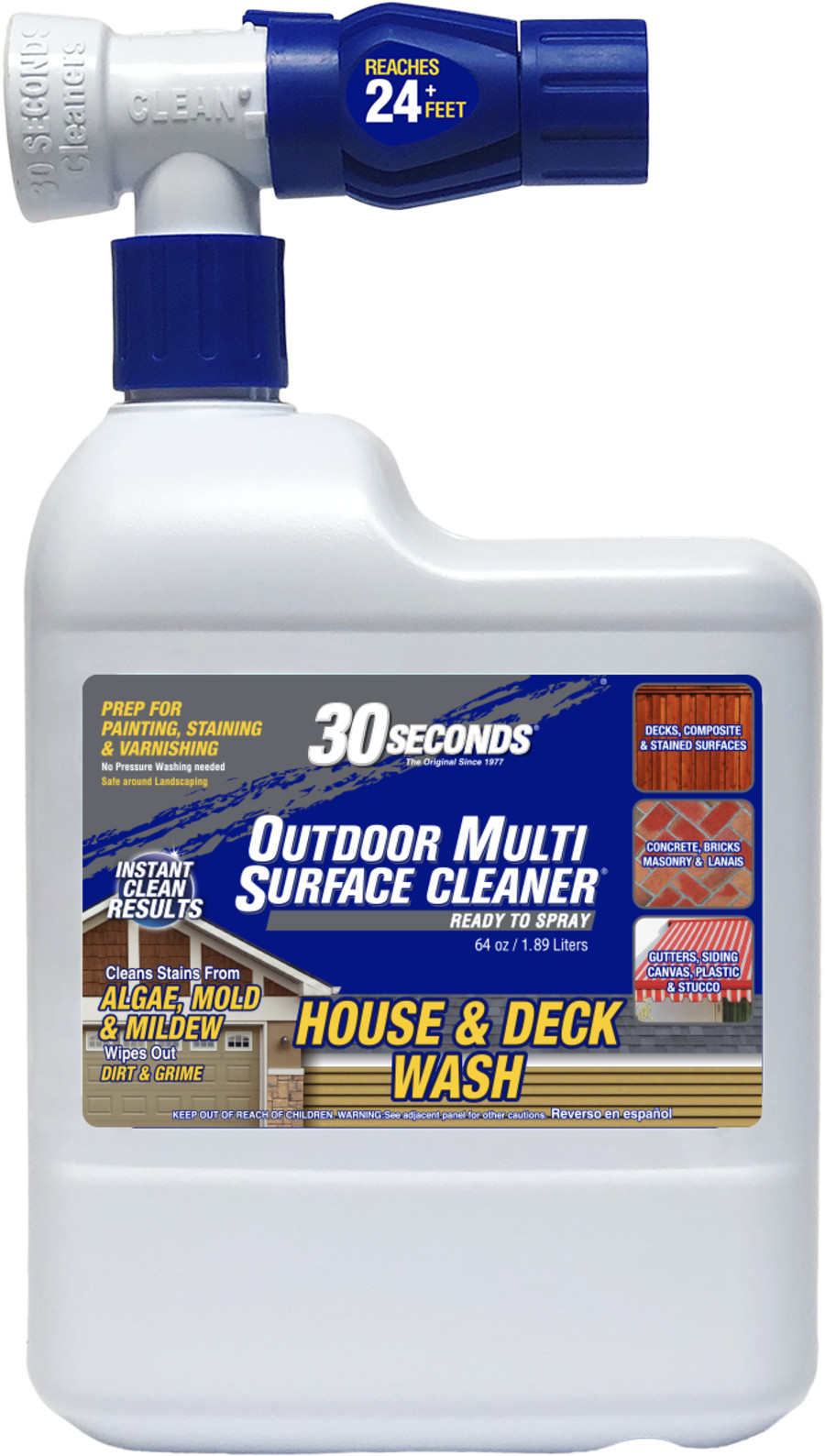 Form:

Liquid Ready to Spray

Made in USA?:

Yes

Manufacturer:

COLLIER MANUFACTURING LLC

Max Coverage Area:

2000

Private Label:

No

Retail Display:

None

Size:

64 Ounces

Usage Sites:

Flower Garden, Landscape, Lawn
Prepping outdoor surfaces for painting, staining, or varnishing is even easier with 30 SECONDS Outdoor. A real Multi Surface Cleaner for everything from your home to a garden gnome. Cleans stains from Algae, Mold and Mildew from virtually any outdoor surface. Safe to use around plants, lawn and landscaping. 30 SECONDS Outdoor Multi Surface Cleaner is formulated to keep soils and ions in suspension longer on vertical surfaces for a deeper clean and instant results. No need to pressure wash. Simply attach to your garden hose, spray on and rinse off. Remove the red fan attachment to reach additional reach. It's clean when YOU want it clean!
Ready to Spray
Includes Hose-End attachment
Additional Features
Product Label
Ingredients
Instructions
Safety
SDS
Product Gross Weight:

5.160 lb

Product Net Weight:

4.000 lb

Product Height:

11.250 in

Product Length:

3.500 in

Product Width:

6.250 in

Packaging Type:

Bottle

Recommended For:

Brick; Boats; Composite Deck & Roof; Concrete; Decks; Driveways; Fences; Fiberglass; Flower Pots; Garden; Gardenhouses; Gutters; Houses; Lanals; Log Cabins; Mailboxes; Mobile homes; Outdoor Furniture & Canvas; Painted Surface; Pathways; Patio or Deck; Paver; Planter Boxes; Porches; Roots; RV Tops; Siding; Stucco; Tarps; Tents; Tiles; Vinyl Fencing & Siding; Wood
Ingredients:

Sodium Hypochlorite

Active Ingredients:

Inert ingredients 86%; Proprietary ingredients 6%; Sodium Hypochlorite (bleach) Commercial Grade, highly stable, 70% less NaCl (salts) 8%
Application Method:

Spray

Use Instructions:

Easy assembly: Attach to a garden house with value in the OFF position. Turn on water to house.Saturate to clean: Turn valve to clean and Saturate with the product. Allow the cleaner sit on the surface. Do not let dry on the surface.Rinsing is a cinch: Turn value to rinse. Hose off surface and surrounding plants and window thoroughly. Return valve to OFF position for storage or recycle.Metal, plastic, painted surfaces, Fiberglass, cloth: Keep wet with the product For up to 3 minutes, then brush surface if necessary.Wood, Composite: Keep wet with the product for Up to 5 minutes, then brush surface with if necessary.Concrete, Masonry, Tile, Asphalt: Keep wet with the product for Up to 15 minutes, then brush surface with the grain.For heavier stains, reapply cleaner to surface before rinsing and brush again, if necessary. Rinse the surface thoroughly with water, Turn valve OFF after use.

Storage Instructions:

Store in a cool, dark place and transport in an upright position
Caution:

Keep out of the reach of children

First Aid Measures:

If in Eyes: Remove contact lenses if worn, if possible. Rinse opened eye for several minutes under running water. Then consult a doctor.If in Skin: Immediately remove any clothing soiled by the product. Rinse with warm water. Seek medical treatment if any skin damage has occurred.If Inhalation: Supply fresh air; consult doctor in case of complaints. Provide oxygen treatment if affected person has difficulty breathing. If Swallowing: Rinse out mouth and then drink plenty of water. Do not induce vomiting; immediately call for medical help

Safety Warnings:

Avoid contact with the eyes and skin