BioAdvanced 24 Hour Grub Killer Plus Granules 1ea/10 lb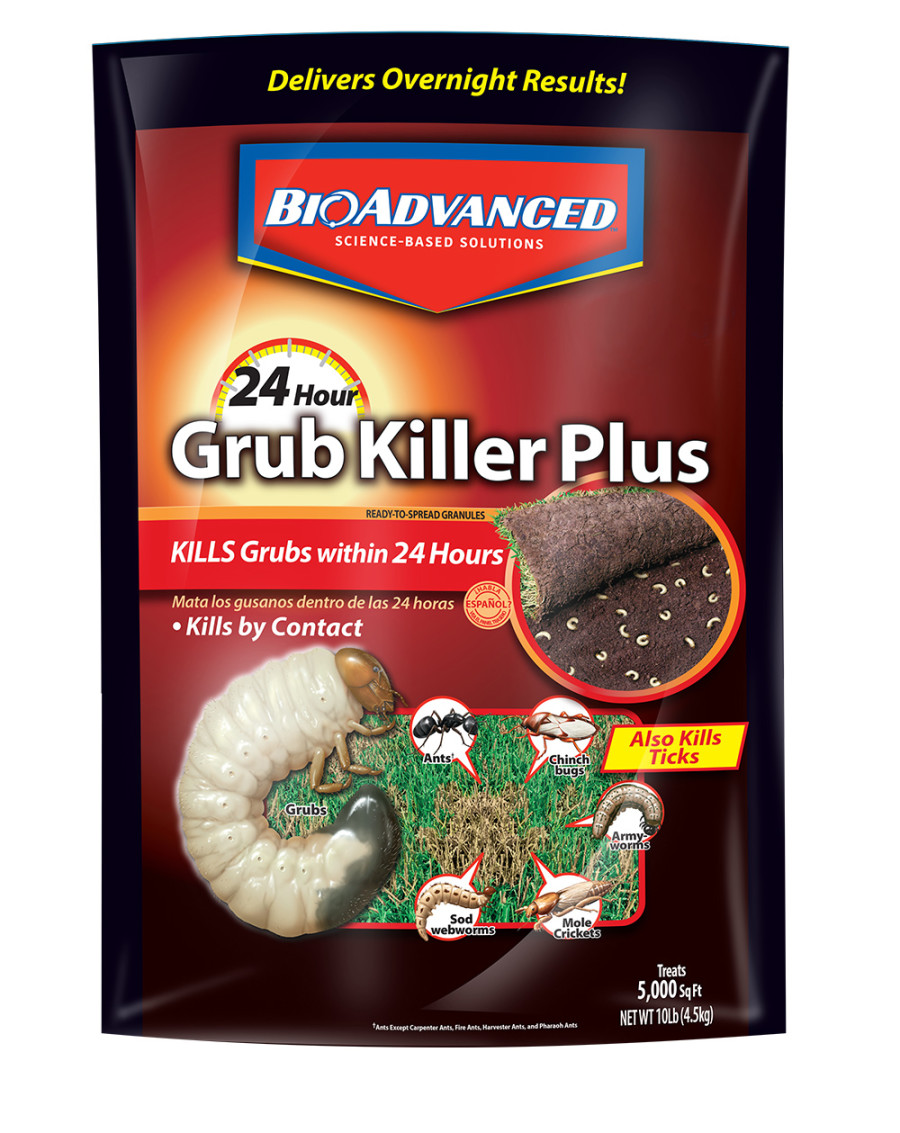 Form:

Granules

Manufacturer:

SBM LIFE SCIENCE CORP

Max Coverage Area:

10000

Pet Safe:

No

Private Label:

No

Size:

10 Pounds

Target Pests:

Ants, Armyworms, Billbugs, Chinch Bugs, Crickets, Cutworms, Earwigs, European Crane Flies, Grasshoppers, Grubs, Leafhoppers, Millipedes, Pillbugs, Scorpions, Sod Webworms, Sowbugs, Ticks

Usage Sites:

Lawn
Excellent turf rescue formula - delivers overnight results! Contains DYLOX - kills Grubs in 24 hours. PLUS kills Ants, Armyworms, Billbugs, Chinch Bugs, Crickets, Cutworms, Earwigs, Grasshoppers, Leafhoppers, Millipedes, Mole Crickets, Pillbugs, Scorpions, Sod Webworms, Sowbugs and Ticks. 10 lb. bag treats 5,000 sq. ft. for White Grubs, Billbugs and Mole Crickets; 7,500 sq. ft. for other lawn pests.
Additional Features
Product Label
Ingredients
Instructions
Safety
Warranty
Product Gross Weight:

10.960 lb

Product Net Weight:

10.000 lb

Product Height:

3.000 in

Product Length:

16.000 in

Product Width:

10.250 in

Packaging Type:

Bag

Recommended For:

Lawn
Ingredients:

DYLOX

Active Ingredients:

Trichlorfon
Primary Usage:

Kills Grubs

Application Method:

Spreader

Use Instructions:

Apply when Grubs, insects or damage first appear. The best time to kill grubs is July through September, when they are young and actively feeding near the soil surface. Apply when you see first signs of damage, usually 6 weeks after adults first appear. A second application may be necessary for species that have multiple generations. Adjust spreader to the proper setting. To be sure you cover the entire area uniformly, first treat the border of the lawn then fill in the center. Make parallel passes, walking at a steady pace to ensure even distribution of the granules. Water thoroughly after applying. You may spread this product over soil or mulch. If present, remove weed barrier before applying.

Storage Instructions:

Store in cool, dry area
Caution:

Keep out of the reach of children

First Aid Measures:

If in Eyes: Hold eye open and rinse slowly and gently with water for 15-20 minutes. Remove contact lenses, if present, after the first 5 minutes, then continue rinsing eye. Call a poison control center or doctor for treatment advice.If Inhaled: Move person to fresh air. If person is not breathing, call 911 or an ambulance, then give artificial respiration, preferably mouth-to-mouth if possible. Call a poison control center or doctor for further treatment advice.If Swallowed: Call a poison control center or doctor immediately for treatment advice. Have person sip a glass of water if able to swallow. Do not induce vomiting unless told to do so by a poison control center or doctor. Do not give anything by mouth to an unconscious person.

Safety Warnings:

Avoid contact with eyes, skin, or clothing. Do not apply with hand-held or chest-mounted spreader. Prolonged or frequently repeated skin contact may cause allergic skin reactions in some people. Wash thoroughly with soap and water after handling and before eating or smoking.
Warranty Description:

Money Back Guarantee