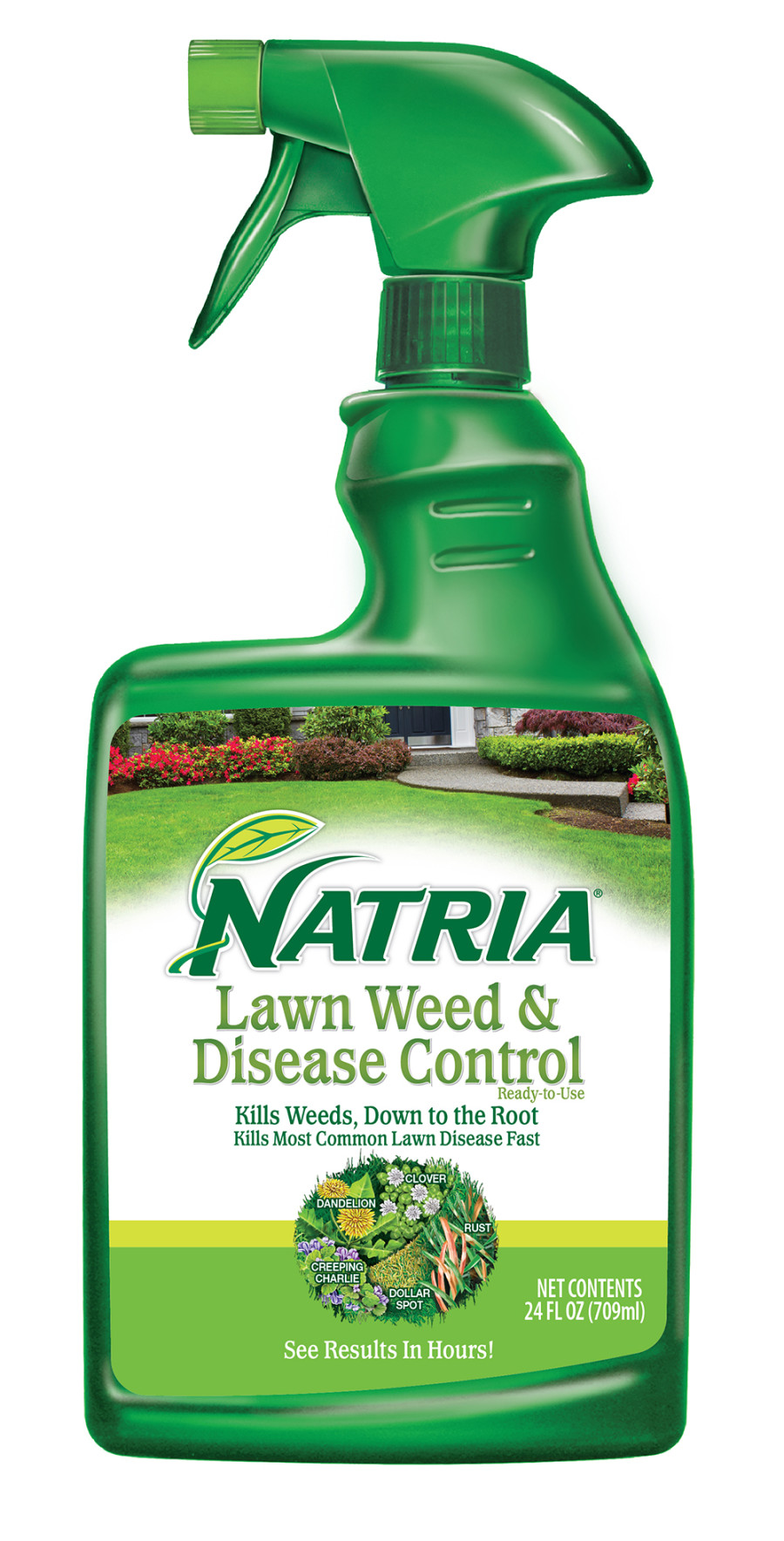 Form:

Liquid Ready to Use

Made in USA?:

Yes

Manufacturer:

SBM LIFE SCIENCE CORP

Max Coverage Area:

1875

Natural:

Yes

Organic:

Yes

Pet Safe:

No

Private Label:

No

Size:

24 Ounces

Target Pests:

Algae, Dandelion, Lichens, Liverworts, Moss, Weeds

Usage Sites:

Lawn

Weed Type:

Clover, Common Chickweed, Creeping Charlie, Dandelion
Save time and money - two applications in one innovative combination formula. Kills listed weeds - Dandelion, Clover, Creeping Charlie and more. Kills listed diseases - Dollar Spot, Rust and more. Works fast! See visible results in hours, can be applied in cooler weather (down to 50°F) during non-traditional weeding times. Easy to refill with Concentrate. See label instructions.
Convenient and Ready to use
Additional Features
Ingredients
Instructions
Safety
Warranty
Product Gross Weight:

2.080 lb

Product Net Weight:

1.500 lb

Product Height:

11.250 in

Product Length:

5.000 in

Product Width:

2.190 in

Packaging Type:

Bottle
Active Ingredients:

Iron HEDTA (FeHEDTA) 1.50%
Primary Usage:

Kills Lawn Weeds & Diseases

Application Method:

Spray

Application Season:

All-Season

Use Instructions:

Connect: Shake well before use. Securely Connect sprayer to garden hose. Be sure that ON/OFF Switch is in OFF position, toward hose end of sprayer. Turn on water at faucet. For first time use, remove plastic shipping lock from beneath switch.Spray: Extend hose to farthest area to be treated, point sprayer nozzle in direction to be sprayed. Begin spraying - Push ON/OFF Switch forward into ON position. Walk at a steady pace while spraying, using an even sweeping motion, and slightly overlap treated areas. Work back toward faucet to avoid walking over wet, treated grass.Finish: To stop spraying, push ON/OFF Switch to OFF position. Turn off water at faucet. Relieve water pressure in hose by turning ON/OFF Switch back to ON position until water slows to a drip, then return ON/OFF switch to OFF position. Disconnect sprayer from hose.

Storage Instructions:

Store this product in its original container. Store unused material, tightly closed, in original container only, away from open flame.
Caution:

Keep out of the reach of children

First Aid Measures:

If in Eyes: Hold eye open and rinse slowly and gently with water for 15-20 minutes. Remove contact lenses, if present, after the first 5 minutes, then continue rinsing eye. Call a poison control center or doctor for treatment advice.

Safety Warnings:

Avoid contact with eyes or clothing. Causes slight eye irritation. Wash thoroughly with soap and water after handling and before eating, drinking, chewing gum, using tobacco or using the toilet.
Warranty Description:

To the extent consistent with applicable law, seller warrants that this product conforms to the chemical description on this label and is reasonably fit for purposes stated on this label only when used in accordance with directions under normal use conditions. This warranty does not extend to use of this product contrary to label directions, or under abnormal use conditions, or under conditions not reasonably foreseeable to seller. Buyer assumes all risk of any such use. To the extent consistent with applicable law, seller makes no other warranties, either expressed or implied.