Adams Plus Fleas and Tick Prevention Spot On for Dogs Medium Dogs 15-30 Pounds 6ea/3 Month Supply, Refill
Adams Plus Fleas and Tick Prevention Spot On for Dogs Medium Dogs 15-30 Pounds 6ea/3 Month Supply, Refill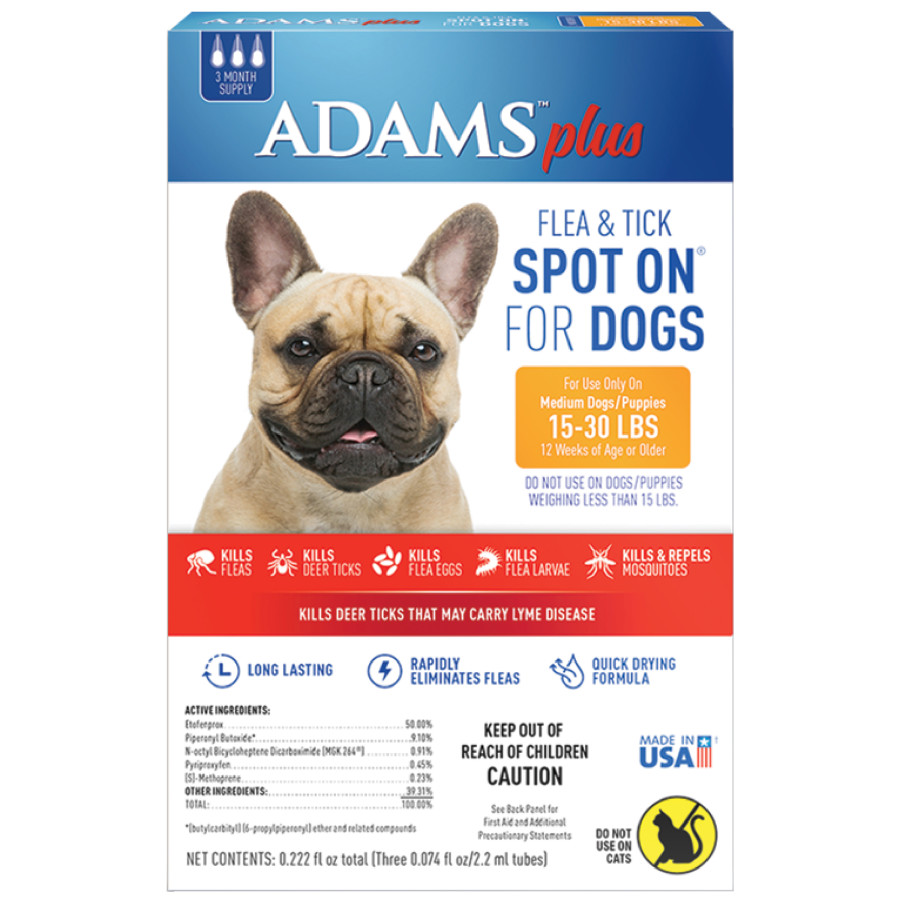 Animal Category:

Dog

Manufacturer:

Central Garden and Pet

Private Label:

No

Professional:

Yes

Size:

3 Month Supply, Refill

Style:

Medium Dogs 15-30 Pounds
Adams Plus Flea & Tick Spot On for Dogs and Puppies is a long lasting, quick drying topical designed to keep your pet protected from flea and tick infestations for up to 30 days. Our formula contains an insect growth regulator (IGR) that breaks the flea and tick life cycle; it kills: Adult Fleas, Flea Eggs, Flea Larvae, Chewing Lice, Tick Nymphs, Tick Larvae, and Deer Ticks, which may transmit Lyme Disease. It also kills and repels mosquitoes! Application is easy; squeeze this spot treatment onto your dog's skin between the shoulder blades. Package contains a 3-month supply and made in the USA. For use on dogs and puppies, 12 weeks of age and older only. Use as directed.
Kills: Fleas, Flea Eggs, Flea Larvae, Brown dog ticks, Deer ticks, Mosquitoes, Tick Nymphs, Tick Larvae And Deer Ticks
Starts killing fleas within 15 minutes and lasts for 30 days
Quick drying formula, stays on and doesn't rub off
3 monthly treatments
Additional Features
Ingredients
Instructions
Warranty
Product Gross Weight:

0.069 lb

Product Net Weight:

0.015 lb

Product Height:

6.81 in

Product Length:

1.06 in

Product Width:

4.31 in

Packaging Type:

Box
Ingredients:

Etofenprox - 50%, Piperonyl Butoxide - 9.10%, N-octyl bicycloheptene dicarboximide - 0.91%, Pyriproxyfen - 0.45%, S-Methoprene - 0.23%, Other - 39.31%
Battery Required:

No

Batteries Included?:

No

Use Instructions:

For use only on dogs or puppies 12 weeks of age or older. Do not use on dogs or puppies weighing less than 15 lbs. Do not allow your dog/puppy to ingest this product. Do not exceed labeled dosage amount for dogs. Do not apply more than one tube per treatment. Do not have contact or allow children to leave contact with treated area until completely dry. Do not allow children to apply product. Do not use on other animals.

Storage Instructions:

Pesticide Storage: Keep this product in its tightly cooled original container, when not in use. Store in a cool, dry (preferably locked) area that is inaccessible to children and animals.
Warranty Description:

None