BioAdvanced Complete Insect Killer for Soil & Turf Granules 1ea/11.5 lb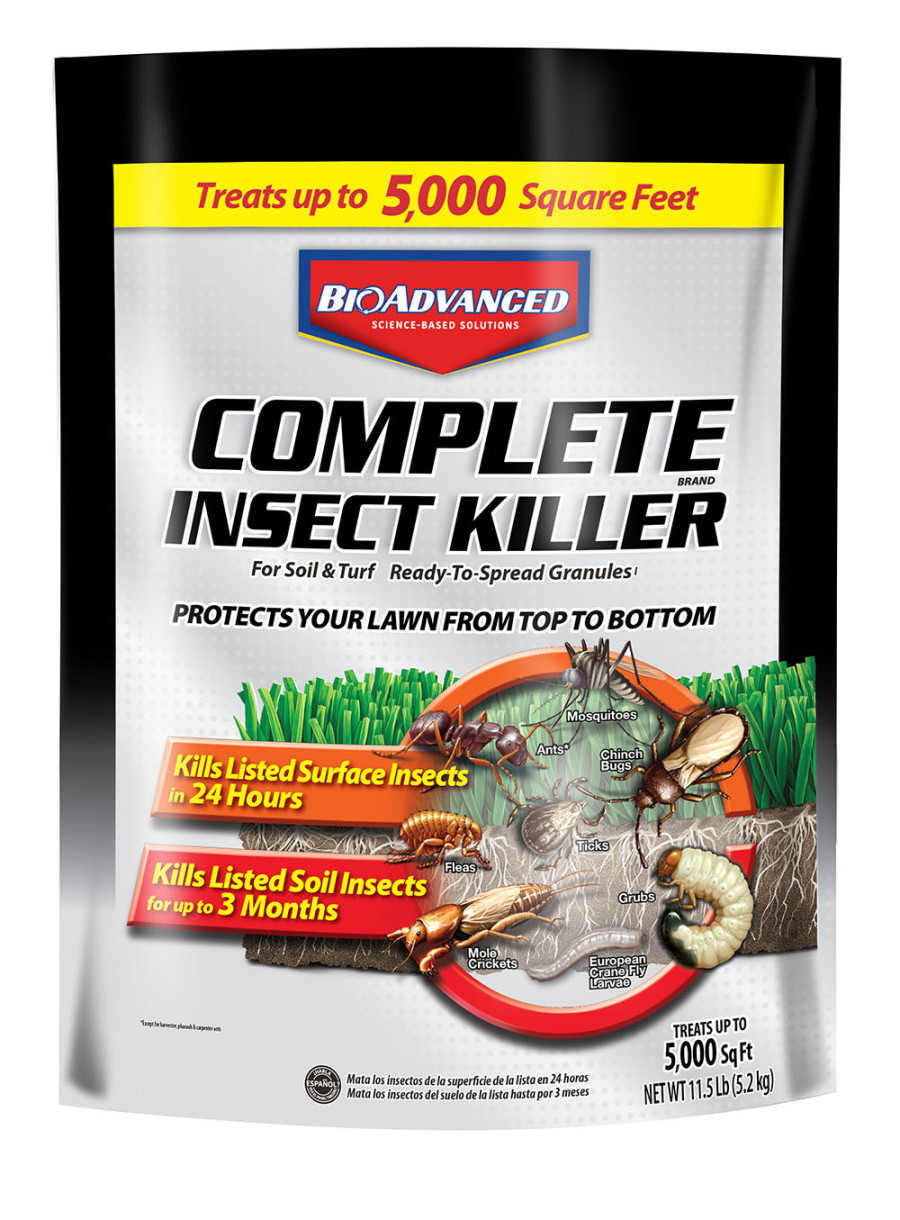 Form:

Granules

Manufacturer:

SBM LIFE SCIENCE CORP

Max Coverage Area:

5000

Pet Safe:

No

Private Label:

No

Size:

11.5 Pounds

Target Pests:

Ants, Chinch Bugs, Cutworms, Fleas, Grubs, Mole Crickets, Mosquitoes, Ticks

Usage Sites:

Lawn, Ornamentals
Kills listed surface insects in 24 hours. Kills soil insects for up to 3 months. Kills the most common lawn pests, including: Ants, Fleas, Ticks, European Crane Fly Larvae, Grubs, Mole Crickets and other listed insects. Can be used as an outdoor barrier treatment.
Keeps on protecting your lawn from subsurface insects for up to 90 days after application.
Kills more than 30 pests in lawns and around homes.
This product that can be used on Lawns, Ground Covers, Flowers, Roses, Trees, Shrubs and along building foundations.
Additional Features
Product Label
Ingredients
Instructions
Safety
Warranty
Product Gross Weight:

11.800 lb

Product Net Weight:

11.500 lb

Product Height:

2.500 in

Product Length:

14.000 in

Product Width:

10.000 in

Packaging Type:

Bag

Recommended For:

Home; Lawn; Ornamentals
Ingredients:

Bifenthrin; Cyfluthrin

Active Ingredients:

Bifenthrin; Carbaryl
Primary Usage:

Kills Insects

Application Method:

Spreader

Use Instructions:

Apply uniformly over the treatment area with either a broadcast or drop type spreader. Apply only the speci_x001F_ed amount in the following table. Calibrate the spreader before use and check periodically to ensure the equipment is working properly. Avoid overlaps that will increase rates above those speci_x001F_ed. Do not over or under apply. Failure to follow the Directions for Use and all precautions may result in poor pest kill. Product must be watered in immediately after application to lawns.

Storage Instructions:

Store in cool, dry area
Caution:

Keep out of the reach of children

First Aid Measures:

If in Eyes: Hold eye open and rinse slowly and gently with water for 15-20 minutes. Remove contact lenses, if present, after the first 5 minutes, then continue rinsing eye. Call a poison control center or doctor for treatment advice.If in Skin or Clothing: Take off contaminated clothing. Rinse skin immediately with plenty of water for 15-20 minutes. Call a poison control center or doctor for treatment advice.If Swallowed: Call a poison control center or doctor immediately for treatment advice. Have person sip a glass of water if able to swallow. Do not induce vomiting unless told to do so by a poison control center or doctor. Do not give anything by mouth to an unconscious person.

Safety Warnings:

Avoid contact with eyes, skin or clothing. Causes moderate eye irritation. Wear long-sleeved shirt and long pants, and shoes plus socks and chemical-resistant gloves when handling this product. Wash thoroughly and put on clean clothing. Wash hands before eating, drinking, chewing gum, tobacco, or using the toilet. Remove contaminated clothing and wash before reuse.
Warranty Description:

Manufacturer Warrants that this Product Conforms to the Chemical Description On the Label and is Reasonably fit for the Purposes Stated on the Label When Used in Strict Accordance With the Directions. Manufacturer Makes No Other Express or Implied Warranty of Merchantability or Fitness for a Particular Purpose. To the Extent Consistent with Applicable Law, It Is Manufacturer's Intent to Limit Any Liability for Special, Consequential or Incidental Economic Damages to Refund of Purchase Price or Replacement of Product, At Buyer's Choice. To the Extent Consistent with Applicable Law, Manufacturer Disclaims Any Liability for Compensatory or Other Damages Arising Out of Any Use Contrary to Label Directions.