Knockout Weed and Grass Killer 2Gly/2Pel Ready to Use 4ea/4/Gal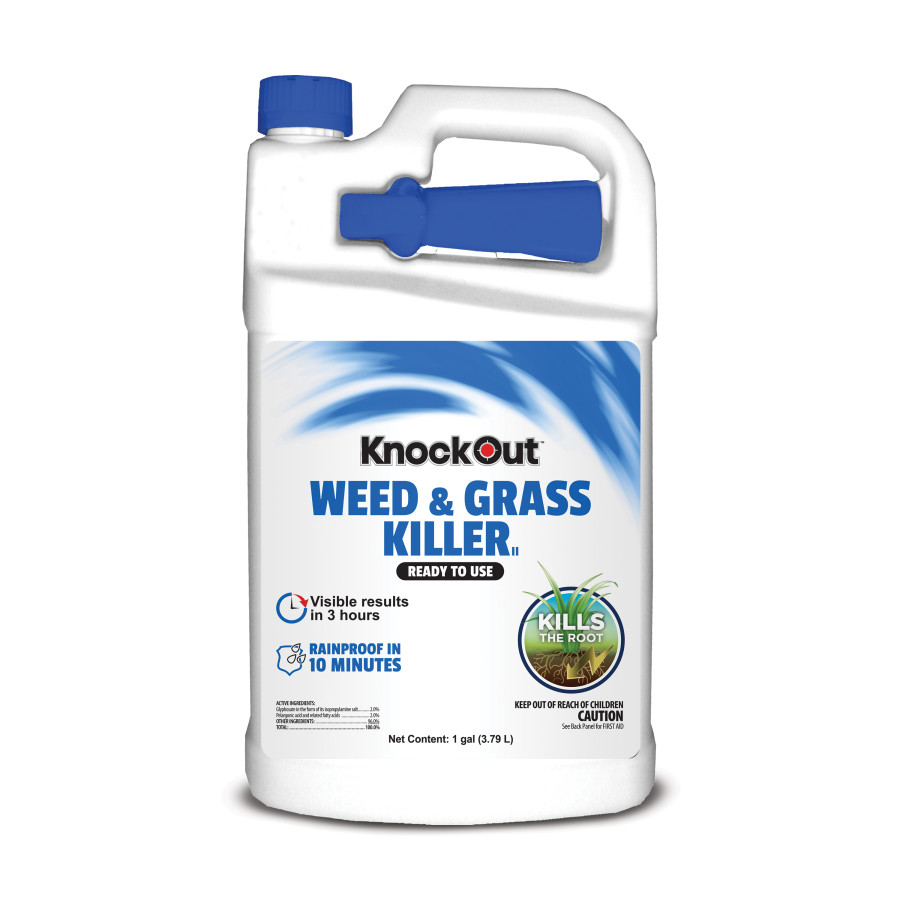 Form:

Liquid Ready to Use

Grass Type:

Bahiagrass, Bermudagrass, Kentucky Bluegrass, Perennial Ryegrass

Manufacturer:

Central Garden and Pet

Pet Safe:

No

Private Label:

No

Size:

4/Gal

Weed Type:

Broadleaf & Grassy Weeds, ChickWeed, Common Ragweed, Dandelion, Fescues, Field Bindweed, Field Sandbur, Foxtail, Kudzu, Lambsquarter, Poison Ivy, Poison Oak, Red Clover, Shepardspurse, Sowthistle, White Clover, Yellow Nutsedge
Visible results in 3 hours. Rainproof in 10 minutes. Kills the root
Additional Features
Ingredients
Instructions
Safety
Product Gross Weight:

9.54 lb

Product Net Weight:

8.75 lb

Product Height:

12.5 in

Product Length:

4.25 in

Product Width:

7.6 in

Packaging Type:

Can

Recommended For:

Along Sidewalks; Along Fences; Around Flowers; Driveways; Flower Beds; Foundation; Patios; Shrubs; Trees; Vegetable Gardens; Bahiagrass; Barnyardgrass; Bermudagrass; Johnsongrass; Kentucky Bluegrass; Orchardgrass; Perennial Ryegrass; Smooth Bromegrass; Crabgrass; Quackgrass
Ingredients:

glyphosate; pelargonic acid

Active Ingredients:

Glyphosate; Isopropylamine Salt; Pelargonic acid
Primary Usage:

Kills Weeds; Kills Grass; Kills Roots

Application Method:

Spray

Application Season:

Spring; Summer

Use Instructions:

Adjust the nozzle to a coarse spray. Position sprayer tip approximately 1-2 feet away from the weed. Spray weeds until foliage is wet.

Storage Instructions:

Store product in original container in a safe place away from direct sunlight. Keep from freezing. Store and transport in an upright position
Caution:

Keep out of the reach of children

First Aid Measures:

If in Eyes: Hold eye open and rinse slowly and gently for 15-20 minutes. Remove contact lenses, if present, after first 5 minutes, then continue rinsing eyes.Call a poison control center or doctor for additional treatment advice

Safety Warnings:

Avoid contact with eyes or clothing. Wash thoroughly with soap and water after handling. People and pets may enter treated areas after spray has dried.