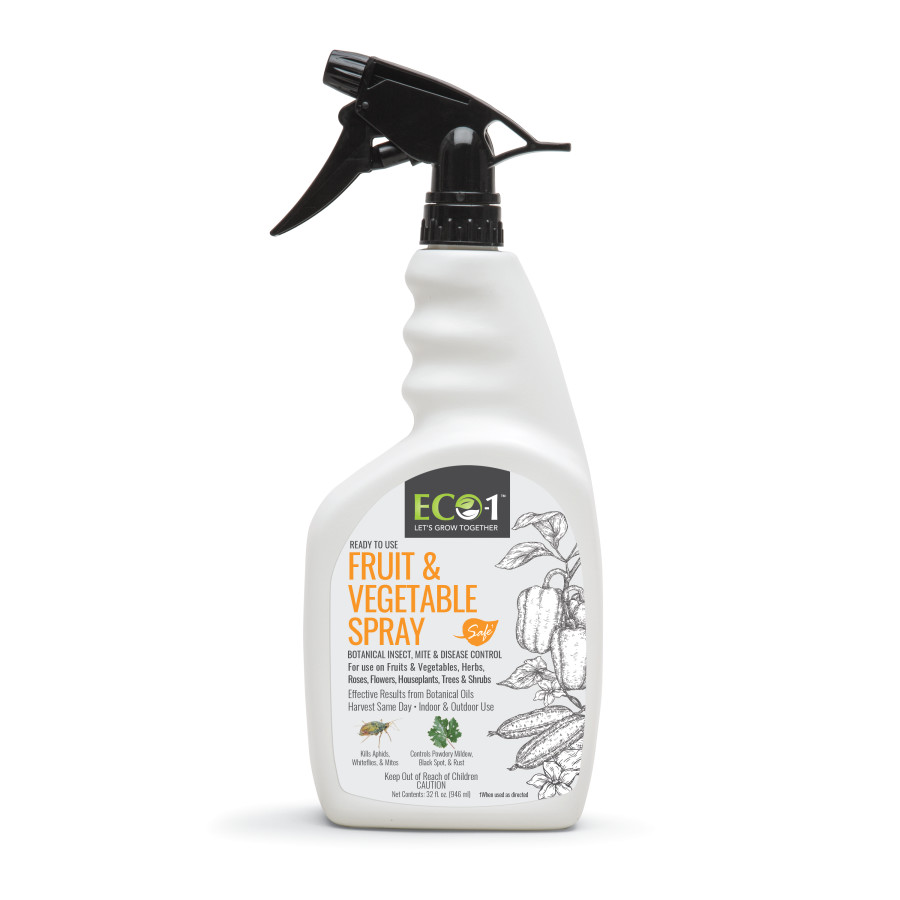 Form:

Liquid Ready to Use

Made in USA?:

Yes

Manufacturer:

ARBORJET INC

Pet Safe:

Yes

Private Label:

No

Size:

32 Ounces

Target Pests:

Aphids, Mealy Bugs, Mites, Psyllids, Scales, Thrips, Whiteflies

Usage Sites:

Flower Garden, Shrubs, Trees, Vegetable Garden
Eco-1 Fruit & Vegetable Spray is a blend of the most effective organic botanical oils available for use on edible plants and more. Created after years of research with our own formulations and industry trends, Eco-1 Fruit & Vegetable Spray offers up to 15 times more active ingredients, an easy and all-purpose application.
Additional Features
Product Label
Ingredients
Instructions
Safety
Warranty
Product Gross Weight:

2.750 lb

Product Net Weight:

2.500 lb

Product Height:

9.500 in

Product Length:

4.500 in

Product Width:

2.500 in

Packaging Type:

Bottle

Recommended For:

Flower; Fruit; Herbs; Houseplants; Roses; Shrubs; Tress; Vegetable
Active Ingredients:

Linseed Oil 1.00%; Peppermint Oil 0.05%; Rosemary Oil 0.10%; Thyme Oil 0.05%
Application Method:

Spray

Use Instructions:

Shake well before use. Thoroughly apply the Eco-1 Fruit &Vegetable Spray on the upper and lower leaf and stem surfaces, especially new shoots and under-side of leaves until runoff. Repeat applications every 7 - 14 days or as needed. Multiple applications per week may be used under heavy insect and disease pressure or during rapid plant growth . Under light pressure, the application interval may be extended. Continue applications at regular intervals until insect or disease populations are sufficiently controlled.

Storage Instructions:

Store in a cool and dry area.
Caution:

Keep out of the reach of children

First Aid Measures:

If in Eyes: Immediately flush eyes with plenty of water, occasionally lifting the upper and lower eyelids. Check for and remove any contact lenses. Get medical attention if irritation occurs.If Inhaled: Remove victim to fresh air and keep at rest in a position comfortable for breathing. Get medical attention if symptoms occur.If On Skin: Flush contaminated skin with plenty of water. Remove contaminated clothing and shoes. Get medical attention if symptoms occur.If Ingested: Wash out mouth with water. Remove victim to fresh air and keep at rest in a position comfortable for breathing. If material has been swallowed and the exposed person is conscious, give small quantities of water to drink. Do not induce vomiting unless directed to do so by medical personnel. Get medical attention if symptoms occur.

Safety Warnings:

Avoid contact with eyes and skin.
Warranty Description:

Seller warrants that the product confirms to its chemical description and is reasonably fit for the purpose stated on the label when used in accordance with directions under normal conditions of use; but neither this warranty nor any other warranty of merchantability or fitness of a particular product expressed or implied, extends to the use of this product contrary to label conditions, or under conditions not reasonably foreseeable to the seller; and buyer assumes the risk of any such use.