BioAdvanced All In One Weed & Feed Microfeed 1ea/12 lb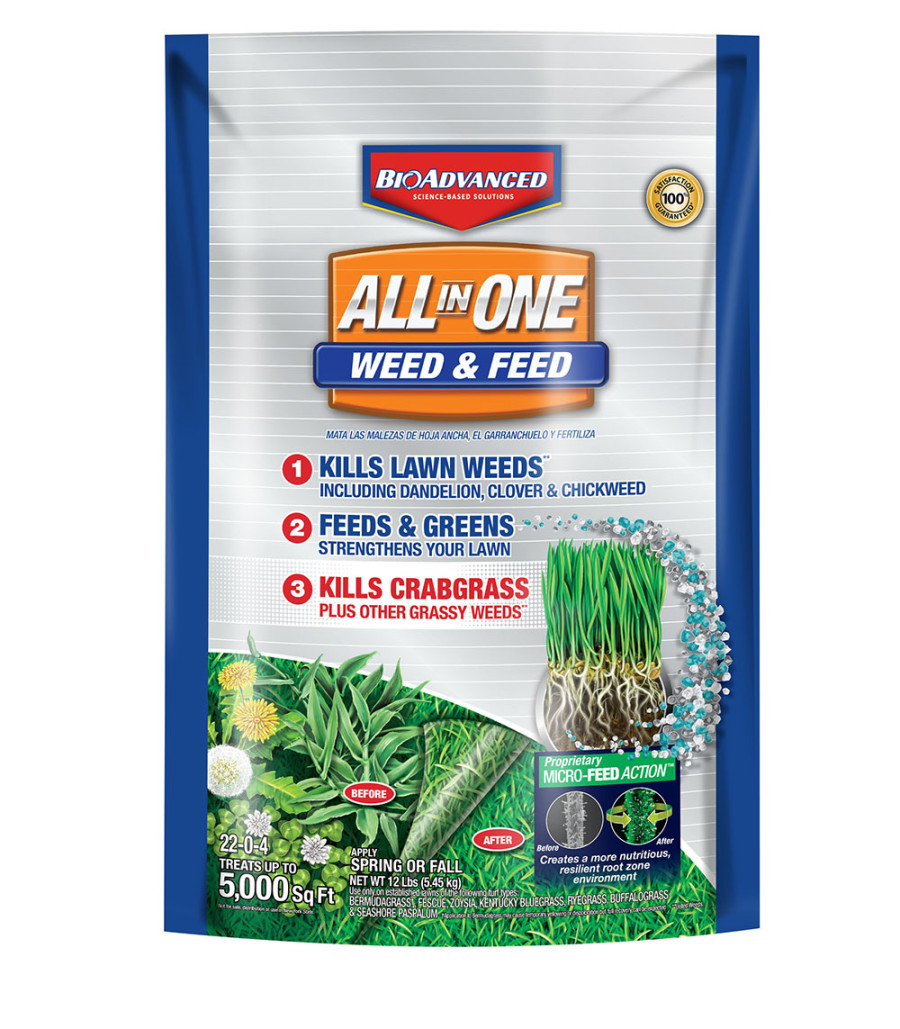 Form:

Granules

Grass Type:

Bermudagrass, Kentucky Bluegrass, Zoysia Grass

Manufacturer:

SBM LIFE SCIENCE CORP

Max Coverage Area:

5000

Natural:

No

Organic:

No

Pet Safe:

No

Private Label:

No

Size:

12 Pounds

Weed Control:

Yes
Finally a weed and feed that does more...This product kills broadleaf weeds including Dollarweed, Dandelion and Clover. Plus, prevents broadleaf and grassy weeds, including Crabgrass, UP TO 6 MONTHS.
Additional Features
Product Label
Ingredients
Instructions
Safety
Warranty
Product Gross Weight:

12.300 lb

Product Net Weight:

12.000 lb

Product Height:

15.000 in

Product Length:

3.000 in

Product Width:

12.000 in

Packaging Type:

Packet

Recommended For:

Bermudagrass; Buffalograss; Fescue; Kentucky Bluegrass; Ryegrass; Seashore Paspalum; Zoysia Grass
Active Ingredients:

2,4-D (dichlorophenoxyacetic acid); Dicamba (3,6-dichloro-o-anisic acid); Quinclorac

Nitrogen (N) Content:

22

Phosphorus (P) Content:

0

Potassium (K) Content:

4
Application Method:

Spreader

Application Season:

Fall; Spring

Use Instructions:

Use rotary or drop type spreader to apply granules evenly over the lawn. To be sure you cover lawn areas uniformly, first treat the border of the lawn then fill in the center. Make parallel passes, walking at a steady pace to ensure even distribution of the granules. If using a broadcast or rotary spreader, make sure each strip overlaps the previous strip to ensure complete coverage. If using a drop spreader, make sure the wheels overlap the wheel marks in the grass from the previous strip to ensure complete coverage. Sweep, brush, or blow any accidentally applied material off driveways, sidewalks etc. back onto the lawn.

Storage Instructions:

Store in original container in a cool, dry place, preferably a locked storage cabinet. Protect from freezing.
Caution:

Keep out of the reach of children.

First Aid Measures:

If Swallowed: Call a poison control center or doctor immediately for treatment advice. Have person sip a glass of water if able to swallow. Do not induce vomiting unless told to do so by a poison control center or doctor. Do not give anything by mouth to an unconscious person.If on Skin or Clothing: Take off contaminated clothing. Rinse skin immediately with plenty of water for 15 – 20 minutes. Call a poison control center or doctor for further treatment advice

Safety Warnings:

Harmful if swallowed or absorbed through skin. Avoid contact with skin, eyes, or clothing. Wash thoroughly with soap and water after handling and before eating, drinking, chewing gum, using tobacco, or using the toilet. Wear long-sleeve shirt and long pants, socks, shoes, and gloves. Remove and wash contaminated clothing before reuse.
Warranty Description:

Money Back Guarantee: If you are not satisfied with this product, we will gladly refund your original purchase price