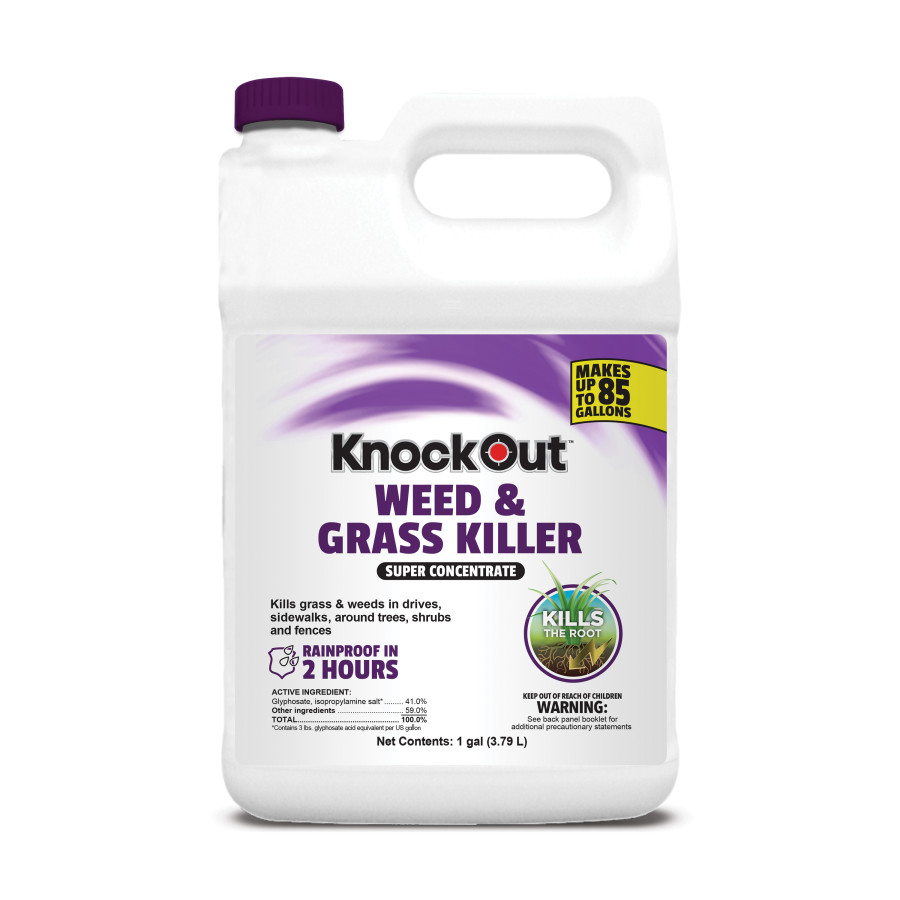 Form:

Liquid Concentrate

Grass Type:

Bahiagrass, Bermudagrass, Perennial Ryegrass

Manufacturer:

Central Garden and Pet

Max Coverage Area:

25599

Natural:

No

Pet Safe:

No

Private Label:

No

Size:

1 Gallon

Style:

Purple

Usage Sites:

Along Fences, Flower Garden, Shrubs, Trees, Vegetable Garden

Water Resistant:

Yes

Weed Type:

ChickWeed, Common Ragweed, Field Bindweed
Kills grass and weeds in driveways and walkways. Kills grass around trees, shrubs and fences. Rainproof within 2 hours. Makes up to 85 gallons
Kills grass and weeds in drives, sidewalks, around tress, shrubs and fences
Kills the root
Rainproof in 2 hours
For use around flower beds, trees, and shrubs. Kills weeds such as dandelion, johnson grass, clover, and plantain
Additional Features
Product Label
Ingredients
Instructions
Safety
SDS
Specifications
Product Gross Weight:

10.120 lb

Product Net Weight:

9.724 lb

Product Height:

12.500 in

Product Length:

4.250 in

Product Width:

7.600 in

Packaging Type:

Can

Recommended For:

Around Fences; Driveways; Flower Beds; Fruit Trees; Gardens; On Patios; Ornamentals; Paths; Sidewalks; Sidewalk Cracks; Walkways; Bahiagrass; Barnyardgrass; Bermudagrass; Crabgrass; Johnsongrass; Orchardgrass; Perennial Ryegrass; Quackgrass
Ingredients:

Glyphosate

Active Ingredients:

Glyphosate; Isopropylamine Salt
Primary Usage:

Kills Weeds; Kills Grass; Kills Roots

Application Method:

Spray

Application Season:

Fall; Spring

Battery Required:

No

Batteries Included?:

No

Assembly Required?:

No

Use Instructions:

KnockOut Weed & Grass Killer Super Concentrate is an all-purpose weed and grass killer which will kill almost all plants contacted. Spray carefully when air is calm to prevent spray or drift onto desirable plants, lawn grasses, shrubs or trees. Spray to evenly wet the weed. If necessary, use cardboard or plastic to shield desirable plants. If plants are accidentally sprayed, rinse off immediately with water.To apply this product use:• Plastic or stainless steel tank sprayer• ORTHO DIAL N SPRAY® applicator• Hand trigger sprayer• Hose-end sprayer recommended for weed killersDo not use or store solutions of this product in galvanized steel or unlined steel sprayers, or apply through any type of irrigation system or with a sprinkling can. Rinse sprayer and ush all sprayer components with water 3 times after use. Spray rinse water on bare soil or gravel. After very thorough cleaning, sprayer may be used to apply other products.When To Use:Use anytime weeds are actively growing. Most treated weeds usually show initial symptoms within 1 week and complete kill in 1 to 2 weeks. Larger more established weeds may take up to 4 weeks for complete kill. For best results, apply on a warm sunny day when daytime temperatures are above 60° F and no rainfall is forecasted for 24 hours. Warm, sunny weather will speed up weed control. Apply only when air is calm to prevent drift to desirable plants. Reapply if it rains within 2 hours after application. Rainfall or watering 2 hours after application will not wash away effectiveness. Hard-to-control weeds such as Bermudagrass may require a repeat application, if they regrow. Do not use for spot weed control in lawns since this product kills lawn grass.

Storage Instructions:

Store in original container in a safe place away from direct sunlight. Keep container closed. Keep from freezing. If frozen, allow to thaw and shake well before using.
Caution:

Keep out of the reach of children

First Aid Measures:

If in Eyes: Hold eye open and rinse slowly and gently with water for 15-20 minutes. Remove contact lenses, if present, after first 5 minutes, then continue rinsing eyes. Call a poison control center or doctor for treatment advice.If Inhaled: Move person to fresh air. If person is not breathing, call 911 or an ambulance, then give artificial respiration, preferably mouth-to-mouth if possible. Call a poison control center or doctor for treatment advice.

Safety Warnings:

Do not get in eyes or on clothing. Wear safety glasses. Harmful if inhaled. Avoid breathing spray mist. Wash thoroughly with soap and water after handling and before eating, drinking, chewing gum, or using tobacco. Remove and wash contaminated clothing before reuse. People and pets may enter treated areas after spray has dried.