BioAdvanced Durazone Weed & Grass Killer Ready to Use 4ea/1.3 gal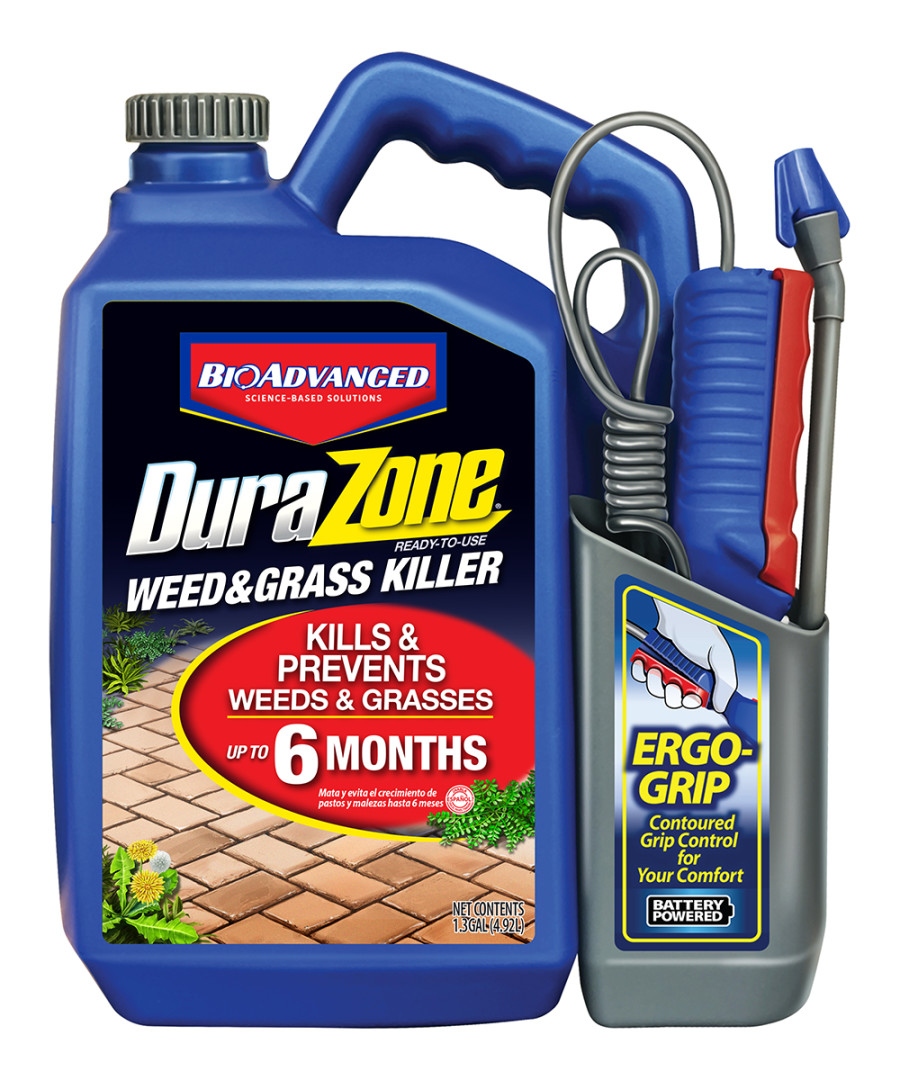 Form:

Liquid Ready to Use

Grass Type:

Bahiagrass, Centipede Grass, Zoysia Grass

Manufacturer:

SBM LIFE SCIENCE CORP

Max Coverage Area:

650

Pet Safe:

Yes

Private Label:

No

Size:

1.3 Gallons

Weed Type:

Air Potato Vine (Dioscorea Bulbifera), Ajuga Bugle Weed Carpet Bugle, Alfalfa, Asiatic Jasmine, BeggarWeed, Bermuda Buttercup, Black Clover, Blue Violet, Broom Sedge, Card Thistle, Celandine, Chamberbitter, Creeping Bellflower, Crown Vetch, Day Flower, Dead Nettle, Dwarf Dandelion, English Ivy, Garlic Mustard, Giant HogWeed, GoutWeed, Greenbriar, HorseWeed, Indian ChickWeed, Japanese Clover, Japanese KnotWeed, KnapWeed, Kyllinga, Love Vine, Marestail, Moneywort, Nettle Hedge, Pachysandra, Periwinkle, Poison Oak, Poison Sumac, Potato Vine (Dioscorea Bulbifera), Puncture Vine, Queen Annes Lace, Red Henbit, Sandspur, Sedge, Sedum, St. Johns Wort, Tall Buttercup, Tall Fescue, Tansy, TumbleWeed, Wild Morning Glory, Winter Creeper, Wisteria
Kills all types of existing weeds and grasses. PLUS prevents new weeds and grasses from emerging for up to 6 months. For use on driveways, sidewalks, patios, along fences and foundations, and around walkways and mulched areas.
Additional Features
Ingredients
Instructions
Safety
Product Gross Weight:

14.670 lb

Product Net Weight:

10.940 lb

Product Height:

12.500 in

Product Length:

9.750 in

Product Width:

6.500 in

Packaging Type:

Bottle

Recommended For:

Annual Bluegrass; Annual Ryegrass; Bahiagrass; Carpetgrass; Centipede Grass; Cheatgrass; Kikuyu Grass; Monkey Grass; Orchardgrass; Quackgrass; Sourgrass; Torpedograss; Wheat grass; Zoysia Grass
Ingredients:

Indaziflam; Diquat dibromide; Glyphosate; isopropylamine salt

Active Ingredients:

Diquat Dibromide; Glyphosate Isopropylamine salt; Indaziflam
Primary Usage:

Kills and Prevents Weed and Grass

Application Method:

Spray

Use Instructions:

Shake bottle well before use. Add appropriate amounts of water & product to spray tank. Close sprayer, shake well and pressurize. Adjust nozzle to a coarse spray (NOT a stream). Spray existing weeds and entire area that you want protected, not just the emerged weeds, until thoroughly wet. Occasionally re-pressurize sprayer as needed to maintain a good spray pattern. This concentrate can also be used to refill BioAdvanced' DuraZone Ready-to-Use Weed & Grass Killer refillable sprayer containers. Add 8 fl oz. (16TBS) to sprayer and fill with water to 1 gallon fill line. One gallon treats 500 sq. ft. Food utensils, such as tablespoons and measuring cups, should not be used for food purposes after use with this product.
First Aid Measures:

If in Eyes: Hold eye open and rinse slowly and gently with water for 15-20 minutes. Remove contact lenses, if present, after the first 5 minutes, then continue rinsing eye. Call a physician or poison control center immediately. If on Skin : Take off contaminated clothing and shoes immediately. Wash off immediately with plenty of water for at least 15 minutes. Call a physician or poison control center immediately.If Inhaled: Move to fresh air. If person is not breathing, call 911 or an ambulance, then give artificial respiration, preferably mouth-to-mouth if possible. Call a physician or poison control center immediately.

Safety Warnings:

Avoid contact with eyes, skin, or clothing. Wash hands thoroughly with soap and water after handling and before eating, drinking, chewing gum, or using tobacco.