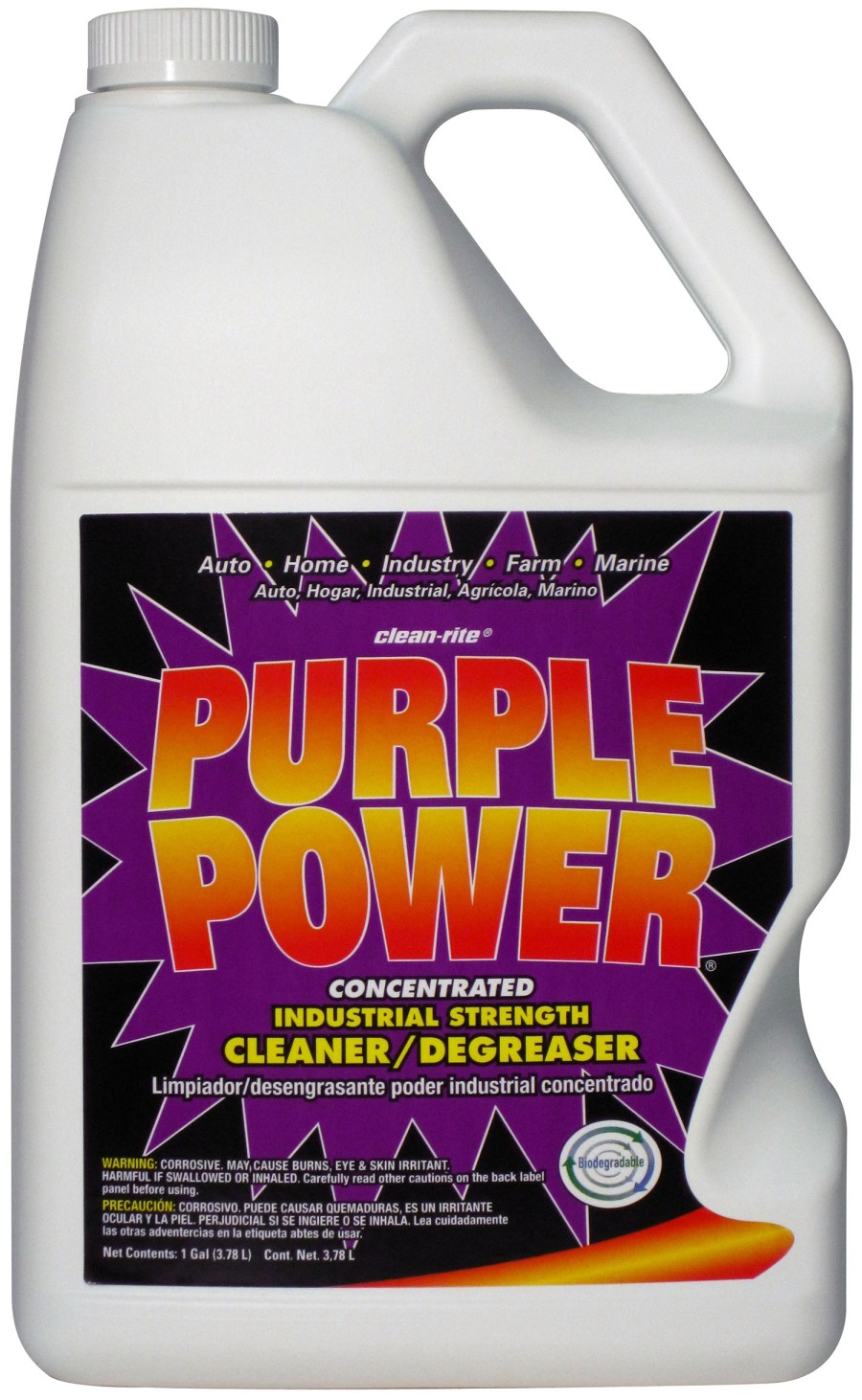 Form:

Liquid Concentrate

Manufacturer:

AIKEN CHEMICAL CO INC

Private Label:

No

Product Type:

Degreaser

Size:

1 Gallon
Concentrated formula penetrates grease, oil and dirt on contact. In just seconds it wipes away even the toughest stains. One cleaner for all your needs - Contractors, mechanics, farm & industrial, home, marine & auto users. VOC Compliant, Biodegradable, and PROP 65 exempt in all states. Common uses and dilution ratios (Water:Purple Power) or Full Strength (FS): Home/Indoor: Showers/Tubs 5:1, Appliances 5:1, Laundry Pre-Soak 5:1, Vinyl & Tile Floors 10:1, Countertops 15:1, Sinks 15:1, Linoleum 15:1, Microwaves 15:1. OUTDOOR: Pressure Washing (FS), Concrete (FS), BBQ Grills (FS), Lawnmowers (FS), Pool areas 5:1, Tools 5:1, Plastics 10:1, Tile 10:1. AUTOMOBILE: Tires (FS), Engines (FS), Underbody (FS), Vinyl Seats: 10:1, Rubber Mats 10:1, Dashboards 10:1, Carpet 10:1, Chrome 15:1. MARINE: Engines (FS), Algae 5:1, Fiberglass 5:1, Vinyl Seats 10:1, Tackle Boxes 10:1, Chrome 15:1. Do not use full strength on Glass, Painted Surfaces, Aluminum, Stainless Steel, Leather, Chrome or Copper.
Additional Features
Product Label
Ingredients
Safety
SDS
Specifications
Product Gross Weight:

9.480 lb

Product Net Weight:

9.480 lb

Product Height:

12.380 in

Product Length:

7.630 in

Product Width:

3.690 in

Recommended For:

Farm; Home; Industry; Marine
Ingredients:

Diethylene glycol monobutyl ether_x000D_Surfactants
Caution:

Keep out of the reach of children

Safety Warnings:

Harmful if swallowed. May cause burns or irritation. Severe eye irritant. Wear rubber gloves and eye protection. Prevent contact with eyes or skin. In case of contact with eyes, remove contact lenses if present. Immediately flush eyes with large amounts of water for at least 15 minutes.
Scent:

Fragrance Free

Biodegradable Status:

Yes