Bio Safe Weed Control Weed & Grass Killer Concentrate Organic 2ea/1 gal
Bio Safe Weed Control Weed & Grass Killer Concentrate Organic 2ea/1 gal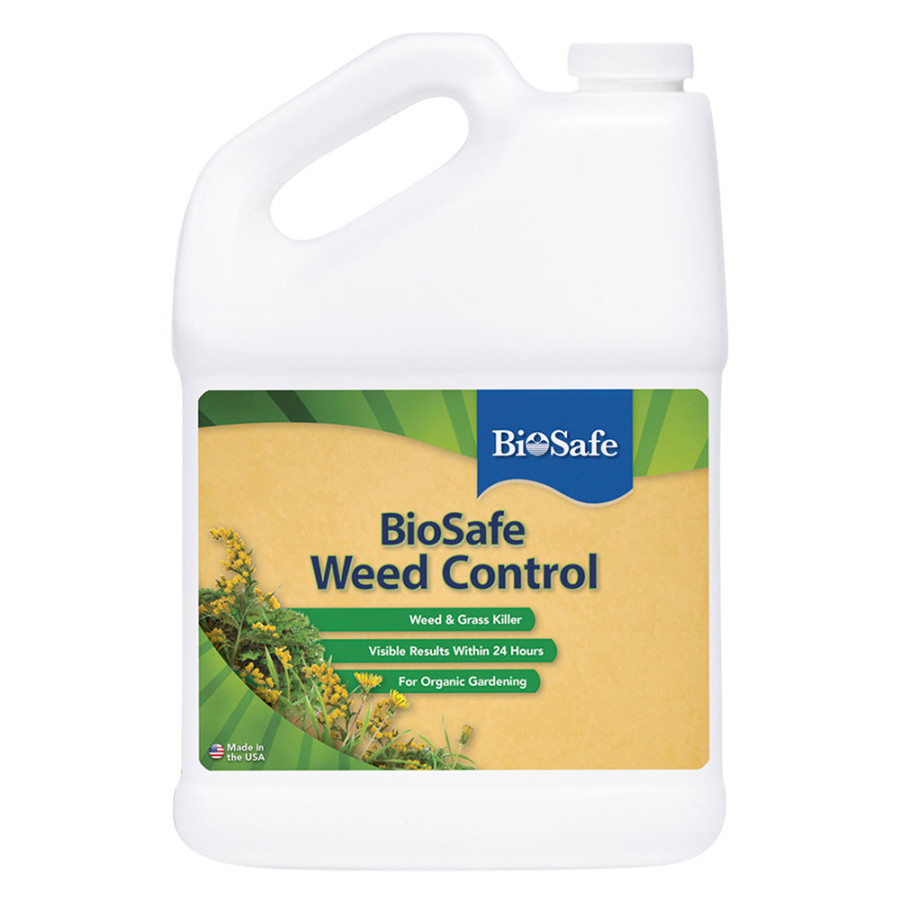 Form:

Liquid

Manufacturer:

BIO SAFE SYSTEMS LLC

Natural:

Yes

Organic:

Yes

Pet Safe:

No

Private Label:

No

Size:

1 Gallon
BioSafe Weed Control concentrate is an OMRI listed herbicidal soap that is tough on weeds but easy on the environment. Burn down a broad spectrum of plants to maintain weed-free patios, walkways, driveways and even vegetable gardens! Our weed control will not migrate through soil to harm surrounding plants of future growths. This is an ideal product for vegetable gardens. Keep paths clear of weeds!
Additional Features
Ingredients
Instructions
Safety
SDS
Product Gross Weight:

8.75 lb

Product Net Weight:

8.0 lb

Product Height:

10.13 in

Product Length:

7.0 in

Product Width:

5.0 in

Packaging Type:

Bottle
Ingredients:

Ammonium Nonanoate

Active Ingredients:

Ammonium Nonanoate
Primary Usage:

Kills Weed and Grass

Application Method:

Spray

Storage Instructions:

Store in original container protected from direct sunlight in a dry, cool and well-ventilated area.
First Aid Measures:

If in Eyes: Hold eye open and rinse slowly and gently with water for 15 – 20 minutes. Remove contact lenses, if present, after the first 5 minutes, then continue rinsing eye. Call a poison control center or doctor for treatment advice If on Skin: Take off contaminated clothing. Rinse skin immediately with plenty of water for 15 – 20 minutes. Call a poison control center or doctor for treatment advice if symptoms occur. If Ingested: Wash out mouth with water. Remove dentures if any. Remove victim to fresh air and keep at rest in a position comfortable for breathing. If material has been swallowed and the exposed person is conscious, give small quantities of water to drink. Stop if the exposed person feels sick as vomiting may be dangerous. Do not induce vomiting unless directed to do so by medical personnel. If vomiting occurs, the head should be kept low so that vomit does not enter the lungs. Get medical attention if adverse health effects persist or are severe. Never give anything by mouth to an unconscious person. If unconscious, place in recovery position and get medical attention immediately. Maintain an open airway. Loosen tight clothing such as a collar, tie, belt or waistband. If Inhaled: Move person to fresh air. If person is not breathing, call 911 or an ambulance, then give artificial respiration, preferably mouth to-mouth if possible.

Safety Warnings:

Wash hands, forearms and face thoroughly after handling chemical products, before eating, smoking and using the lavatory and at the end of the working period. Appropriate techniques should be used to remove potentially contaminated clothing. Wash contaminated clothing before reusing.