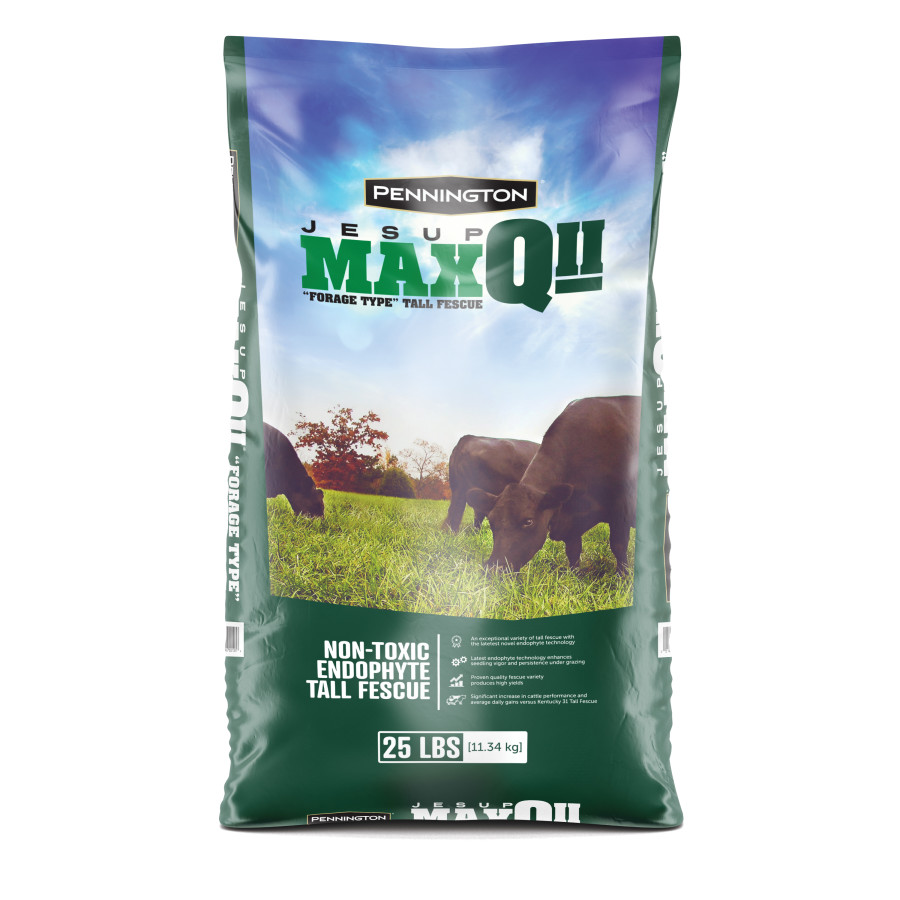 Animal Category:

Cattle

Manufacturer:

Central Garden and Pet

Planting Climate Zones:

1, 2, 6, 7, 8

Planting Region:

Midsouth, Midwest, Northeast, South, Southeast

Planting Season:

Fall, Spring

Private Label:

No

Size:

25 Pounds
Jesup MaxQII is a powerful upgrade to the most successful novel endophyte tall fescue ever released, Jesup MaxQ. The original Jesup tall fescue variety is now boasting the latest novel endophyte technology, MaxQII. The endophyte MaxQII has been added to the Jesup tall fescue variety to enhance seedling vigor and provide even greater persistence under grazing than the original Jesup MaxQ in tough environments. Jesup MaxQII is an excellent choice for livestock producers planting a novel endophyte tall fescue anywhere that tall fescue is grown.
Additional Features
Ingredients
Instructions
Product Gross Weight:

25.510 lb

Product Net Weight:

25.000 lb

Product Height:

25.000 in

Product Length:

4.000 in

Product Width:

16.000 in

Seeding Depth:

1/4 in - 1/2 in

Seeding Rate:

15 - 20 lbs/A in a prepared seedbed or 20 - 25 lbs/A sod-seeded in stubble
Use Instructions:

PlantingFor best results and benefits, all toxic tall fescue should be killed before establishing Jesup MaxQII. (Consult the MaxQ Planting Guides (Spring or Fall Planting) under the Agriculture Resources tab on the Pennington forage website for details.) A firm seedbed is important for good stand establishment. Seed can be drilled into a prepared, firm seedbed, no-tilled into killed sod with a no-till drill or surface broadcasted onto a prepared seed bed and packed in with a culti-packer.Fertilization: Lime to a pH of 6.0-6.5. Apply phosphorus and potassium according to soil tests. Use 25-35 lbs./A starter nitrogen.Management:Do not graze or cut seedling stand until it reaches 6-8 tall. During the year after establishment, rest fescue pastures during the summer months. If weather conditions are favorable for growth, forage may be used for light rotational grazing for short periods or harvested for hay. Leave 3 - 4" of forage growth after grazing or haying. To prevent hoof pugging damage, do not graze when soil is excessively wet and soft.General Management:For maximum productivity and stand life in grazed pastures, use a rotational grazing system. Apply N, P & K fertilizer annually as recommended by a soil test. Apply nitrogen in early fall and in late winter. Keep forage fresh and leafy by grazing or periodic clipping. Rotate cattle between pastures more often during periods of heat and drought stress. Forage may be stockpiled during periods of rapid growth in early fall and utilized for winter grazing. To prevent contamination, do not feed toxic fescue hay in MaxQ pastures.