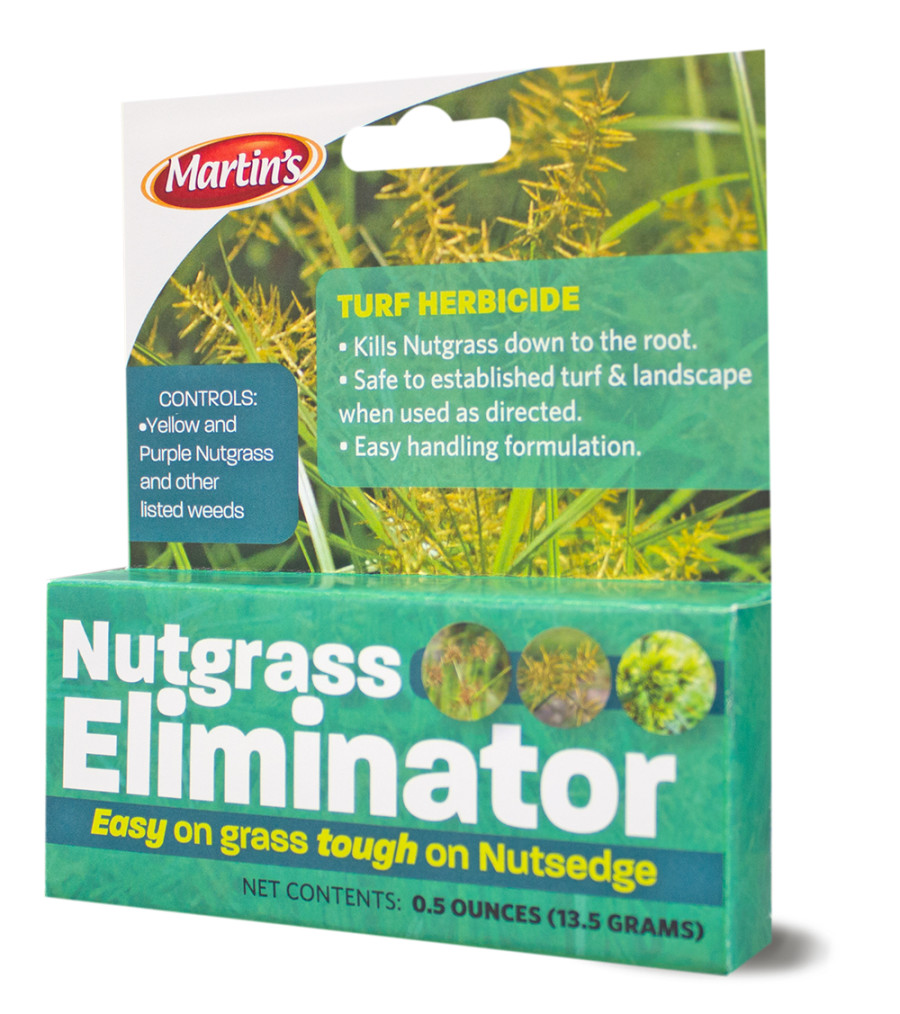 Form:

Powder

Manufacturer:

CONTROL SOLUTIONS INC

Max Coverage Area:

1000

Pet Safe:

No

Private Label:

No

Size:

.05 Ounce

Weed Type:

Annual, Burcucumber, Cocklebur, Common, Corn Spurry, Flatsedge, Fleabane, Galinsoga, Green, Groundsel, Jimsonweed, Kochia, Kyllinga, Ladysthumb, Lambsquarte, Mallow, Milkweed, Morningglory, Mustard, Nutsedge, Philadelphia, Pigweed, Pokeweed, Purple, Purslane, Radish, Ragweed, redroot, rice, Shepherds purse, Smartweed, smooth, Sunflower, Velvetleaf, Yellow
Nutgrass Eliminator is a selective post-emergent herbicide that targets weeds growing in lawns and other landscaped areas without harming desirable plants. Nutgrass Eliminator will control purple nutsedge and yellow nutsedge, as well as several other broadleaf weeds. Can be used in well-established commercial & residential turfgrass and around woody ornamentals in landscaped areas. It can be used on both cool-season & warm-season grasses.
Additional Features
Ingredients
Instructions
Safety
Product Gross Weight:

0.060 lb

Product Net Weight:

0.003 lb

Product Height:

6.000 in

Product Length:

5.125 in

Product Width:

1.000 in

Packaging Type:

Packet

Recommended For:

Agrostis Stolonifera; Bluegrass; Bentgrass; Creeping; Fescue Grass; Fine; Festuca Arundinacea; Kentucky Grass; Lolium Perenne; Perennial Ryegrass; Poa Pratensi
Ingredients:

Halosulfuron-methyl

Active Ingredients:

Halosulfuron-methyl; methyl 3-chloro-5-(4,6-dimethoxypyrimidin-2-ylcarbamoylsulfamoyl)-1-methylpyrazole-4-carboxylate
Primary Usage:

Controls Yellow Nutgrass, Purple Nutgrass

Application Method:

Spray

Use Instructions:

It is a violation of Federal law to use this product in a manner inconsistent with its labelling. Apply Nutgrass Eliminator for post emergence control of purple or yellow nutsedge, Kyllinga1 and broadleaf weeds. Mix 0.5 oz (13.5 grams) of this product (1 pouch) in 1 gallon of water to treat 1000 sq. ft. of turfgrass. Mix or shake the solution to ensure ingredients are completely dispersed. Spray the target weeds thoroughly and wet the entire leaf surface of the undesirable plants. For best results, spray nutsedge after it has reached the 3 - 8 leaf stage of growth.

Storage Instructions:

Store under cool, dry conditions (below 120°F).
First Aid Measures:

If in Eyes: Hold eye open and rinse slowly and gently with water for 15-20 minutes. Remove contact lenses, if present, after the first 5 minutes, then continue rinsing eye. Call a poison control center or doctor for treatment advice.

Safety Warnings:

Causes moderate eye irritation. Avoid contact with eyes or clothing. Wash hands before eating, drinking, chewing gum, using tobacco or using the toilet. Remove clothing/PPE immediately if pesticide gets inside. Then wash thoroughly and put on clean clothing.