Pennington Ultragreen Winterizer Plus Weed & Feed Fertilizer 22-0-14 1ea/5 lb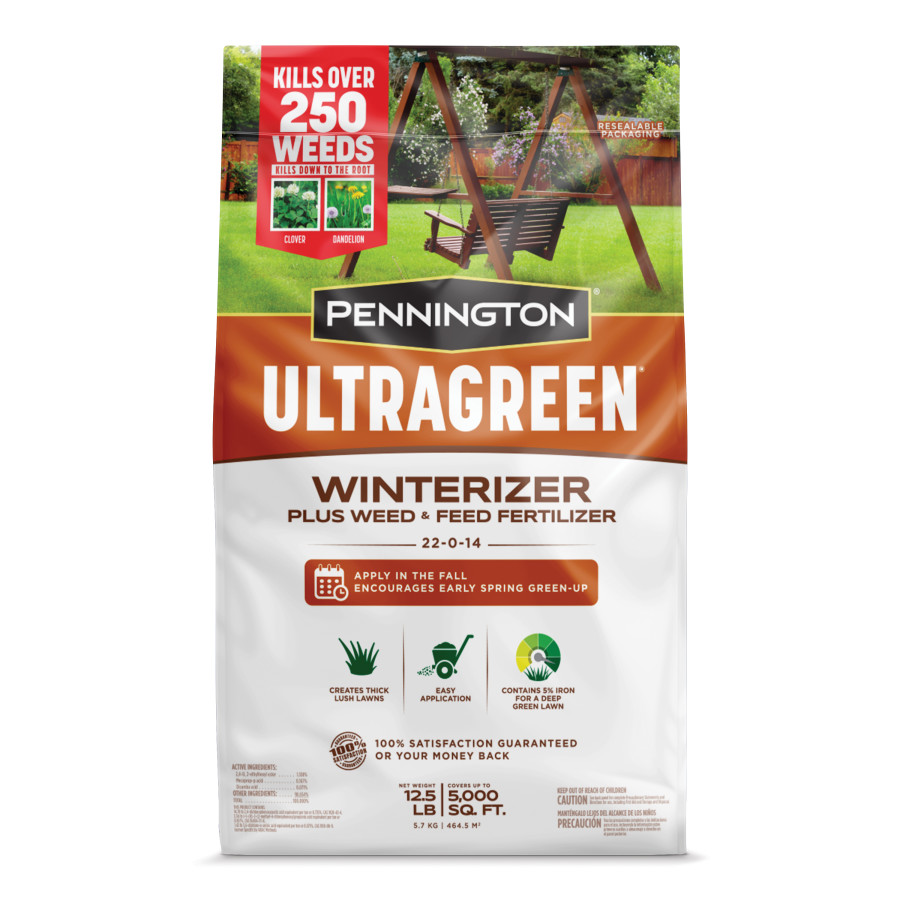 Form:

Granules

Grass Type:

Bahiagrass, Bermudagrass, Centipede Grass, Zoysia Grass

Manufacturer:

Central Garden and Pet

Max Coverage Area:

2000

Pet Safe:

No

Private Label:

No

Professional:

No

Size:

5 Pounds

Weed Control:

Yes
This premium blended fertilizer is packed with ESSENTIAL PLANT NUTRIENTS to give you the thick, green lawn you desire. It has both fast acting nitrogen for QUICK GREENING, as well as slow release nitrogen for extended FEEDING FOR UP TO 3 MONTHS. With 5% IRON this fertilizer will give you a deep, dark green lawn. Npk: 22-0-14. Kills over 250 weeds including henbit, dollar weed, white clover, plantain & chickweed. Treats northern and southern grasses. Promotes an easier spring green-up. For a lush, thick deep green lawn. Quick greening. Extended feeding for up to 3 months. Creates thick, lush lawns. Easy application. Contains 5% iron for a deep green lawn. 7.74% slow release nitrogen. 100% satisfaction guaranteed or your money back. Resealable packaging.
Additional Features
Ingredients
Instructions
Safety
Warranty
SDS
Product Gross Weight:

12.75 lb

Product Net Weight:

12.5 lb

Product Height:

16.75 in

Product Length:

3.5 in

Product Width:

11.0 in

Packaging Type:

Bag
Ingredients:

Ethylhexyl ester; Mecoprop-p acid; Dicamba acid

Active Ingredients:

2,4-D; 2-ethylhexyl Ester; Dicamba Acid; Mecoprop-p Acid

Nitrogen (N) Content:

22

Phosphorus (P) Content:

0

Potassium (K) Content:

14

Iron (Fe) Content:

5
Application Method:

Sprinkle

Application Season:

Late summer to late fall, between August and November

Use Instructions:

Mow lawn to normal height 1 to 2 days before application.Water lawn thoroughly at least 1 to 2 days before application to sustain moisture until the next watering (see Step 5).Apply when broadleaf weeds are young and actively growing, preferably in the morning when dew is on the grass. At the time of application, moisture on the weed leaves from dew, rainfall or watering aids in control. If grass is not moist at time of application, sprinkle lightly with water before applying product.Avoid applying when temperatures are consistently above 90°F.Do not wash from weed leaves for 1 to 2 days after application. At this time, a thorough watering should be made.

Storage Instructions:

Store locked up. Store in a well-ventilated place. Keep cool. Avoid humid, wet or moist conditions. Keep away from heat, hot surfaces, sparks, open flames and other ignition sources. No smoking. Store in original container.
Caution:

Keep out of reach of children. Avoid contact with eyes, skin and clothing. Avoid breathing dust.

First Aid Measures:

If exposed or concerned: get medical advice/attention. Call a poison center/doctor/physician if you feel unwell.

Safety Warnings:

Avoid contact with eyes or clothing. Wash thoroughly with soap and water after handling and before eating, drinking, chewing gum, using tobacco, or using the toilet.
Warranty Description:

100% satisfaction guaranteed or your money back