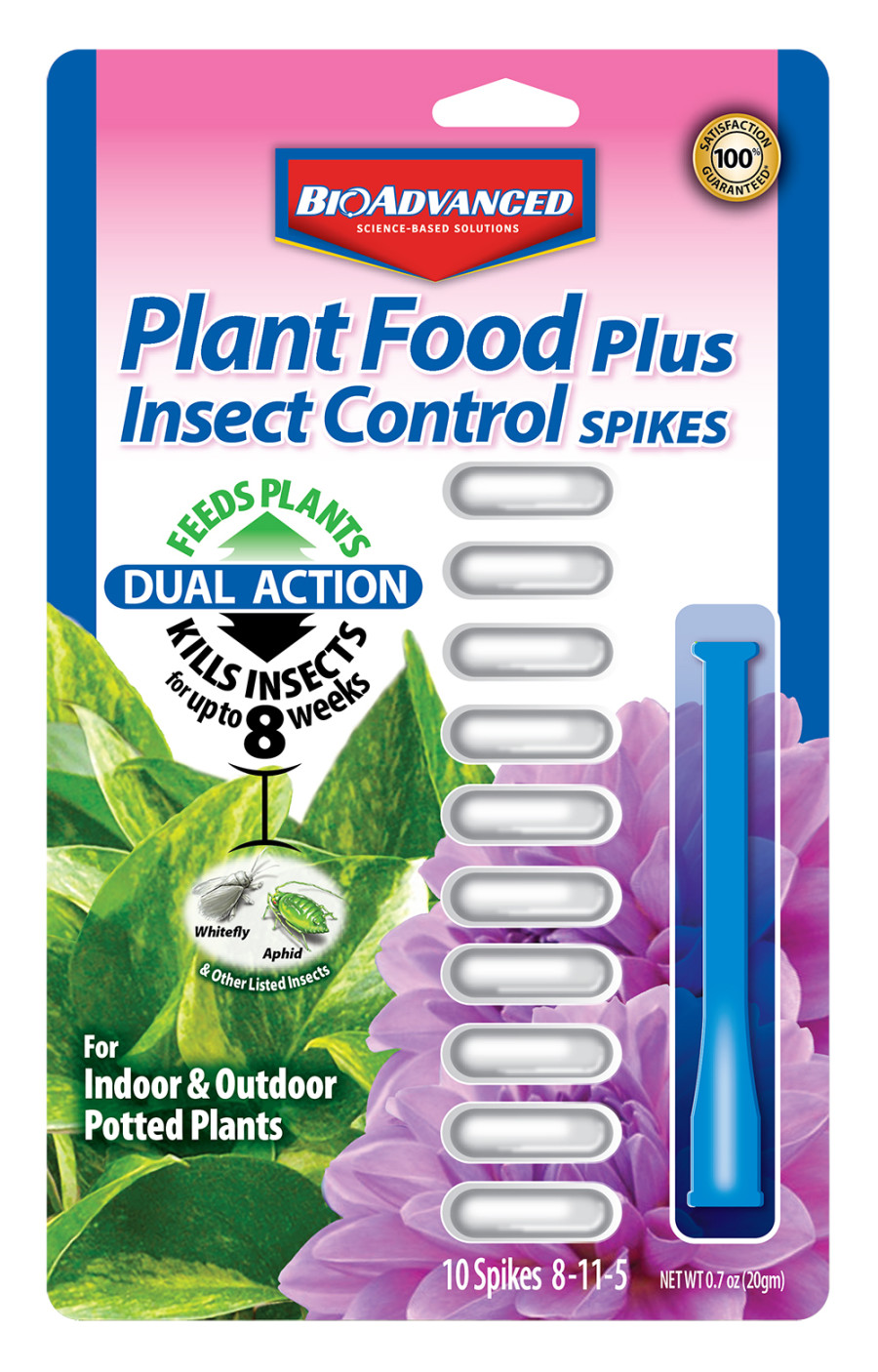 Form:

Spikes

Hydroponic Use:

No

Made in USA?:

Yes

Manufacturer:

SBM LIFE SCIENCE CORP

Natural:

No

New:

PA09-New

Organic:

No

Pet Safe:

No

Private Label:

No

Usage Sites:

Flower Garden, Shrubs, Trees
Protects and feeds up to 8 weeks without spraying. 2-in-1 formula kills listed insects while feeding your plants. Includes convenient, easy-to-use applicator. For indoor and outdoor potted plants, treats ten 5 pots. Fertilizer Analysis: 8-11-5 slow-release fertilizer.
Additional Features
Product Label
Ingredients
Instructions
Safety
Warranty
SDS
Product Gross Weight:

0.200 lb

Product Net Weight:

0.200 lb

Product Height:

0.400 in

Product Length:

6.000 in

Product Width:

9.750 in

Packaging Type:

Packet

Recommended For:

Containerized Shrubs; Hibiscus; Houseplants; Owers; Palm Trees; Rose; Trees; Vines
Ingredients:

Imidacloprid

Active Ingredients:

Imidacloprid 2.5%; Other Ingredients 97.5%

Nitrogen (N) Content:

8

Phosphorus (P) Content:

11

Potassium (K) Content:

5
Application Method:

Insert

Use Instructions:

No Spraying! Place the spike in the applicator's tip. Just push applicator into soil. Press to release spike and water in. With watering, spikes will slowly dissolve to release fertilizer and the insecticide into the soil. For the first 10 days, avoid using water through the pot to the point where it flows out the bottom. This is to avoid washing the insecticide from the soil. After a few days, the insecticide will bind to the soil where it can be taken up by the root.

Storage Instructions:

Store in original container in a cool, dry place preferably a locked storage cabinet. Protect from freezing.
Caution:

Keep out of the reach of children

First Aid Measures:

If in Eyes: Hold eye open and rinse eye slowly and gently with water for 15 to 20 minutes. Remove contact lenses, if present, after the first 5 minutes, then continue rinsing eye. Call a poison control center or doctor for treatment advice. If on Skin or Clothing: Take off contaminated clothing. Rinse skin immediately with plenty of water for 15 to 20 minutes. Call a poison control center or doctor for treatment advice. If Swallowed: Call a poison control center or doctor immediately for treatment advice. Have person sip a glass of water if able to swallow. Do not induce vomiting unless told to do so by a poison control center or doctor.

Safety Warnings:

Harmful if swallowed or absorbed through skin. Causes eye irritation. Avoid contact with eyes, skin, or clothing. Wash hands thoroughly with soap and water after handling.
Warranty Description:

Money Back Guarantee