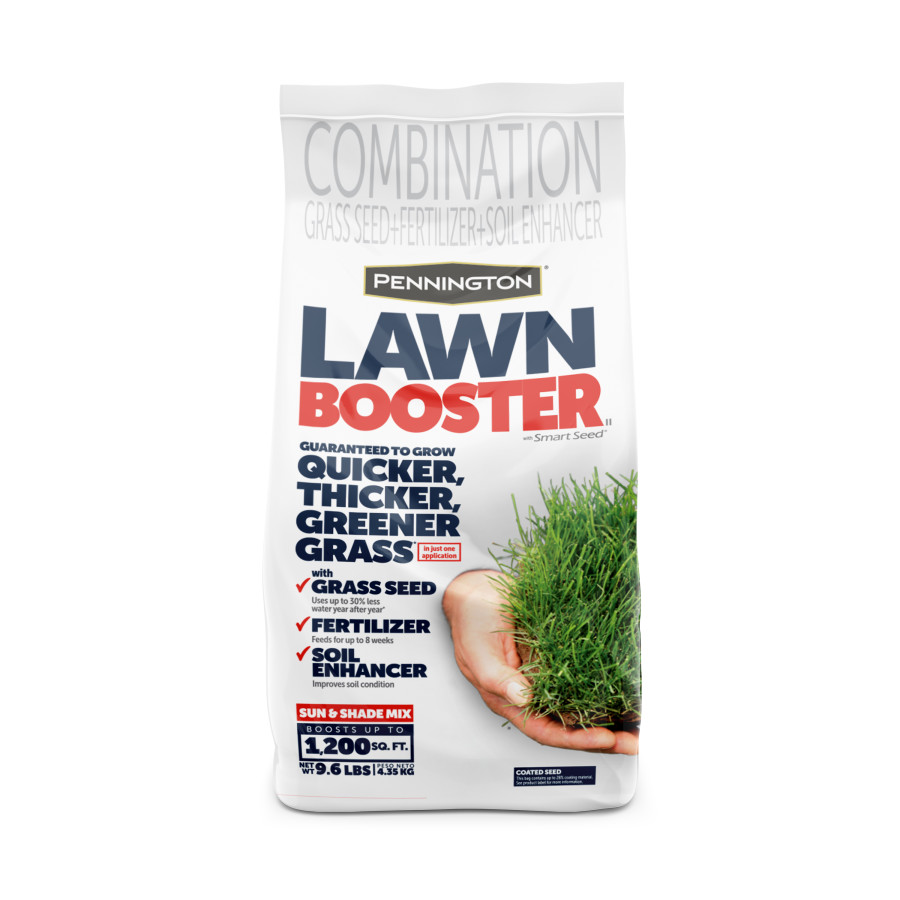 Grass Type:

Kentucky Bluegrass, Tall Fescue

Made in USA?:

Yes

Manufacturer:

Central Garden and Pet

Max Coverage Area:

1200

Organic:

No

Planting Climate Zones:

1, 10, 11, 12, 2, 3, 4, 5, 6, 7, 8, 9

Planting Region:

Midwest, North, Northeast, Northwest, Southwest, Transition

Planting Season:

Early Fall, Early Spring

Private Label:

No

Professional:

No

Size:

9.6 Pounds
Pennington Lawn Booster is an all-in-1 product for reclaiming your turf - giving you a Pennington lawn you are proud to call your own. Ingredients include pure-bred Pennington Smart Seed, premium fertilizer that feeds your lawn for up to 8-weeks and soil enhancer to help the grass take route and flourish. Lawn Booster is guaranteed to grow quicker, thicker, greener grass in just 1 application.
Includes Smart Seed premium grade grass mixes requiring up to 30% less water year after year vs. ordinary seed
Premium Fertilizer that continuously releases nitrogen for up to 8 weeks.
Lime enhances seed to improve grass growth and color
Includes gypsum to help loosen up the soil for the grass to take root.
3 in 1 product: Grass seed, fertilizer, soil amendment
Produces a thick, fine-bladed, dark blue-green lawn
Covers up to 1,200 sq ft
Additional Features
Ingredients
Instructions
Planting Specifications
Warranty
Product Gross Weight:

9.755 lb

Product Net Weight:

9.600 lb

Product Height:

16.000 in

Product Length:

3.550 in

Product Width:

7.500 in

Insect Resistance:

Medium

Packaging Type:

Bag

Plant Life Cycle:

Perennial

Seeding Depth:

1/4 in

Seeding Rate:

7 lb/1000 sq ft
Ingredients:

Fertilizer; Soil Enhancer; Grass Seed

Nitrogen (N) Content:

3

Phosphorus (P) Content:

0

Potassium (K) Content:

0
Battery Required:

No

Batteries Included?:

No

Use Instructions:

Prepare: First step is to remove unwanted weeds. Then, mow your lawn to about 1. Remove all debris and dead grass with a rake, which will also loosen up the soil.Apply: Spread Pennington Lawn Booster evenly using the spreader settings located on the bag.Water: The most important step! Water the applied area daily (or even twice a day) to keep the soil moist until grass sprouts and reaches desired mowing height.
Days to Maturity:

7-14 days

Disease Resistance:

High

Drought Tolerance:

Medium

Light Requirement:

Full Sun to Medium Shade (4-8 hrs. of sun)

Mowing Height:

3 in

Shade Tolerance:

Good

Sun Tolerance:

Moderate

Traffic Tolerance:

Good
Warranty Description:

If you are not satisfied, please let us know why and contactus about a refund. Keep your bag and proof of purchase.WE STAND BEHINDOUR PRODUCTS. OR YOUR MONEY BACKMAIL TO:Pennington Seed, Inc.Customer Service Dept.PO Box 290Madison, GA 30650CALL US1.800.285.SEEDWEBSITEpennington.com