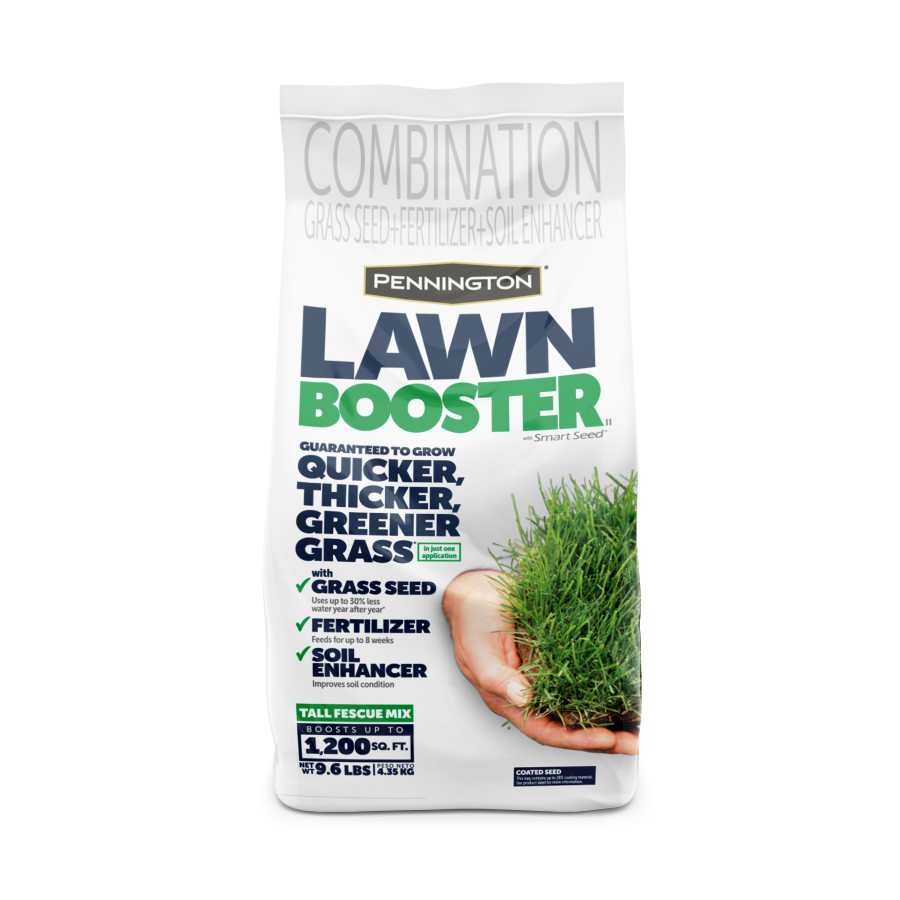 Grass Type:

Tall Fescue

Made in USA?:

Yes

Manufacturer:

Central Garden and Pet

Max Coverage Area:

1200

Planting Climate Zones:

6, 7, 8

Planting Region:

Midwest, Northeast, Southeast

Planting Season:

Early Fall, Early Spring

Private Label:

No

Professional:

No

Size:

9.6 Pounds
Reclaim your turf with Pennington Lawn Booster Tall Fescue seeding mixture. This all-in-one, combination product provides the boost your lawn needs in an easy-to-use, do-it-yourself form. With Lawn Booster Tall Fescue, your lawn will grow quicker, thicker and greener in just one application—it's guaranteed. Designed for lawns that receive four to eight hours of daily sun, this premium product means less work and more leisure for you.
Includes Smart Seed premium grade grass mixes requiring up to 30% less water year after year vs. ordinary seed
Premium Fertilizer that continuously releases nitrogen for up to 8 weeks.
Lime enhances seed to improve grass growth and color
Includes gypsum to help loosen up the soil for the grass to take root.
3 in 1 product: Grass seed, fertilizer, soil amendment
Maintains a deep green color throughout the growing season
Covers up to 1,200 sq ft
Additional Features
Ingredients
Instructions
Planting Specifications
Warranty
Product Gross Weight:

9.755 lb

Product Net Weight:

9.600 lb

Product Height:

16.000 in

Product Length:

3.550 in

Product Width:

7.500 in

Insect Resistance:

High

Packaging Type:

Bag

Plant Life Cycle:

Perennial

Seeding Depth:

1/4 in

Seeding Rate:

7 lb/1000 sq ft

Recommended For:

Tall Fescue
Ingredients:

Fertilizer; Soil Enhancer; Grass Seed

Nitrogen (N) Content:

9

Phosphorus (P) Content:

0

Potassium (K) Content:

0
Battery Required:

No

Batteries Included?:

No

Use Instructions:

Prepare: First step is to remove unwanted weeds. Then, mow your lawn to about 1. Remove all debris and dead grass with a rake, which will also loosen up the soil.Apply: Spread Pennington Lawn Booster evenly using the spreader settings located on the bag.Water: The most important step! Water the applied area daily (or even twice a day) to keep the soil moist until grass sprouts and reaches desired mowing height.
Days to Maturity:

7-21 days

Disease Resistance:

High

Drought Tolerance:

Medium

Light Requirement:

Full Sun to Medium Shade (4-8 hrs. of sun)

Mowing Height:

3 in - 4 in

Shade Tolerance:

Good

Sun Tolerance:

High

Traffic Tolerance:

Good
Warranty Description:

If you are not satisfied, please let us know why and contactus about a refund. Keep your bag and proof of purchase.WE STAND BEHINDOUR PRODUCTS. OR YOUR MONEY BACKMAIL TO:Pennington Seed, Inc.Customer Service Dept.PO Box 290Madison, GA 30650CALL US1.800.285.SEEDWEBSITEpennington.com