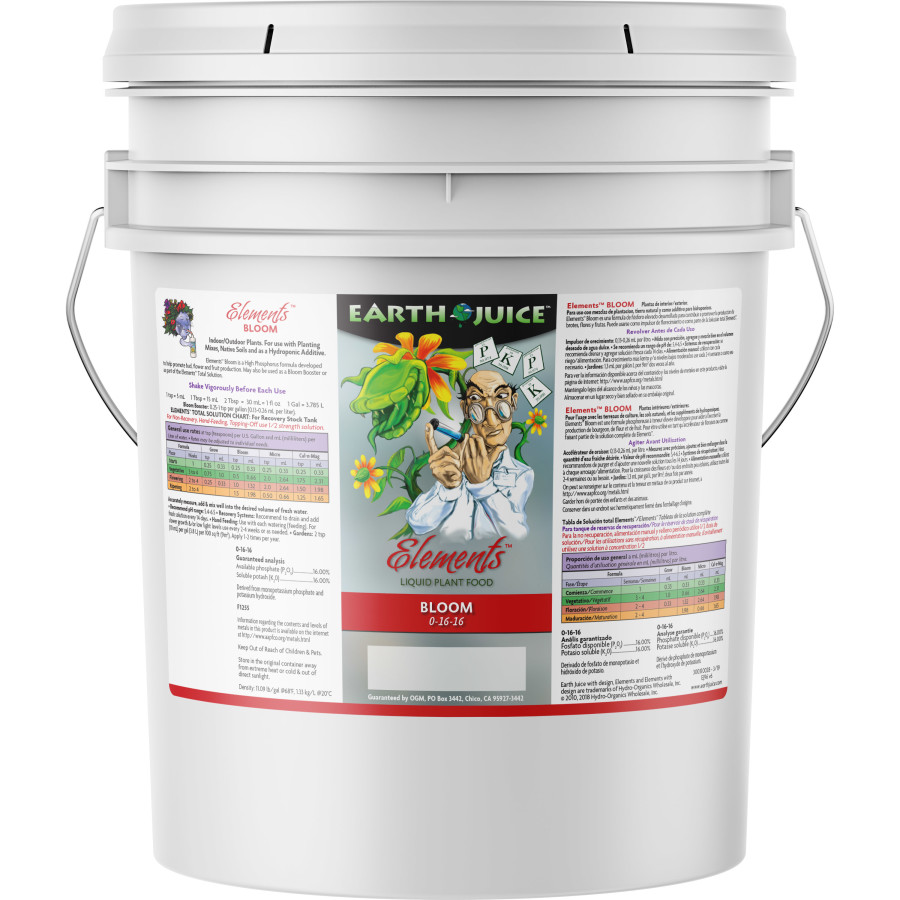 Form:

Liquid Concentrate

Hydroponic Use:

Yes

Manufacturer:

Central Garden and Pet

Private Label:

No

Professional:

No

Size:

5 Gallons
Concentrated High Phosphorus Formula
Synthetic nutrients that support buds, flowers, oils, resins & fragrances
Safe around people and pets when used as directed
Versatile and easy to use
Additional Features
Ingredients
Instructions
Safety
SDS
Product Gross Weight:

61.000 lb

Product Net Weight:

60.850 lb

Product Height:

15.000 in

Product Length:

10.750 in

Product Width:

12.250 in

Packaging Type:

Bucket
Nitrogen (N) Content:

0

Phosphorus (P) Content:

16

Potassium (K) Content:

16
Application Method:

Pour

Application Season:

All-Season

Use Instructions:

Always shake formulas vigorously before each use.Dilute Earth Juice products with water according to the table on label for each specific use situation.

Storage Instructions:

Keep out of the reach of children.; Protect containers from physical damage. Store in a cool, well-ventilated area away from strong oxidizers, strong acids and bases; and other incompatible materials.
Caution:

Keep out of reach of children and pets.

First Aid Measures:

Most Important Symptoms: May cause mild eye and skin irritation.; Skin Contact: Wash skin with soap and water. Seek medical attention if irritation develops.; Eye Contact: If contact occurs, flush eyes with large quantities of water, holding the eyelids apart. Get medical attention if irritation persists.; Inhalation: If irritation or other symptoms develop, remove to fresh air. Seek medical attention if symptoms persist.; Ingestion: Do not induce vomiting unless directed to by a doctor or physician. Rinse mouth with water. Get medical assistance by calling a doctor or poison center.; Indication of Immediate Medical Attention/Special Treatment: Immediate medical attention should not be required.

Safety Warnings:

Avoid contact with eyes. Use only with appropriate protective equipment. Wash hands after use.