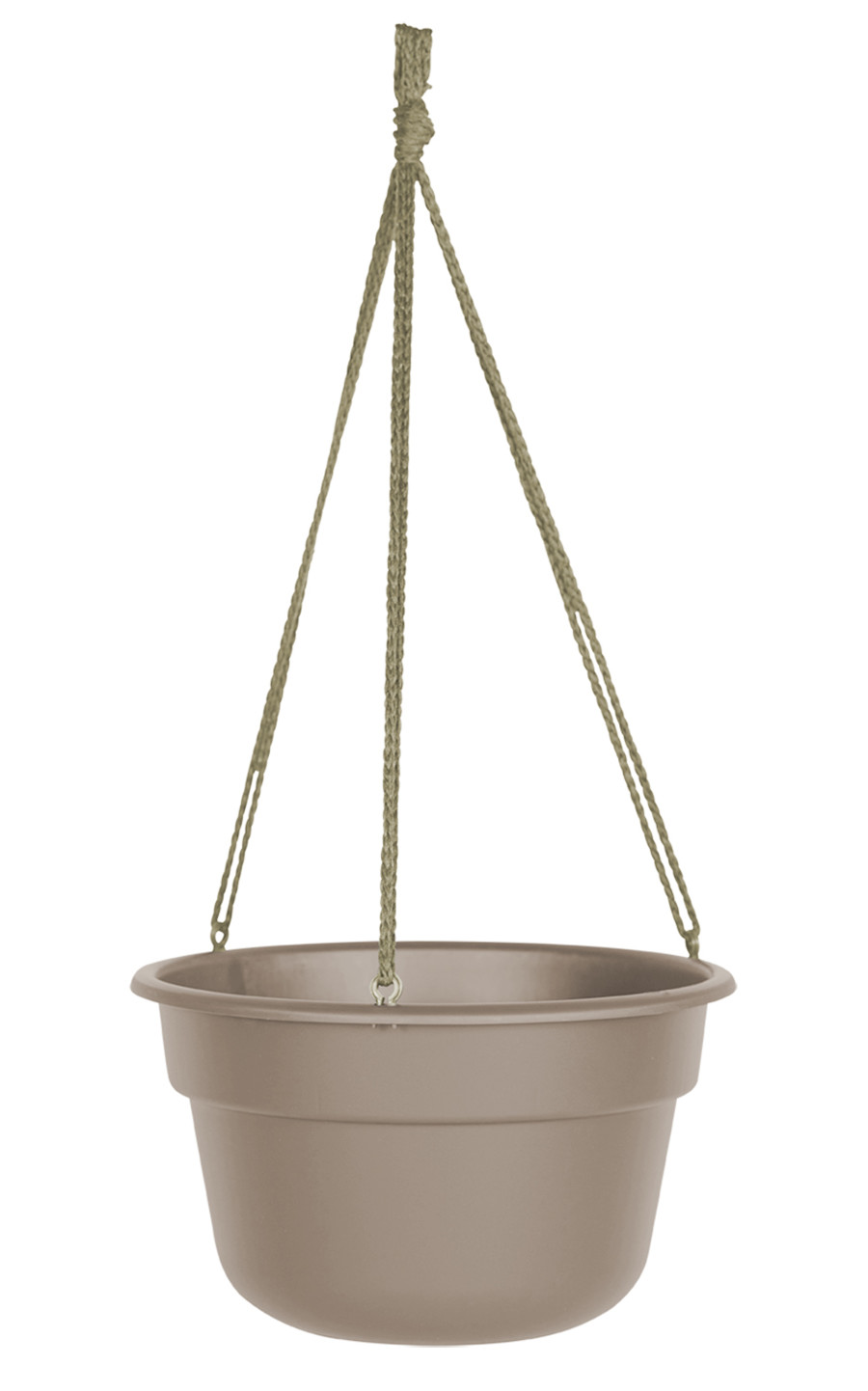 Color:

Grey

Made in USA?:

Yes

Manufacturer:

BLOEM LLC

Primary Materials:

Resin

Private Label:

No

Rust Resistant:

Yes

Shape:

Round

Size:

12 Inches

Theme:

Classic Clay
DURA COTTA COLLECTION by Bloem: The Bloem Dura Cotta Hanging Basket will quickly become one of your favorite pots because it helps keep your plants from drying out and will reduce the time you spend watering. You will love how the sturdy polypropylene construction looks like classic clay, but won't chip, crack, or discolor. Inside the hanging basket, there is a hidden reservoir that holds approx. 1"-2.5" (depending on planter size) of water. The self-watering disk keeps dirt and roots above the hidden reservoir while constantly providing healthy "greenhouse-like" moisture through the evaporation process. Includes matching macramé cord for hanging. How does self-watering disk work? The potting mix is held above the water line by a sturdy screen. The water chamber is connected by small porous channels filled with soil, which then acts as a wick. As water is used by the plant or evaporates off the surface of the soil, capillary action draws more water up from below. The soil has just the right amount of water all the time, but also maintains air pockets, which the plant roots also need to stay healthy.
Constructed of high-quality durable plastic resin. Maintenance free and easy to clean. UV-protected for fade resistance.
Self watering disk and hidden water reservoir ensures a consistent supply of water to your plants and prevents root rot.
Sealed bottom to prevent leakage indoors and easily removable drainage plugs if used outdoors. Includes macramé cord.
FDA approved resin for contact with edibles and food (plastic code 2 & 5).
Capacity: 1.5 Gallons / Size: 12.5 in. Top width x 7 in. Bottom width x 6.75 in. Height
Includes 1 - Bloem Dura Cotta Hanging Basket 12 Pebble Stone with matching macramé cord for hanging.
Drainage Hole:

Yes

Product Gross Weight:

0.720 lb

Product Net Weight:

0.712 lb

Product Height:

6.750 in

Product Length:

12.380 in

Product Width:

12.380 in

Environment:

Indoor; Outdoor