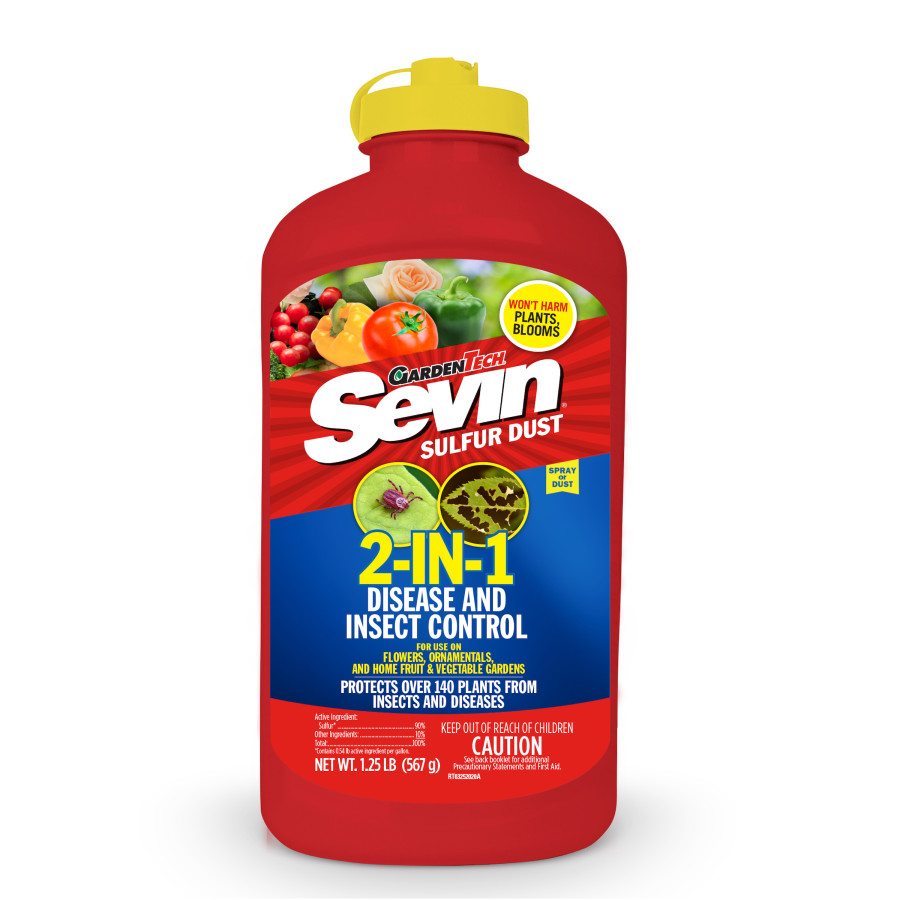 Made in USA?:

Yes

Manufacturer:

Central Garden and Pet

Max Coverage Area:

0

Private Label:

No

Professional:

No

Size:

1.25 Pounds

Target Pests:

Black Spot, Mites, Powdery Mildew, Red Spiders, Rust, Silver Mite

Usage Sites:

Flower Garden, Ground Covers, Ornamentals, Shrubs, Vegetable Garden
Sevin® Sulfur Dust protects gardens from insect and disease damage. This 2-in-1 product controls over 45 insects and diseases on listed plants, making it the go-to solution when the culprit of plant damage is unknown. Sevin® Sulfur Dust can be used as a dust or spray and does not harm plants or blooms on listed plants, including roses, flowers, citrus trees, fruits, vegetables, shrubs, and trees.
2-in-1 Disease & Insect Control
For use on roses, citrus fruits, vegetables, flowers, shrubs, trees
Controls powdery mildew rust, black spot, leaf spot, scab, and mites
Protects listed plants from over 45 insects and diseases
Won't harm flowers, shrubs, or blooms
Protects over 140 plant
Starts killing immediately upon contact
Additional Features
Product Label
Ingredients
Instructions
Warranty
SDS
Specifications
Product Gross Weight:

1.338 lb

Product Net Weight:

1.250 lb

Product Height:

9.750 in

Product Length:

2.100 in

Product Width:

4.500 in
Active Ingredients:

Sulfur Dust
Battery Required:

No

Batteries Included?:

No

Assembly Required?:

No

Use Instructions:

Please read the entire label. Use only as directed, noting all use restrictions. Consult State Agricultural Experiment Station or the State Agricultural Extension Service for sensitive plants and additional information as the timing, number and rate of application needed may vary with local conditions.AS A DUST:Before dusting, shake duster vigorously to mix air with the sulfur.Dust lightly.Frequent light dustings are more effective than single heavy dustings.AS A SPRAY:Remove cap with dip tube to measure dust.Mix the required amount of Sevin® Sulfur Dust with sufficient water to make a thin, creamy paste before diluting with the balance of the required amount of water. Use about 1 gallon of diluted spray per 1000 square feet. tsp = teaspoon. tbsp = tablespoon
Warranty Description:

Guaranteed to work
Effective Duration:

30 Days