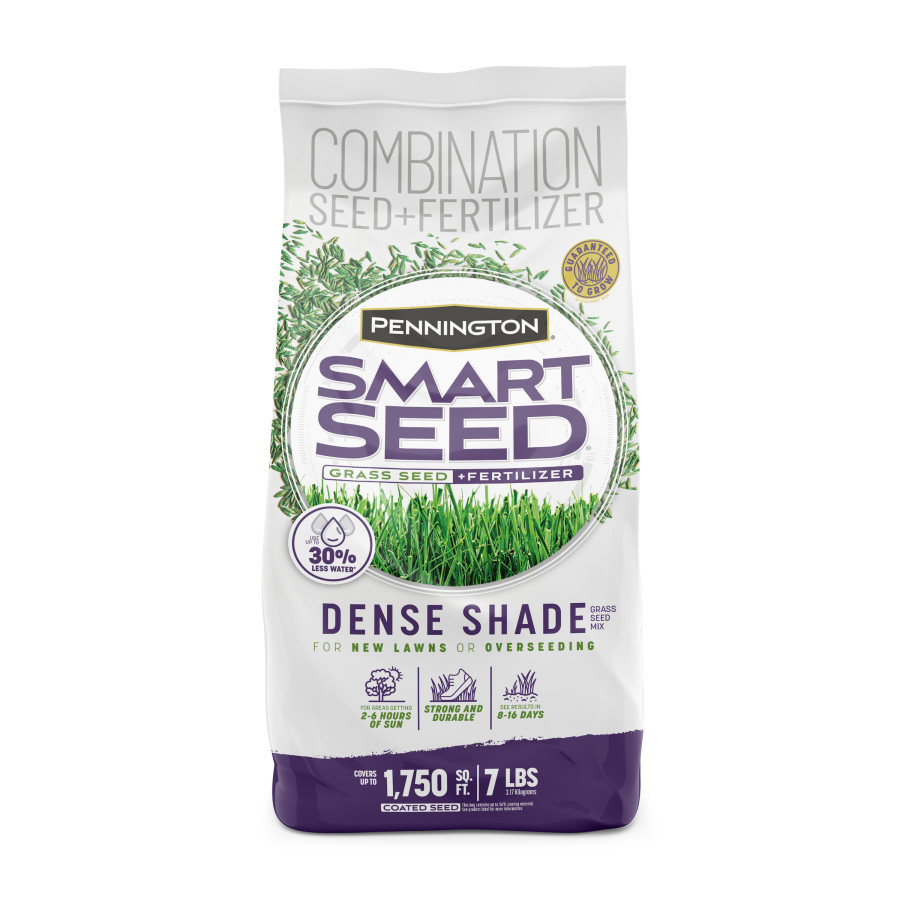 Grass Type:

Tall Fescue

Made in USA?:

Yes

Manufacturer:

Central Garden and Pet

Max Coverage Area:

1750

Planting Climate Zones:

1, 10, 11, 12, 2, 3, 4, 5, 6, 7, 8, 9

Planting Region:

Eastern, Midwest, North, Transition

Planting Season:

Early Fall, Early Spring

Private Label:

No

Professional:

No

Size:

7 Pounds

Style:

Bag

Washable:

No
If areas of your lawn don't see much sunlight, you may have had some difficulty growing thick, green grass. Requiring only 2-6 hours of sunlight, Pennington Smart Seed Dense Shade offers the perfect mix of Tall Fescue and Fine Fescue to thrive in shady conditions. This grass seed is disease and traffic-resistant, resulting in a strong and durable lawn. Plant it in early spring or early fall and see results in 8 to 16 days. This 7-pound bag covers up to 1,750 square feet for overseeding an existing lawn and 580 square feet for starting a new lawn from scratch. What makes Smart Seed smart? It's our innovation. Pennington's NexGen Turf Research is the largest private grass seed research facility in the United States. We lead the industry in developing top-performing, water-conserving, sustainable seed. Once established, our purebred, drought-tolerant Smart Seed grass requires up to 30 percent less water than ordinary grass seed. That's year after year, for the life of your lawn. Plus, our advanced, fertilizer-enhanced seed coat technology speeds establishment and promotes greener grass. Born from Pennington innovation and NexGen breeding and research, Smart Seed brings you better seed, better sustainability and better results.
The perfect mix of Tall Fescue and Fine Fescue to thrive in shady conditions
Grow thick, green grass in areas of your lawn that don't receive much sunlight
Contains just the right amount of fertilizer to help your lawn succeed
Requires only 2 to 6 hours of sunlight
Disease and traffic-resistant for a strong, durable lawn
Save up to 30% more water year after year versus ordinary grass seed
Guaranteed to grow
See results in 8 to 16 days
This bag covers up to 1,750 sq. ft.
Additional Features
Ingredients
Instructions
Planting Specifications
Warranty
Product Gross Weight:

7.155 lb

Product Net Weight:

7.000 lb

Product Height:

16.500 in

Product Length:

3.550 in

Product Width:

7.500 in

Insect Resistance:

Medium

Packaging Type:

Bag

Plant Life Cycle:

Perennial

Seeding Depth:

1/4 in

Seeding Rate:

New Lawns: 12 lbs / 1,000 sq ft; Overseeding: 4 lbs / 1,000 sq ft
Ingredients:

Grass Seed, Fertilizer

Nitrogen (N) Content:

3

Phosphorus (P) Content:

0

Potassium (K) Content:

0
Battery Required:

No

Batteries Included?:

No
Days to Maturity:

6-21 days

Disease Resistance:

High

Drought Tolerance:

Medium

Light Requirement:

2-6 Hours

Mowing Height:

3 in

Shade Tolerance:

High

Sun Tolerance:

Low

Traffic Tolerance:

Medium
Warranty Description:

If you are not satisfied, please let us know why and contactus about a refund. Keep your bag and proof of purchase.WE STAND BEHINDOUR PRODUCTS. OR YOUR MONEY BACKMAIL TO:Pennington Seed, Inc.Customer Service Dept.PO Box 290Madison, GA 30650CALL US1.800.285.SEEDWEBSITEpennington.com