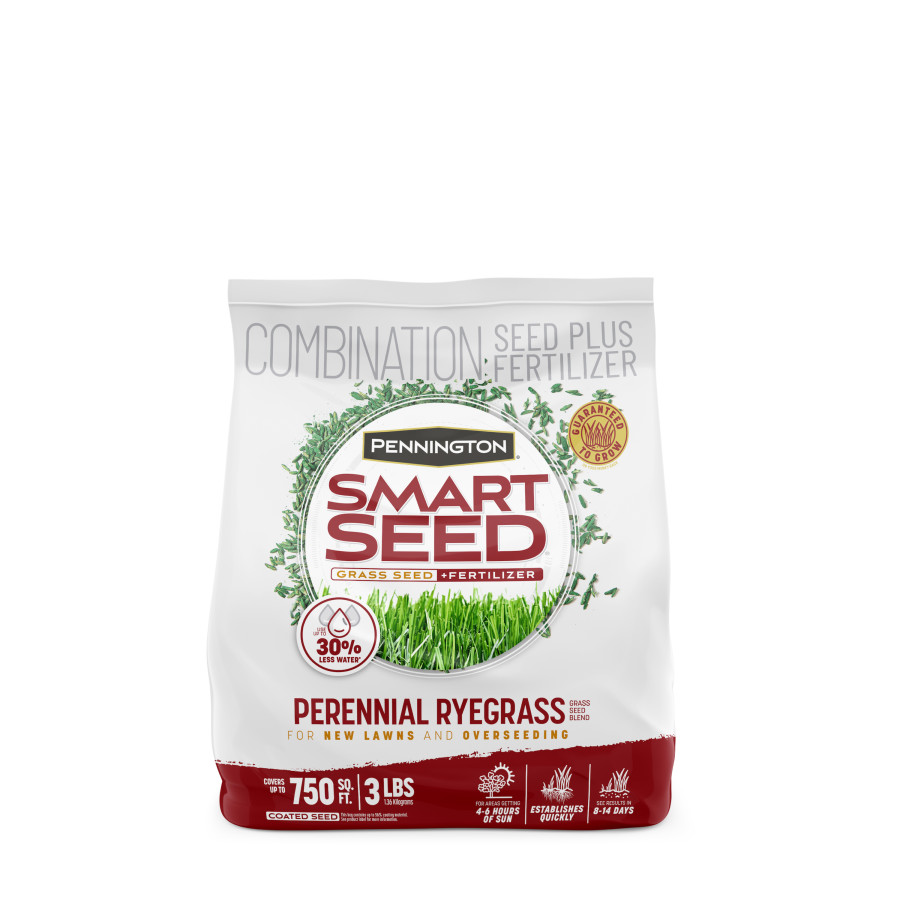 Grass Type:

Perennial Ryegrass

Made in USA?:

Yes

Manufacturer:

Central Garden and Pet

Max Coverage Area:

750

Planting Climate Zones:

1, 10, 11, 12, 2, 3, 4, 5, 6, 7, 8, 9

Planting Region:

Eastern, Midwest, North, Northeast, Northwest, South, Southwest

Planting Season:

Early Fall, Early Spring

Private Label:

No

Size:

3 Pounds

Washable:

No
Perennial ryegrass is valued for its fast germination rate and quick establishment, which makes it a candidate for permanent cool-season lawns and temporary warm-season lawns. Based on your lawn goals, Pennington Smart Seed Perennial Ryegrass may offer just what you need. This durable, disease-resistant grass seed thrives in lawns that receive 4 to 6 hours of sun. Plant in the early spring or early fall and see results within 8 to 14 days. Pennington Smart Seed grass seed is drought-tolerant and guaranteed to grow the grass you want, while requiring up to 30% less water year after year versus ordinary grass seed. This 3-pound bag covers up to 750 square feet for overseeding an existing lawn and 250 square feet for starting a new lawn from scratch. While most grass seed companies buy their seed on the open market, we are the only major grass seed company that works directly with a network of dedicated growers. Built on decades of trust and integrity, our relationships with seed growers and their families now span multiple generations. Our legacy of working directly with farmers to bring you the finest grass seed possible helps ensure their success and ours. At Pennington, we know our seed and the farmers who grow it. From field to final product, that's the Pennington way.
For areas getting 4 to 6 hours of sun
See results in 8 to 14 days
Excellent for permanent cool-season lawns and temporary warm-season lawns
This bag covers up to 750 sq. ft.
Smart Seed Perennial Ryegrass grass seed is guaranteed to grow
Economically efficient by using up to 30% less water
Forms a lush, fine-bladed lawn that maintains its color into winter
Comes back year after year
Holds up well under foot traffic and is disease-resistant
This bag covers up to 750 sq. ft.
Additional Features
Ingredients
Instructions
Planting Specifications
Warranty
Product Gross Weight:

3.142 lb

Product Net Weight:

3.000 lb

Product Height:

11.000 in

Product Length:

3.000 in

Product Width:

7.500 in

Insect Resistance:

High

Packaging Type:

Bag

Plant Life Cycle:

Perennial

Seeding Depth:

1/4 in

Seeding Rate:

New Lawns: 12 lbs / 1,000 sq ft; Overseeding: 4 lb / 1,000 sq ft
Nitrogen (N) Content:

3

Phosphorus (P) Content:

0

Potassium (K) Content:

0
Battery Required:

No

Batteries Included?:

No
Days to Maturity:

7-14 days

Disease Resistance:

High

Drought Tolerance:

Medium

Light Requirement:

4-6 Hours

Mowing Height:

3 in

Shade Tolerance:

Moderate

Sun Tolerance:

Moderate

Traffic Tolerance:

High
Warranty Description:

If you are not satisfied, please let us know why and contactus about a refund. Keep your bag and proof of purchase.WE STAND BEHINDOUR PRODUCTS. OR YOUR MONEY BACKMAIL TO:Pennington Seed, Inc.Customer Service Dept.PO Box 290Madison, GA 30650CALL US1.800.285.SEEDWEBSITEpennington.com