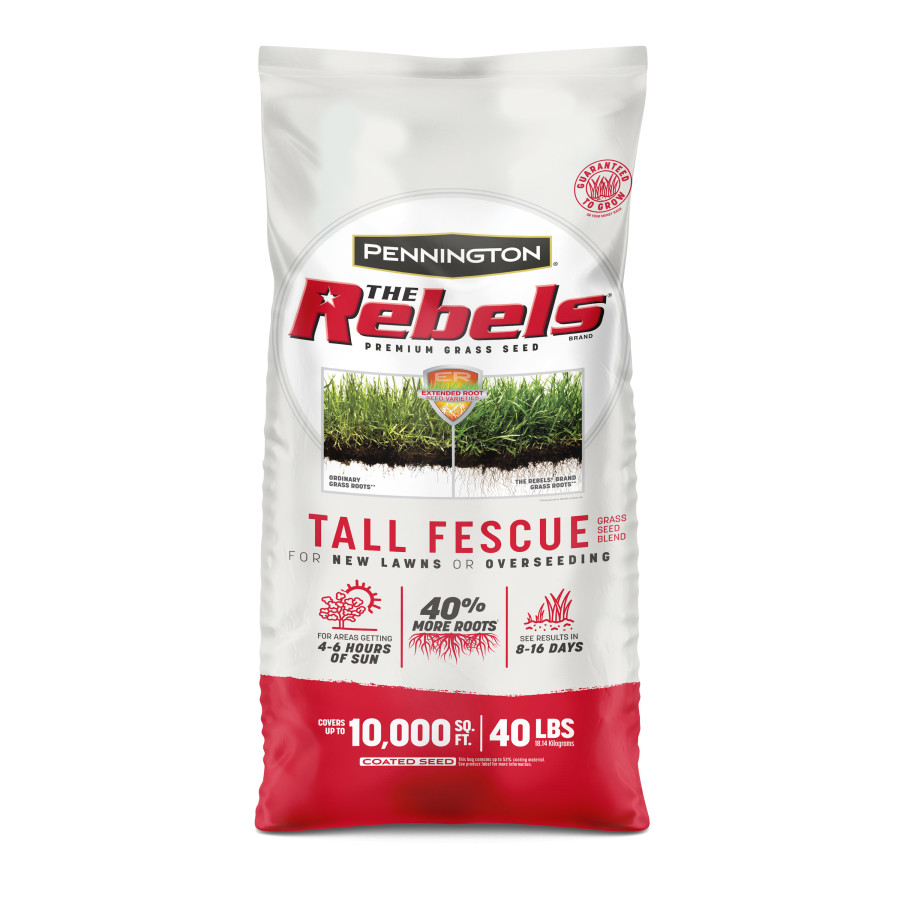 Grass Type:

Tall Fescue

Manufacturer:

Central Garden and Pet

Max Coverage Area:

10000

Planting Climate Zones:

1, 2, 3, 4, 5, 6, 7, 8

Planting Region:

Eastern, Midwest, North, Northeast, Northwest, Southwest, Transition

Planting Season:

Early Fall, Early Spring

Private Label:

No

Professional:

No

Size:

40 Pounds

Washable:

No
Tall fescue is valued for its adaptability to a wide range of climates and its tolerances for cold, heat, drought and shade. Ideal for the northern and transition zones, Pennington The Rebels Tall Fescue has represented the finest quality of tall fescue on the market for decades.
Rebels is the original premium Tall Fescue and it's still the best Tall Fescue on the market
Tough grass with thick, deep and dense roots that will thrive through the toughest conditions
Produces a darker, greener and denser lawn than Kentucky-31 and other tall fescues
Grows well in partial shade to full sun and in a wide range of soils
Requires 4 to 6 hours of sunlight
Withstands heavy traffic, insects, heat and drought for lower maintenance
Guaranteed to grow
See results in 8 to 16 days
This bag covers up to 10,000 sq. ft.
Additional Features
Instructions
Planting Specifications
Product Gross Weight:

40.500 lb

Product Net Weight:

40.000 lb

Product Height:

34.000 in

Product Length:

4.250 in

Product Width:

18.000 in

Insect Resistance:

High

Packaging Type:

Bag

Plant Life Cycle:

Perennial

Seeding Depth:

1/4 in

Seeding Rate:

New Lawns: 12 lbs / 1,000 sq ft; Overseeding: 4 lbs / 1,000 sq ft
Battery Required:

No

Batteries Included?:

No
Days to Maturity:

7-21 days

Disease Resistance:

High

Drought Tolerance:

High

Light Requirement:

4-6 Hours of Sun

Mowing Height:

3 in

Shade Tolerance:

Moderate

Sun Tolerance:

High

Traffic Tolerance:

High