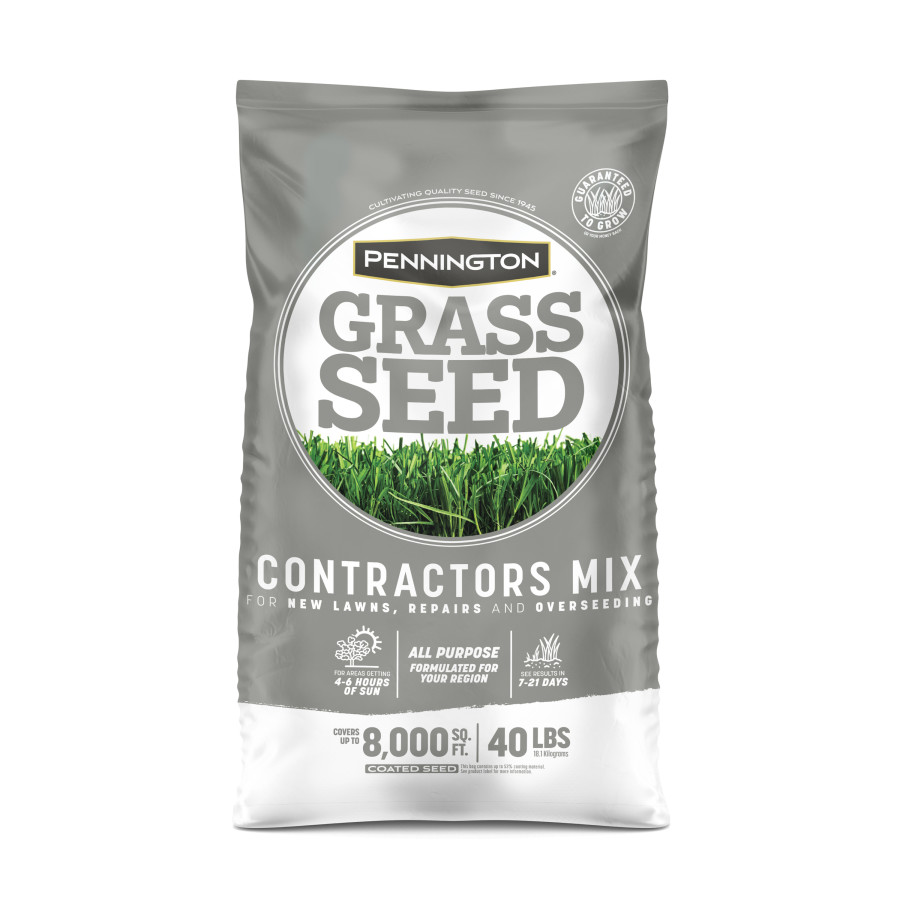 Grass Type:

Perennial Ryegrass

Manufacturer:

Central Garden and Pet

Max Coverage Area:

8000

Planting Climate Zones:

11, 12, 2, 5, 8, 9

Planting Region:

South

Planting Season:

Early Fall, Early Spring

Private Label:

No

Size:

40 Pounds

Style:

Southern Contractors

Washable:

No
Set the course for a high-performance, professional-grade lawn with Pennington Contractors Mix. This bag contains varieties that are formulated for the Southern US, so you can rest easy knowing the seed mix you buy will provide quick, dense, professional-grade results. This sun-tolerant seed should be planted in the early spring or early fall, and is optimal for areas getting 4 to 6 hours of sun. Once germinated, the grass will grow thick and full. This 40-pound bag covers up to 8,000 square feet for overseeding and 3,320 square feet for new lawns. While most grass seed companies buy their seed on the open market, we are the only major grass seed company that works directly with a network of dedicated growers. Built on decades of trust and integrity, our relationships with seed growers and their families now span multiple generations. Our legacy of working directly with farmers to bring you the finest grass seed possible helps ensure their success and ours. At Pennington, we know our seed and the farmers who grow it. From field to final product, that's the Pennington way.
Ideal for new lawns, overseeding and lawn repair
Provides quick, dense, professional-grade results
All-purpose grass seed mix formulated and mixed specifically for the region of the country where it is sold
Performs well in areas that receive 4 to 6 hours of sun daily
Pennington Contractors Grass Seed Mix is guaranteed to grow
See results in 7 to 21 days
Additional Features
Instructions
Planting Specifications
SDS
Product Gross Weight:

40.510 lb

Product Net Weight:

40.000 lb

Product Height:

26.000 in

Product Length:

5.000 in

Product Width:

19.000 in

Insect Resistance:

Medium

Packaging Type:

Bag

Plant Life Cycle:

Annual

Seeding Depth:

1/4 in

Seeding Rate:

New Lawns: 12 lbs / 1,000 sq ft; Overseeding: 5 lbs / 1,000 sq ft
Battery Required:

No

Batteries Included?:

No
Days to Maturity:

7-21 days

Disease Resistance:

Medium

Drought Tolerance:

Medium

Light Requirement:

High

Mowing Height:

3 in

Shade Tolerance:

Moderate

Sun Tolerance:

High

Traffic Tolerance:

Moderate