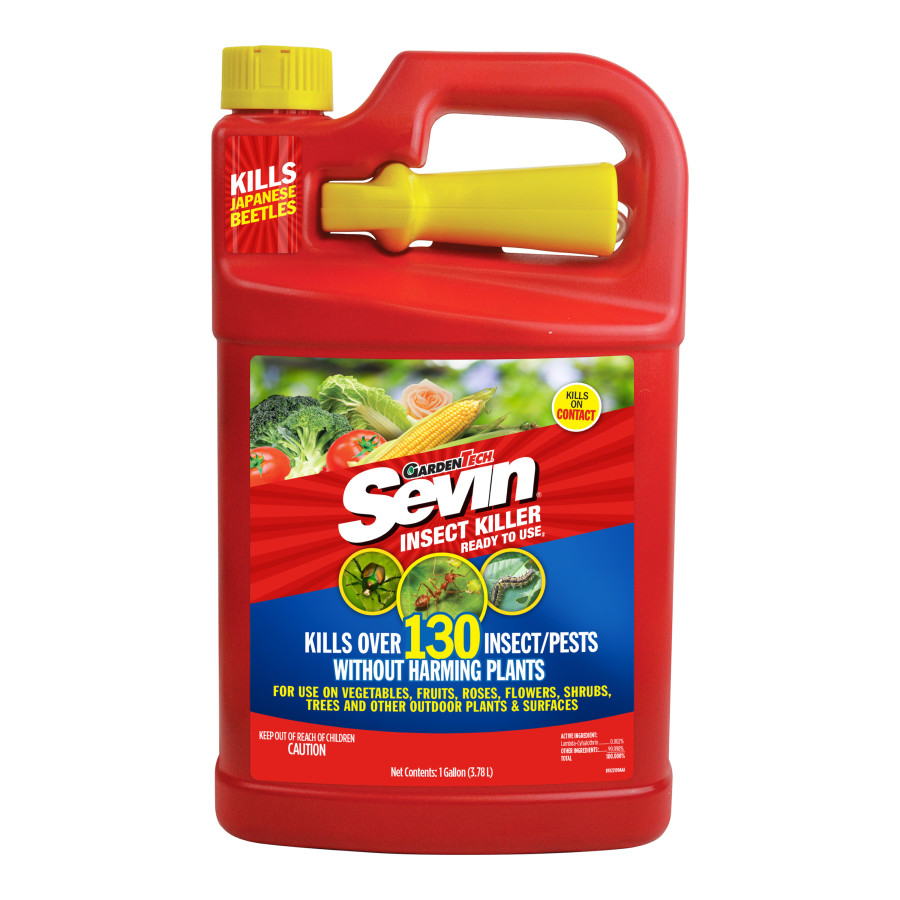 Made in USA?:

Yes

Manufacturer:

Central Garden and Pet

Max Coverage Area:

1

Private Label:

No

Professional:

No

Size:

1 Gallon

Target Pests:

Ants, Aphids, Japanese Beetles, Sod Webworms, Whiteflies

Usage Sites:

Flower Garden, Fruit Garden, Home Perimeter, Ornamentals, Shrubs, Vegetable Garden
Insects may have found their way to your outdoor plants, but these intruders are killed on contact with Sevin Insect Killer Ready-to-Use. Shake the bottle, adjust the nozzle to the narrow fan spray setting, hold sprayer 1 foot from the plant, and spray to kill insects. This ready-to-use spray is specially formulated to protect lawns, vegetables, flowers, trees, shrubs, and other outdoor plants and surfaces, while killing over 130 listed insects. Find your affected area or specific garden crop on the label to get the most effective results.
Protects camellias, roses, lettuce, tomatoes, and many other fruits and flowers
Apply on vegetables, fruits, flowers, shrubs, trees, and other outdoor plants and surfaces
Apply early or at first signs of insect damage
People and pets can return to treated area once spray dries
Shake bottle, adjust nozzle to narrow fan setting, hold sprayer 1 foot from plant, and spray evenly to kill insects
Apply on calm days when no rain is forecast for at least 24 hours
Avoid spraying open blooms to protect pollinating insects
Follow instructions on label for specific use areas to achieve best results
Additional Features
Ingredients
Instructions
Warranty
Specifications
Product Gross Weight:

8.880 lb

Product Net Weight:

8.360 lb

Product Height:

12.750 in

Product Length:

3.750 in

Product Width:

7.500 in
Active Ingredients:

Lambda-Cyhalothrin
Battery Required:

No

Batteries Included?:

No

Assembly Required?:

No

Use Instructions:

Shake bottle, adjust nozzle to narrow fan setting, hold sprayer 1 foot from plant, and spray evenly to kill insects Follow instructions on label for specific use areas to achieve best results