Pennington Smart Patch Sun and Shade Mix 1ea/30 lb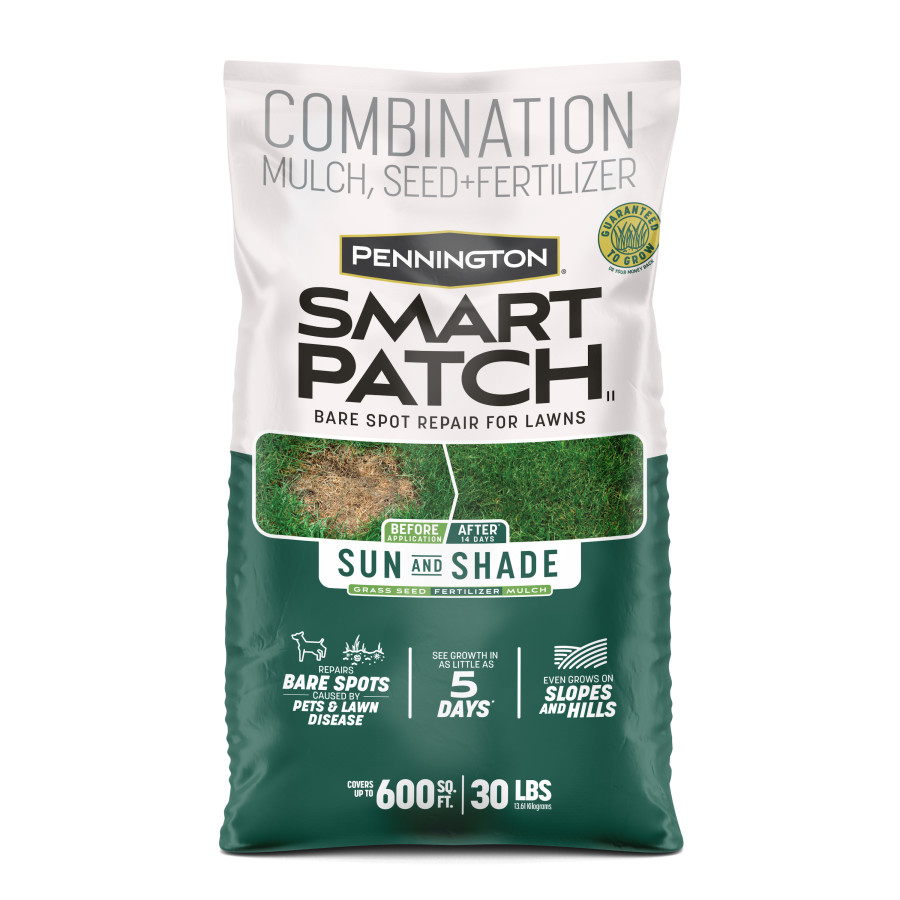 Grass Type:

Chewings Fescue, Kentucky Bluegrass, Perennial Ryegrass, Tall Fescue

Manufacturer:

Central Garden and Pet

Max Coverage Area:

600

New:

AL02-New, CA07-New, GA02-New, MO05-New, OR03-New, PA09-New, TX03-New, VA02-New

Planting Climate Zones:

3, 4, 5, 6, 7

Planting Region:

Eastern, Midwest, North, Northwest, Southwest, Transition

Planting Season:

Fall, Spring

Private Label:

No

Professional:

No

Size:

30 Pounds
With Pennington Smart Patch, you don't need to know why your lawn has thin, bare or brown spots. Smart Patch eliminates the guesswork and frustration of lawn repairs. This product has everything you need to fix bare spots, neutralize soil and disease problems, and grow thick, lush, water-conserving grass - even on slopes and hills. Pet damage and urine spots? No problem. Lawn disease and poor soil conditions? That's covered, too. With Smart Patch, you'll see quick results you can rely on. It's the smart choice for lawn repairs.
Smart Seed, fertilizer and mulch repairs bare spots in lawn
Contains a tackifier to protect seed on slopes, hills and rain
American Rye, Perennial Rye, Kentucky Bluegrass for sun and shade
Contains microbials that prevent disease and improve overall health of lawn
Tackifier acts as a blanket - protecting your seed from washing away
Contains mulch that turns a lighter color when dry - indicating when its time to water again
Contains the perfect amount of fertilizer to help your lawn succeed
Ideal for lawns that receive sun in some areas and moderate shade in others
Drought tolerant and guaranteed to grow
Save up to 30% more water year after year versus ordinary grass seed
Seedling emergence in as little as 5 days
This jug covers up to 600 sq. ft.
Additional Features
Ingredients
Instructions
Planting Specifications
Product Gross Weight:

30.500 lb

Product Net Weight:

30.000 lb

Product Height:

21.500 in

Product Length:

5.500 in

Product Width:

12.000 in

Insect Resistance:

High

Packaging Type:

Bag

Plant Life Cycle:

Perennial

Seeding Depth:

1/4 - 1/2

Seeding Rate:

Optimum Rate: 1 lb / 4 sq ft; Extended Coverage: 1 lb / 20 sq ft
Ingredients:

Grass Seed; Fertilizer; Mulch

Nitrogen (N) Content:

0.6

Phosphorus (P) Content:

0

Potassium (K) Content:

0
Battery Required:

No

Batteries Included?:

No

Use Instructions:

Prepare:Remove debris, then rake the soil to loosen and smooth the top layer.; Apply:For optimal results: Spread seeding mix approximately 1 lb / 4 sq ft everywhere healthy beautiful grass is desired.For extended results for grass up to 25% damage: Spread seeding mix approximately 1 lb / 20 sq ft. everywhere healthy beautiful grass is desired.; Water:Keep the mixture moist until grass is at least 1 tall. The mulch turns a lighter color when it's dry indicating it's time to water again.
Days to Maturity:

6-14 days

Disease Resistance:

High

Drought Tolerance:

High

Light Requirement:

4 - 6 Hours of Sun a Day

Shade Tolerance:

Moderate

Sun Tolerance:

Moderate

Traffic Tolerance:

Moderate