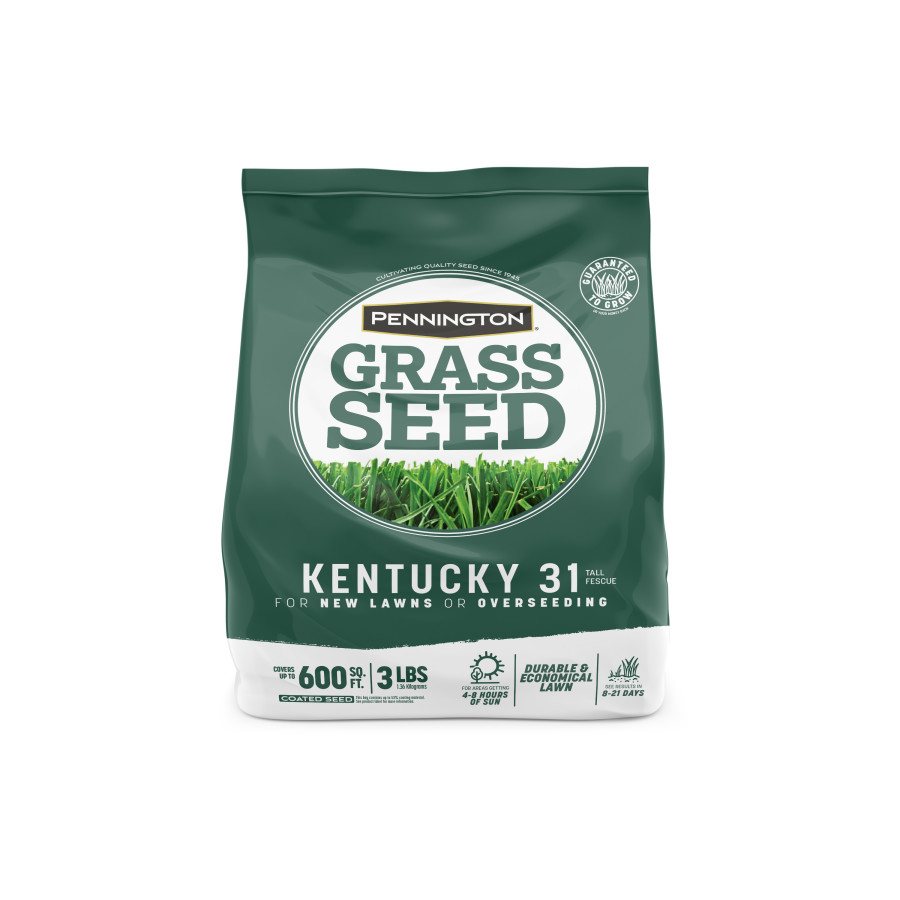 Grass Type:

Kentucky 31 Tall Fescue

Manufacturer:

Central Garden and Pet

Max Coverage Area:

600

Planting Climate Zones:

1, 2, 3, 4, 5, 6, 7, 8

Planting Region:

Midwest, North, Northeast, Northwest, Southwest, Transition

Planting Season:

Early Fall, Early Spring

Private Label:

No

Professional:

No

Size:

3 Pounds
Pennington Kentucky 31 Tall Fescue helped revolutionize the grass seed industry. This durable, heat-tolerant variety was an early leader in putting low-maintenance, disease-resistant lawns within the average homeowner's reach. Decades later, this economical, traditional tall fescue grass remains an industry standard for cool-season lawn grasses.
Kentucky 31 Tall Fescue is the original turf for your home
Provides a durable, economical lawn
Thick blades of grass stand up to hot summers and heavy rains
For use in full sun to medium-shaded areas
Produces a lighter green, drought-resistant turf
Holds up well under foot traffic
See results in 8 to 21 days
This bag covers up to 600 sq. ft.
Additional Features
Instructions
Planting Specifications
Warranty
Product Gross Weight:

3.142 lb

Product Net Weight:

3.000 lb

Product Height:

11.000 in

Product Length:

3.000 in

Product Width:

7.500 in

Insect Resistance:

Medium

Packaging Type:

Bag

Plant Life Cycle:

Perennial

Seeding Depth:

1/4 in

Seeding Rate:

New Lawns: 12 lbs / 1,000 sq ft; Overseeding: 5 lbs / 1,000 sq ft
Battery Required:

No

Batteries Included?:

No

Use Instructions:

PrepareBare Spots/New Grass: Remove debris, then rake the soil to loosen and smooth the top layer. Overseeding/Thin Areas: Same instructions as above but start by mowing existing grass as short as possible.ApplySpread the seed evenly using a drop, rotary or hand-held spreader according to the spreader settings. Lay down a starter fertilizer to help the seedlings grow healthy and strong. Rake gently to work your seed & fertilizer into the soil.WaterKeep the soil moist! Water daily (twice a day if you have to) until grass sprouts and reaches about 3 tall.Additional Care TipsOnce your grass is 1/3 taller than the recommended mowing height you may being mowing it. Avoid removing more than 1/3 of the total grass blade length at any single mowing to keep your grass thick and healthy. Increase your mowing height in summer months to reduce grass stress.ImportantApplying weed control products to grass prior to seedling can affect the seeds' ability to grow. Be sure to read and follow all manufacturer's recommendation and application instructions prior to applying any weed control products and prior to seeding. Additionally, do not apply any weed control products to newly seeded areas until grass is established and has been mowed at least 3 or 4 times. Once newly seeded areas are established, you can begin a regular feeding schedule.
Days to Maturity:

7-21 days

Disease Resistance:

Medium

Drought Tolerance:

Medium

Light Requirement:

4-8 Hours of Sun

Mowing Height:

3 in

Shade Tolerance:

Moderate

Sun Tolerance:

High

Traffic Tolerance:

Moderate
Warranty Description:

If you are not satisfied, please let us know why and contactus about a refund. Keep your bag and proof of purchase.WE STAND BEHINDOUR PRODUCTS. OR YOUR MONEY BACKMAIL TO:Pennington Seed, Inc.Customer Service Dept.PO Box 290Madison, GA 30650CALL US1.800.285.SEEDWEBSITEpennington.com