Extinguish Wellmark Plus Fire Ant Bait 4ea/4.5 lb
Extinguish Wellmark Plus Fire Ant Bait 4ea/4.5 lb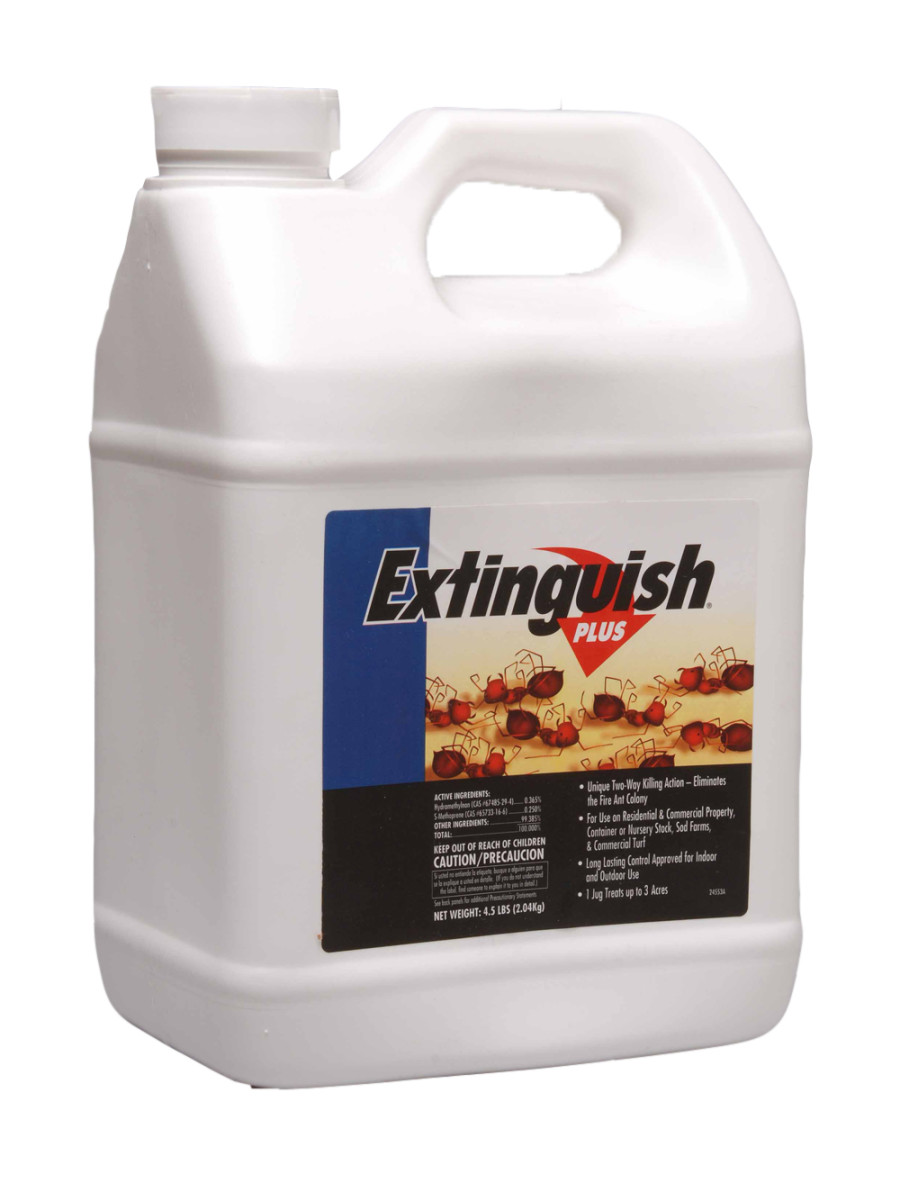 Form:

Granules

Manufacturer:

Central Garden and Pet

Private Label:

No

Professional:

Yes

Size:

4.5 Pounds

Target Pests:

Fire ants
Highly attractive to fire ants, Extinguish® Plus Fire Ant Bait is the only bait in the industry that combines two active ingredients to control fire ant infestations. The IGR sterilizes the queen and prevents rebound, while the fast-acting adulticide kills problem worker ants. This two-way action ensures complete, fast-acting and long-lasting control of fire ants. Apply Extinguish® Plus at 1.5 lbs. per acre as a broadcast application or 2-5 tbsp. as an individual mound treatment. Extinguish® Plus can be applied to golf courses, residential and commercial turf, pasture, school grounds, sod farms, nurseries, cemeteries, parks, athletic fields and many more locations.
Additional Features
Ingredients
Instructions
Safety
Product Gross Weight:

4.8 lb

Product Net Weight:

4.5 lb

Product Height:

13.1 in

Product Length:

6.6 in

Product Width:

8.86 in

Packaging Type:

Jug
Ingredients:

Hydramethylnon; (S)-Methoprene
Primary Usage:

Kills and eliminates fire ant colonies.

Application Method:

Sprinkle; Spreader

Use Instructions:

See label for instructions.

Storage Instructions:

Store in cool, dry, secure place and keep container tightly closed. Store container away from pets. This product is formulated with oil. Prolonged exposure to air may turn oil rancid and reduce the attractiveness of the bait. Use within 3 months after opening.
Caution:

Keep out of reach of children. Avoid contact with skin or clothing. Wash hands thoroughly with soap and water after handling. Prolonged or frequently repeated skin contact may cause allergic reactions in some individuals.

First Aid Measures:

If On Skin or Clothing: Take off contaminated clothing. Rinse skin immediately with plenty of water for 15-20 minutes. Call a poison control center or doctor for treatment advice.

Safety Warnings:

Wash hands before eating, drinking, chewing gum, using tobacco, or using the toilet. Remove clothing immediately if pesticide gets inside. Then wash thoroughly and put on clean clothing. After handling this product, immediately wash the outside of gloves before removing them, then remove gloves and all other PPE. Immediately wash thoroughly and change into clean clothing.