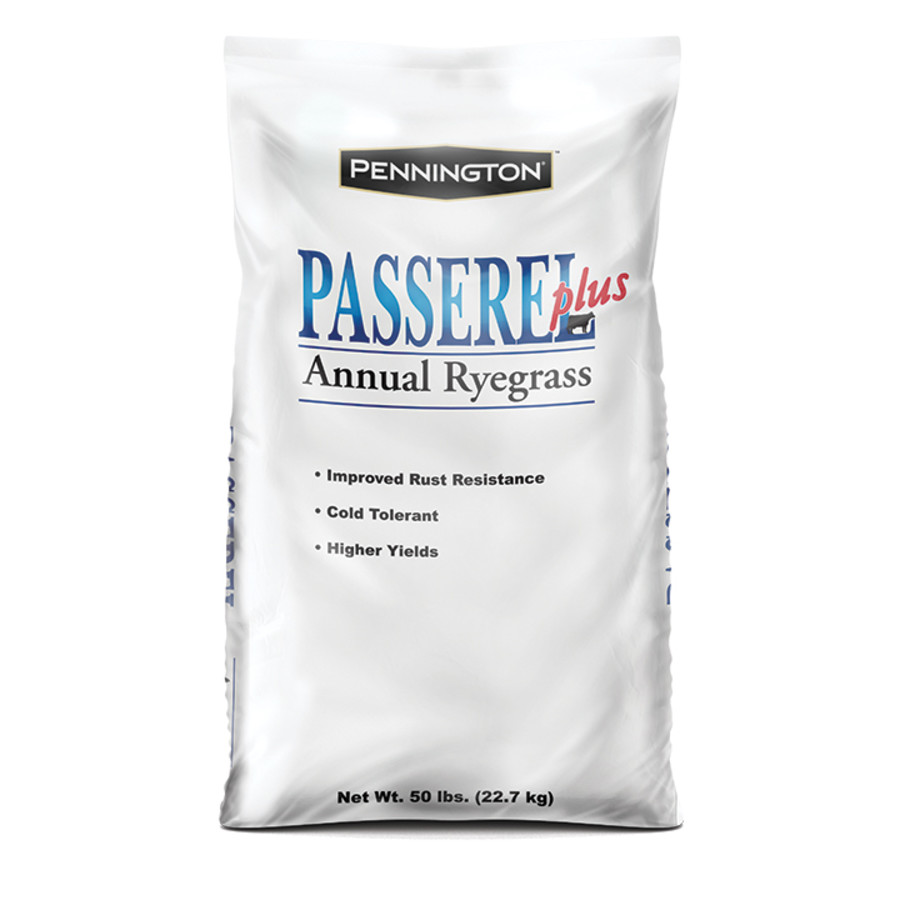 Manufacturer:

Central Garden and Pet

Planting Climate Zones:

1, 10, 11, 12, 2, 5, 8, 9

Planting Region:

Deep South and Gulf Coast

Planting Season:

Warm Season

Private Label:

No

Professional:

Yes

Size:

50 Pounds
Passerel Plus annual ryegrass (Lolium Multriflorum) is a cool season annual grass that is widely adapted across the USA. The primary use is for pasture, hay, over seeded into dormant pastures and erosion. Passerel Plus was a reselection under guidance of Dr. Gordon Prine UF for rust resistance. Passerel Plus is a high yielding grass with excellent quality forage variety. It is a top yielder in university forage trials and a proven performer on farm across the US.
Additional Features
Ingredients
Instructions
Planting Specifications
Product Gross Weight:

50.931 lb

Product Net Weight:

50.000 lb

Product Height:

36.000 in

Product Length:

5.000 in

Product Width:

17.000 in

Plant Life Cycle:

Perennial

Seeding Depth:

1/4 in - 1/2 in

Seeding Rate:

25 - 30 lbs/A drilled; 30 - 35 lbs/A broadcast; 15 - 20 lbs/A in mixes with small grains
Use Instructions:

MethodDrill seed into a well-prepared, firm seedbed or use a no-till drill to overseed it into closely clipped or grazed warm season perennial pastures. Seed may also be broadcast over a prepared seedbed and pressed in with a culti-packer or covered by a shallow disking. Plant no deeper than ½" deep. Planting too deep can result in poor stand emergence. Management Ryegrass responds well to high rates of nitrogen fertilizer. Highest yields are obtained with split applications of nitrogen over the growing season totaling 100-150 lbs nitrogen per acre. Begin grazing when forage growth reaches 6-8 inches in height and roots are fully anchored in the ground. Do not graze below a height of 3" in the fall and winter. Allow re-growth to reach a height of 6 to 10 inches before grazing again. Use light rotational grazing in the fall and winter with heavier rotational or continuous grazing in the spring and early summer. For hay or silage, harvest at the boot stage of maturity for highest quality.
Days to Maturity:

3 weeks +