Knockout Weed & Grass Killer Ready To Use 12ea/24 oz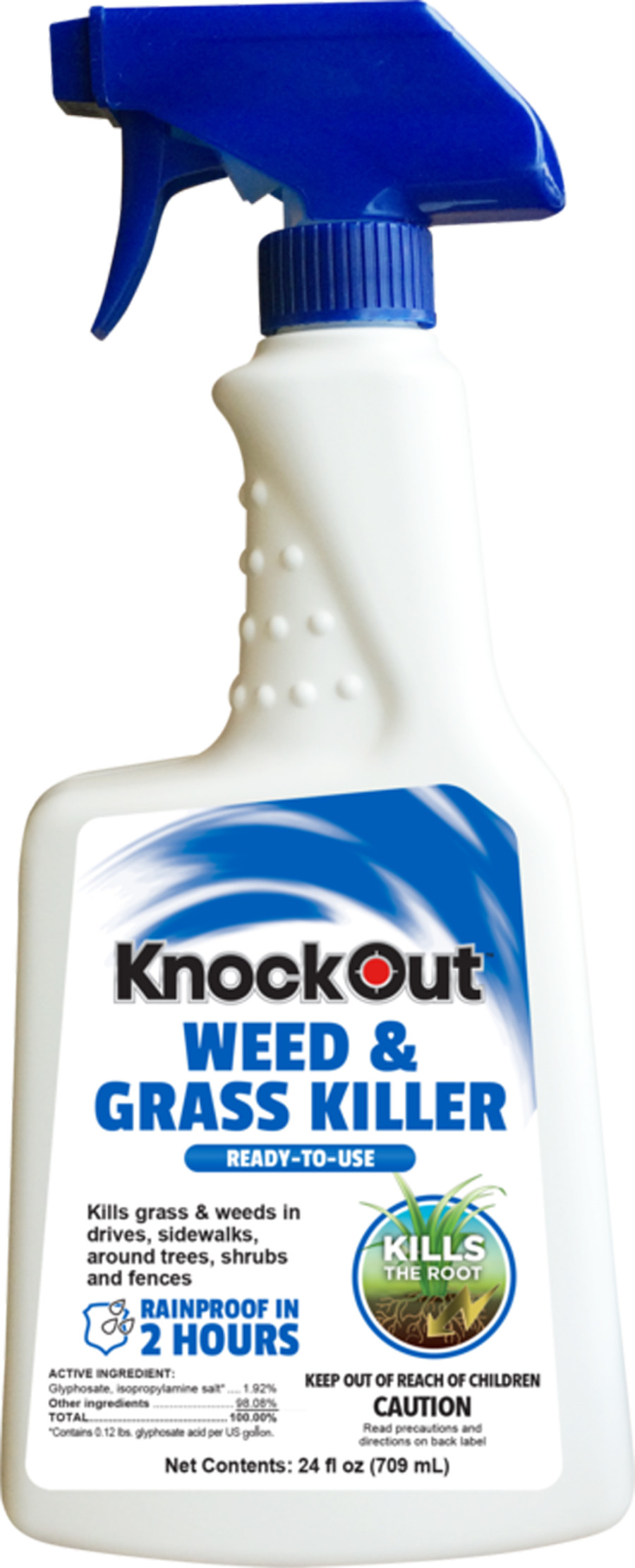 Form:

Liquid Ready to Use

Grass Type:

Bahiagrass, Bermudagrass, Kentucky Bluegrass, Perennial Ryegrass

Manufacturer:

Central Garden and Pet

Pet Safe:

No

Private Label:

No

Size:

24 Ounces

Weed Type:

ChickWeed, Common Ragweed, Dandelion, Fescues, Field Bindweed
Kills the root. For use around flower beds, trees, and shrubs. Kills weeds such as Dandelion, Johnson Grass, Clover, and Plantation.
Additional Features
Ingredients
Instructions
Safety
Product Gross Weight:

2.1 lb

Product Net Weight:

1.7 lb

Product Height:

11.25 in

Product Length:

2.0 in

Product Width:

5.0 in

Packaging Type:

Bottle

Recommended For:

Along Sidewalks; Along Fences; Around Flowers; Driveways; Flower Beds; Foundation; Patios; Shrubs; Trees; Vegetable Gardens; Bahiagrass; Barnyardgrass; Bermudagrass; Johnsongrass; Kentucky Bluegrass; Orchardgrass; Perennial Ryegrass; Smooth Bromegrass
Ingredients:

Glyphosate

Active Ingredients:

Glyphosate; Isopropylamine Salt
Primary Usage:

Kills Weeds; Kills Grass; Kills Roots

Application Method:

Spray

Application Season:

Spring; Summer

Use Instructions:

Instructions:To attach Sprayer:To attach and operate sprayer: Remove sticker from cap. Open the flip top on cap. Extend hose from sprayer. Firmly insert black hose tip into opening until it snaps into place. Adjust nozzle to spray or stream. Point sprayer away from people or animals. Squeeze trigger until liquid is dispensed. After use turn the spray nozzle to X (off). Do not disconnect the hose from bottle.How to Use:Adjust the nozzle to a coarse spray. Position sprayer tip approximately 1-2 feet away from the weed. Spray weeds until foliage is wet. Flowers and ornamentals may be reseeded or replanted into treated areas the next day.Important: Spray carefully. Avoid spray or drift onto desirable lawn grasses, shrubs, or trees. This product can kill or damage all vegetation contacted. If accidental spray contacts desirable foliage, immediately rinse the foliage with water.When to Use:• Use anytime weeds are actively growing.• For best results, apply on a warm sunny day when daytime temperature is above 60˚ F. Warm, sunny weather will speed up weed control.• Apply only when air is calm.• Reapply if it rains within 2 hours after application.• Hard-to-control weeds such as bermudagrass may require a repeat application if they regrow.• NOT to be used for spot weed control in lawns since KnockOut Weed & Grass Killer Ready-To-Use kills all green plants, including lawn grass.

Storage Instructions:

Store product in original container in a safe place away from direct sunlight. Keep from freezing.
Caution:

Keep out of the reach of children

First Aid Measures:

If in Eyes: Hold eye open and rinse slowly and gently for 15-20 minutes. Remove contact lenses, if present, after first 5 minutes, then continue rinsing eyes.Call a poison control center or doctor for additional treatment advice

Safety Warnings:

Avoid contact with eyes or clothing. Wash thoroughly with soap and water after handling. People and pets may enter treated areas after spray has dried.